PENINGKATAN KOMPETENSI PROFESIONAL GURU MELALUI SUPERVISI KOLABORASI DI SD NEGERI KARANGGUPITO 3
Article Sidebar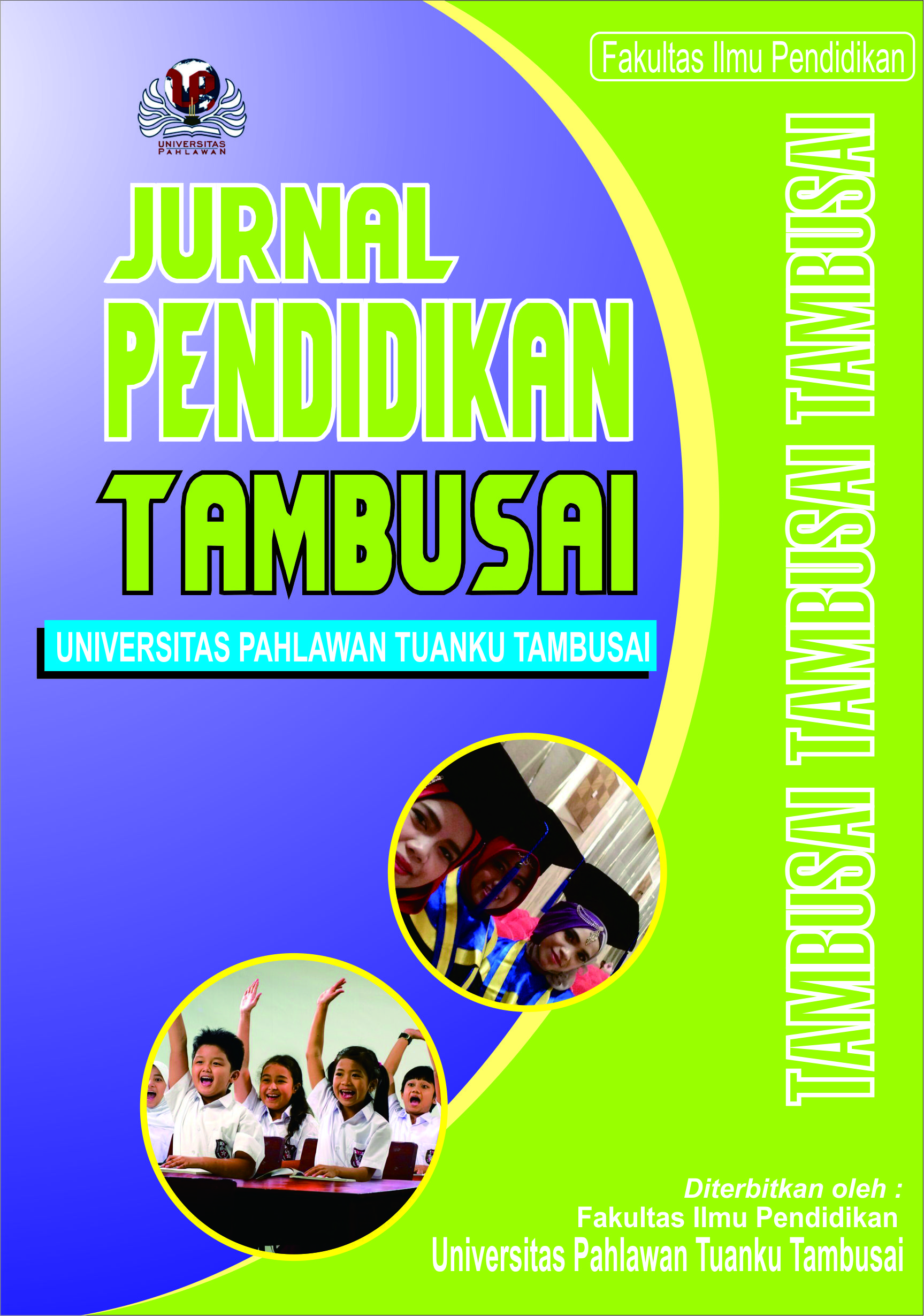 Published: Aug 16, 2019
Section:
Articles
Keywords:
profesional guru, supervisi kolaboratif

Article Matrics :
Abstract views
43
times
Total Downloaded
38
times
This article can be traced in:
GOOGLE SCHOLAR
PORTAL GARUDA
BASE
INDONESIA ONESEARCH
MORAREF
Main Article Content
Sutarmin Sutarmin
SD Negeri Karanggupito 3 Kecamatan Kendal Kabupaten Ngawi
Abstract
Penelitian ini bertujuan untuk: 1) Mendeskripsikan perkembangan proses supervisi kolaboratif dalam meningkatkan kompetensi profesional guru di SD Negeri Karanggupito 3 Tahun Pelajaran 2018/ 2019; 2) Mendeskripsikan peningkatan kompetensi profesional guru melalui supervisi kolaboratif di SD Negeri Karanggupito 3 Tahun Pelajaran 2018/ 2019. Penelitian Tindakan Sekolah ini dilakukan oleh kepala sekolah tersebut. Dengan guru yang diteliti terdiri dari 7 orang. Penelitian dilaksanakan di  kelas 1 sampai dengan kelas VI semester genap SD Negeri Karanggupito 3, Kecamatan Kendal, Kabupaten Ngawi Tahun Pelajaran 2018/ 2019. Penelitian dilaksanakan pada bulan Februari 2019 sampai dengan bulan April 2019. Pelaksanaan Penelitian Tindakan Sekolah ini dilaksanakan dalam 2 siklus, masing-masing siklus terdiri dari empat tahap yaitu tahap perencanaan, tahap pelaksanaan, tahap observasi, dan tahap refleksi. Peningkatan kompetensi profesional guru di SD Negeri Karanggupito 3 dari pra-siklus ke siklus I sebesar 2.5 poin. Rata-rata kompetensi profesional guru pada pra-siklus sebesar 71.6 dengan kriteria cukup dan pada siklus 1 sebesar 74.1 dengan kriteria cukup. Kompetensi profesional guru juga mengalami peningkatan dari siklus I ke siklus II sebesar 7.2 poin. Rata-rata kompetensi profesional guru pada siklus II sebesar 81.3 dengan kriteria baik. Jadi, dapat disimpulkan bahwa kompetensi profesional guru dalam mengembangkan materi di SD Negeri Karanggupito 3 dapat ditingkatkan melalui penerapan pendekatan supervisi kolaboratif.
Downloads
Download data is not yet available.
Article Details
This work is licensed under a Creative Commons Attribution-ShareAlike 4.0 International License.
Authors who publish with this journal agree to the following terms:
Authors retain copyright and grant the journal right of first publication with the work simultaneously licensed under a Creative Commons Attribution License that allows others to share the work with an acknowledgement of the work's authorship and initial publication in this journal.
Authors are able to enter into separate, additional contractual arrangements for the non-exclusive distribution of the journal's published version of the work (e.g., post it to an institutional repository or publish it in a book), with an acknowledgement of its initial publication in this journal.
Authors are permitted and encouraged to post their work online (e.g., in institutional repositories or on their website) prior to and during the submission process, as it can lead to productive exchanges, as well as earlier and greater citation of published work (See The Effect of Open Access).
References
A Piet Sahertian, 1992. Konsep Dasar dan T eknik Supervisi, Jakarta : Penerbit Rineka Cipta.
A.S. Hornby. 1982. Oxford Leaner's Dictionary of Current English. Oxford University Press.
Achmad Rifa'I. 1992, Psikologi Pendidikan. Semarang: Unnes Press.
Adams, A. and Thompson, K. 1990. Development of An Enzymelinked Immunosorbent Assay (ELISA) for The Detection of Aeromonas salmonicida in fish tissue. J. Aquat. Anim. Health, 2 : pp. 281–288.
Agnes, M. 1999. Webster's New World College Dictionary. New York: Macmillian.
Ali, Muhammad 1987. Penelitian Kependidikan Prosedur dan Strategis. Bandung: Angkasa.
Ametembun, N.A., 1993, Kepemimpinan Pendidikan, Malang: IKIP Malang.
Arikunto, Suharsimi. 2005. ManajemenPenelitian. Jakarta: Rineka Cipta.
Arikunto, Suharsimi. 2006. ProsedurPenelitianSuatuPendekatanPraktek. Jakarta: Rineka Cipta.
Danim, Sudarwan, 2004. Motivasi Kepemimpinan dan Efektivitas Kelompok. PT Remaja Rosdakarya. Bandung.
Departemen Pendidikan Nasional. 2002. Kamus Besar Bahasa Indonesia,Jakarta: Balai Pustaka.
Drake, R.L., Vogl, A.W., Mitchell, A.W.M., 1980. Gray Dasar-Dasar Anatomi. Elsevier Churchill Livingstone, Singapore.
Flanders, Ned A. 1970. Analyzing Teaching Behavior. Reading, Mass, AddisonWesley Pub.
Glickman. C.D 1995. Supervision of Instruction. Boston: Allyn And Bacon Inc.
Gregorio. (1966). School Administration And Supervision. Quezon. Garcia.
Hofmann, Werner. 1980. Rubber Technology Handbook. New York and Canada : Oxford University Pres.
Kimbal Wiles dan John T. Lovell, 1975. Supervision for Better School, New Yersey: Pritice Hall.Inc., Englewood Clifiis.
Lampiran Peraturan Menteri Pendidikan Nasional Nomor 13 Tahun 2007 tanggal 17 April 2007 tentang Standar Kepala Sekolah/ Sekolah.
Lerch, 1980. Intermediate Statistics: Use and Interpretation. Second Edition. Mahwah, New Jersey: Lawrence Erlbaum Associates, Publishers.
lwi Hasan, dkk. 2005. Kamus Besar Bahasa Indonesia. Jakarta : Departemen Pendidikan Nasional Balai Pustaka.
Mulyasa. 2004. Manajemen Berbasis Sekolah, Konsep, Strategi dan Implementasi. Bandung : PT Remaja Rosdakarya.
Nolan, J.F. 2011. Teacher Supervision and Evaluation. Wiley: United State of America.
Peraturan Menteri Pendidikan Nasional Republik Indonesia Nomor 16 Tahun 2007 tentang Standar Kualifikasi Akademik dan Kompetensi Guru.
Rahman, dkk. 2006. Peran Strategis Kepala Sekolah Dalam MeningkatkanMutu Pendidikan.Sumedang: Alqaprint Jatinangor.
Sergiovanni, T.J. 1987. The Principalship, A Reflective Practice Perspective. Boston: Allyn and Bacon.
Sergiovanni, T.J. 1993. Editor. Supervision of Teaching. Alexandria: Association for Supervision and Curriculum Development.
Sugiyono. 2009, Metode Penelitian Pendidikan Pendekatan Kuantitatif, Kualitatif dan R & D. Bandung: Alfabeta.
Undang-undang Nomor 14 Tahun 2005 tentang Guru dan Dosen.
Undang-undang Republik Indonesia Nomor 20 Tahun 2003 tentang Sistem Pendidikan Nasional.