EFEKTIVITAS PENGGUNAAN TALEMPONG PACIK TERHADAP KECERDASAN MUSIKAL DI TAMAN KANAK-KANAK NURUL HIDAYAH BUKITTINGGI
Article Sidebar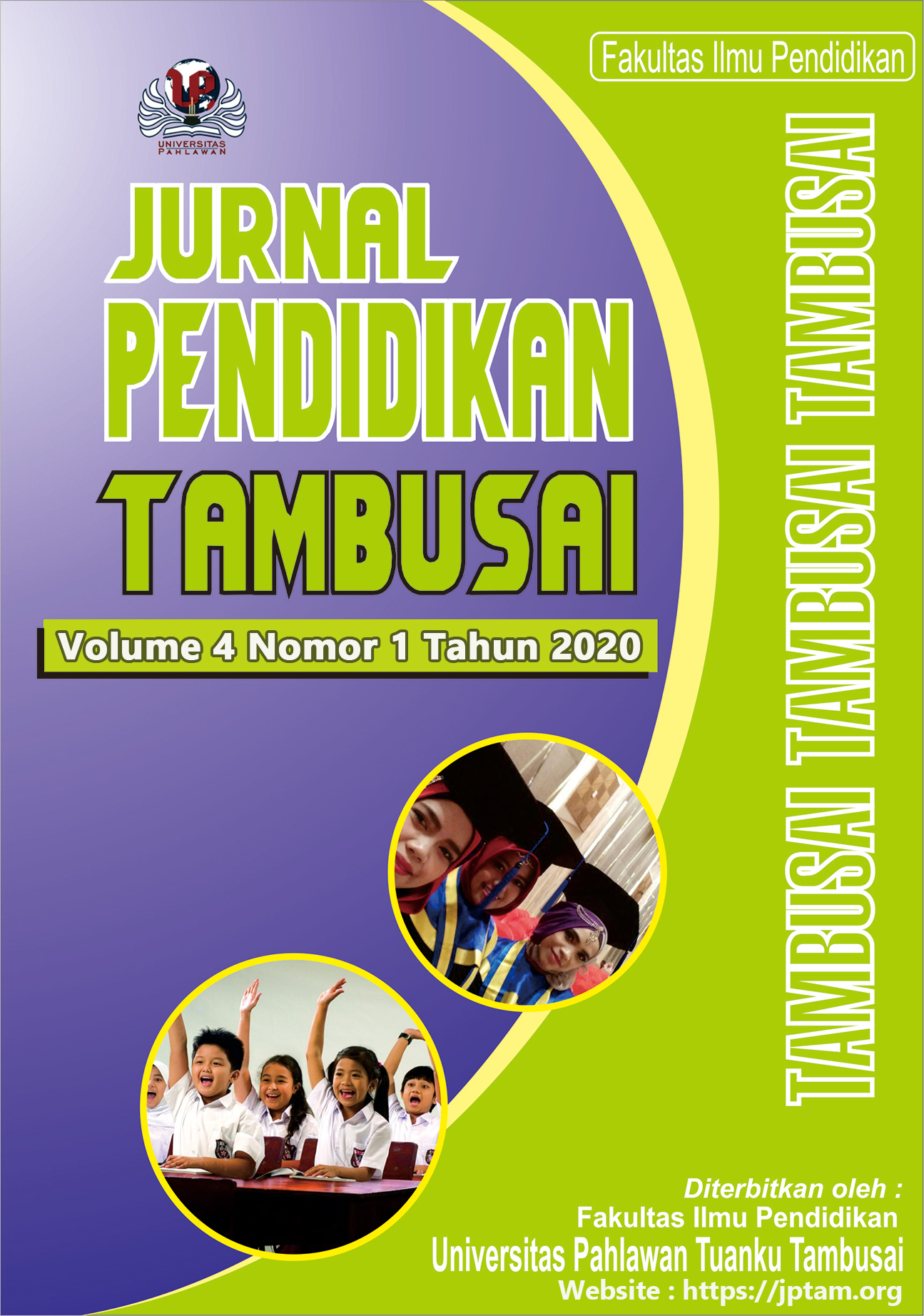 Published: Jan 30, 2020
Section:
Articles
Keywords:
Talempong Pacik, Kecerdasan Musikal

Article Matrics :
Abstract views
84
times
Total Downloaded
41
times
This article can be traced in:
GOOGLE SCHOLAR
PORTAL GARUDA
BASE
INDONESIA ONESEARCH
MORAREF
Main Article Content
Tia Novela
Pendidikan Guru Pendidikan Anak Usia Dini Fakultas Ilmu Pendidikan Universitas Negeri Padang
Indra Yeni
Pendidikan Guru Pendidikan Anak Usia Dini Fakultas Ilmu Pendidikan Universitas Negeri Padang
Abstract
Penelitian ini bertujuan untuk mengatahui efektifitas talempong pacik terhadap kecerdasan musikal anak di taman Kanak-Kanak Nurul Hidayah Bukittinggi. Penelitian ini melibatkan 20 anak sebagai objek Penelitian, dimana 10 orang termasuk kelas eksperimen dan 10 orang kelas kontrol. Desain penelitian ini adalah pretest posttest group control. Pengumpulan menggunakan skala, untuk menguji kualitas alat ukur digunakan uji validitas isi dengan professional judgement sedangkan untuk melihat rebilitas menggunakan bantuan SPSS 20.0 for window  dengan teknik Alpha Crombach. Pengujian hipotesis menggunakan teknik statistic T-test dengan bantuan SPSS 20.0 for window yang menujukkan taraf signifikan sebesar 0,000. Hal ini menunjukkan  bahwa talempong pacik efektif terhadap peningkatan kecerdasan musikal taman Kanak-Kanak.
Downloads
Download data is not yet available.
Article Details
How to Cite
Novela, T., & Yeni, I. (2020). EFEKTIVITAS PENGGUNAAN TALEMPONG PACIK TERHADAP KECERDASAN MUSIKAL DI TAMAN KANAK-KANAK NURUL HIDAYAH BUKITTINGGI. Jurnal Pendidikan Tambusai, 4(1), 33-38. Retrieved from https://jptam.org/index.php/jptam/article/view/423
Authors who publish with this journal agree to the following terms:
Authors retain copyright and grant the journal right of first publication with the work simultaneously licensed under a Creative Commons Attribution License that allows others to share the work with an acknowledgement of the work's authorship and initial publication in this journal.
Authors are able to enter into separate, additional contractual arrangements for the non-exclusive distribution of the journal's published version of the work (e.g., post it to an institutional repository or publish it in a book), with an acknowledgement of its initial publication in this journal.
Authors are permitted and encouraged to post their work online (e.g., in institutional repositories or on their website) prior to and during the submission process, as it can lead to productive exchanges, as well as earlier and greater citation of published work (See The Effect of Open Access).
References
Aisyah, Dkk. 2007. Pembelajaran Terpadu. Jakarta: Univertas Terbuka.
Darlenis, Teti . 2006. Mengenal Musik Tradisional Talempong Pacik Di Minangkabau. Volume 6 No 2 Bulan Nopember 2006
Eliyawati. 2005. Pemilihan Dan Pengembangan Sumber Belajar Untuk Anak Usia Dini. Jakarta
Hamzah, amir. 2009. Teori Multiple Intelligences Dan Implikasinya Terhadap Pengelolaan Pembelajaran. Tadris. Volume 4 Nomor 2.
Hoerr, Thomas R. 2000 . Becoming A multiple Intelligences School. USA: Association for Supervision and Curriculum Development.
Ikhsan, Yaumil Dkk. 2018. Efektivitas Tradisional Talempong Pacik Terhadap Peningkatan Disiplin, Toleransi, Dan Kerjasama Siswa. Harmoni Sosial: Jurnal Pendidikan IPS. Volume 5, No 1, March 2018 (57-66).
Lestari, novita dewi, dkk . 2014. Mengoptimalkan kecerdasan musikal anak usia dini dengan bermain alat musik angklung di sentra musik kelompok B pendidikan anak usia dini tunas harapan kota Bengkulu.
MK, Asri. 2017. Dampak Pembelajaran Teknik Permainn Talempong Pacik Dan Talempong Unggan Terhadap Peningkatan Musik Musikalitas Mahasiswa. Vol 1 No. 2 September 2017.
Musbikin, Imam. 2009. Kehebatan Musik Untuk Mengasah Kecerdasan Anak ( Mengenal Cara Kerja Dan Pengaruh Musik Untuk Kehebatan Anak Anda). Jogjakarta: Power Books
Putri, Nadya. 2012. Efektifitas Penggunaan Media Video Untuk Meningkatkan Pengenalan Alat Musik Daerah Pada Pembelajaran IPS Bagi Anak Tunagrahita Ringan Di SDLB 20 Kota Solok. Jurnal Ilmiah Pendidikan Khusus. Volume 1 No 2 Mei 2012.
Sheppard, Philip. 2007. Music Makes Your Child Smarter. Jakarta : PT Gramedia Pustaka Utama
Sugiyono. 2010. Metode Penelitian Pendidikan Pendekatan Kuantitatif, Kualitatif Dan R&D. Bandung: Alfabeta
Sujiono, Yuliani Nurani. 2009 . Konsep Dasar Pendidikan Anak Usia Dini . Jakarta: Indeks.
Undang-undang Nomor 20 tahun 2003 tentang Sistem Pendidikan Nasional Pasal 1-14 tentang Standar PAUD
Wijanarko, Jarot. 2012. Multiple Intelligences Anak Cerdas. Banten : PT Happy Holy Kids.
Yeni , Indra. 2010. Perkembangan Intrumentasi Dan Lagu Talempong Kreasi Di Sumatra Barat. Jurnal Bahasa Dan Seni Vol 11 No. 2 Tahun 2010 (81-86)
Yeni, Indra. 2010. Pengantar Seni Musik Untuk Pendidikan Anak Usia Dini. Padang: Sukabina Presss.