PENGARUH PENGGUNAAN PASIR KINETIK TERHADAP PERKEMBANGAN MOTORIK HALUS ANAK DI TAMAN KANAK-KANAK
Article Sidebar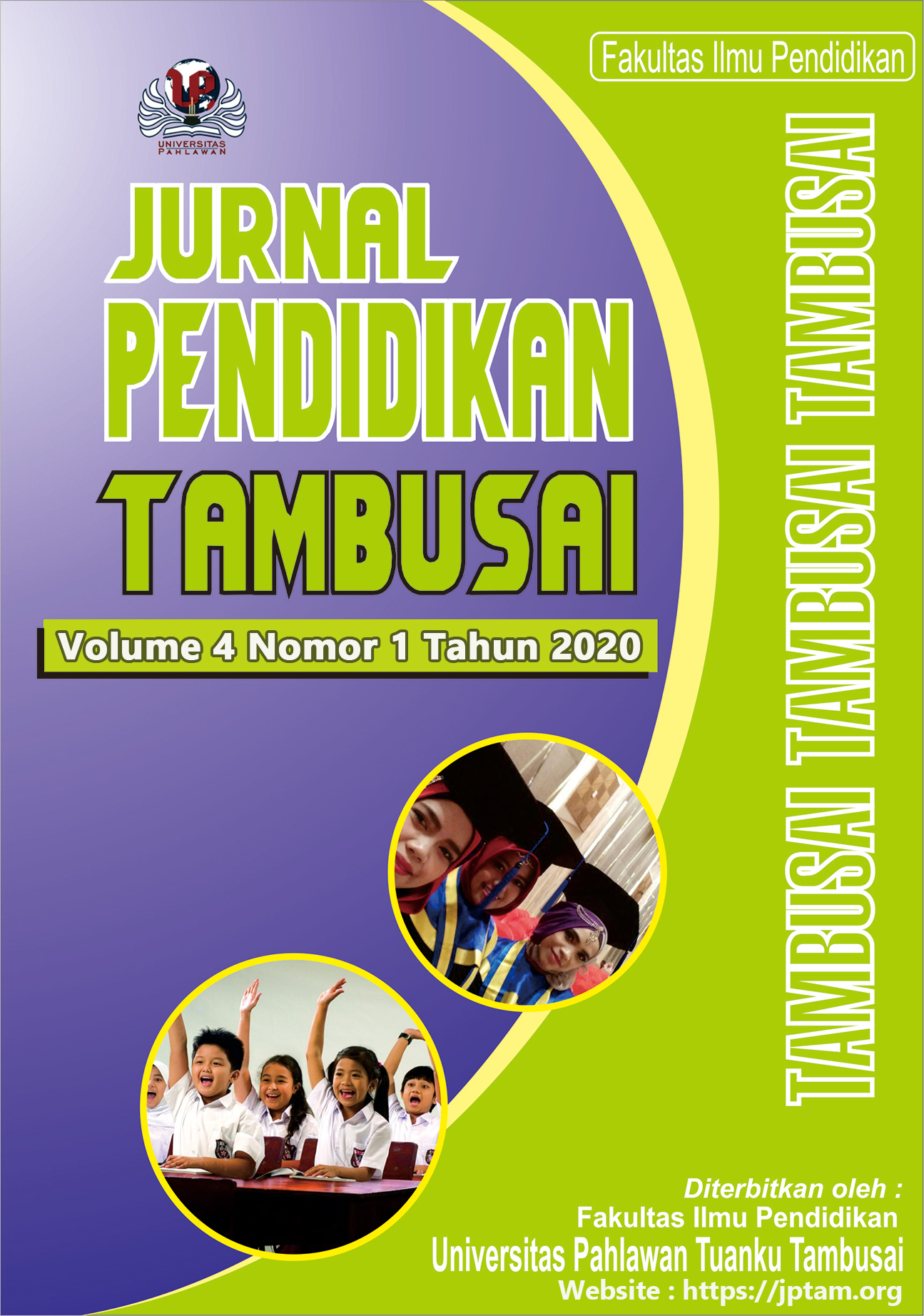 Published: Jan 30, 2020
Section:
Articles
Keywords:
Motorik halus, Pasir kinetik

Article Matrics :
Abstract views
33
times
Total Downloaded
21
times
This article can be traced in:
GOOGLE SCHOLAR
PORTAL GARUDA
BASE
INDONESIA ONESEARCH
MORAREF
Main Article Content
Mardiati Mardiati
Pendidikan Guru Pendidikan Anak Usia Dini, Fakultas Ilmu Pendidikan Universitas Negeri Padang
Sri Hartati
Pendidikan Guru Pendidikan Anak Usia Dini, Fakultas Ilmu Pendidikan Universitas Negeri Padang
Abstract
Penelitian ini bertujuan guna mengetahui pengaruhpasir kinetik terhadap kemampuan motorik halus anak di taman kanak-kanak. Kemampuan motorik halus anak ialah kemarnpuan yang punyai oleh anak usia dini mengunakan otot-otot kecil dan jemarinya yang terkoordinasi baik hingga memudahkan anak untuk melakukan berbagai aktivitas sehari-hari. Penelitian ini menggunakan studi literatur dengan teknik pengumpulan datanya dengan menganalisis beberapa artikel, buku dan jurnal yang sehubungan dengan penggunaan pasir kinetik terhadap kemampuan motorik halusnya anak. Hasil temuan memperlihatkan bahwasanyapasir kinetik berpengaruh terhadapkemampuan motorik halusnya anak. Hal ini bisa diamatimelalui cara anak memaminkan pasir kinetik yang lebih banyak menggunakan tangan dan jari-jemarinya seperti meremas,membantuk, menekan, mencetak, mengeluarkan dan memasukkan asir kinetik dari dalam cetakan.
Downloads
Download data is not yet available.
Article Details
Authors who publish with this journal agree to the following terms:
Authors retain copyright and grant the journal right of first publication with the work simultaneously licensed under a Creative Commons Attribution License that allows others to share the work with an acknowledgement of the work's authorship and initial publication in this journal.
Authors are able to enter into separate, additional contractual arrangements for the non-exclusive distribution of the journal's published version of the work (e.g., post it to an institutional repository or publish it in a book), with an acknowledgement of its initial publication in this journal.
Authors are permitted and encouraged to post their work online (e.g., in institutional repositories or on their website) prior to and during the submission process, as it can lead to productive exchanges, as well as earlier and greater citation of published work (See The Effect of Open Access).
References
Afifah, F. (2017) Pasir Unik Yang Bikin Anak Cerdas. Ini Dia Berbagai Manfaatnya.Https://Nikita.Grid.Id. Diakses 16 Mei 2020
Annisa, Zulkifli, & Risma, D. (2018). The Effect Of Kinetic Sand On Fine Motor Skills Of Children Aged 4-5 Years At Tk Riadhussolihin Rambah Subdistrict Rokan Hulu District. Jom Fkip Volume, 5(1), 1–14
Bhatia, P., Davis, A., & Shamas, E. (2015). Educational Gymnastics: The Effectiveness Of Montessori Practical Life Activities In Developing Fine Motor Skills In Kindergartners. Early Education And Development, 26(4), 594–607. Https://Doi.Org/10.1080/10409289.2015.995454
Elfiadi. (2016). Bermain Dan Permainan Bagi Anak Usia Dini. Jurnal Itqan, Vii(1), 51–60.
Fauziddin, M., & Fikriya, M. (2020). Mengenal Kosakata Bahasa Arab melalui Permainan Kartu Huruf Hijaiyah yang Dilengkapi Kosakata. Journal on Early Childhood Education Research (JOECHER), 1(2), 90-99. https://doi.org/10.37985/joecher.v1i2.13.
Febriana, A., & Lidya E, K. (2018). Meningkatkan Keterampilan Motorik Halus Anak Melalui Kegiatan Mengayam Pada Anak Kelompok B Usia 5-6 Tahun, 3359(18), 70–75.
Halimah, Y. N. (2019). Penerapan Media Pasir Kinetik Dalam Mengembangkan Motorik Halus Pada Anak Usia Dini Kelompok A Purple Tk Ceria Timoho Yogyakarta, 6(1), 1–46. Https://Doi.Org/10.1016/J.Surfcoat.2019.125084
Hartati, S. (2012). Konsep Dasar Pembelajaran Anak Usia Dini. Padang: Unp.
Hasnawati, Ahmad, A., & Afendi, J. (2016). Implementasi Permainan Bongkar Pasang Dalam Melejitkan Berbagai Aspek Perkembangan Anak Usia Dini Pada Paud It Ar-Rahmah Banda Aceh. Jurnal Ilmiah Mahasiswa Pendidikan Anak Usia Dini, 1(1), 19–28. Https://Doi.Org/10.1017/Cbo9781107415324.004
Isbell, C. (2010). Everyday Play: Fun Games To Develop The Fine Motor Skills Your Child Needs For School. Journal Of Chemical Information And Modeling. Columbia Pike, Suite 201, Silver Spring, Md: Gryphon House, Inc. Https://Doi.Org/10.1017/Cbo9781107415324.004
Khamaliyah, A., Fatimah, A., & Kusumawardani, R. (2019). Pengaruh Bermain Pasir Kinetik Terhadap Kreativitas Anak, 6, 21–28
Lisnawati, Yesi. 2015. Konsep Khalifah dalam Al-quran dan Implikasinya terhadap Tujuan Pendidikan Islam. Skripsi. Diterbitkan. Universitas Pendidikan Indonesia
Marheni, A. K. I. (2017). Art Therapy Bagi Anak Slow Learner. Prosiding Temu Ilmiah Ikatan Psikologi Perkembangan Indonesia, 154–162.
Mutiah, D. (2010). Psikoogi Bermain Anak Usia Dini. Jakarta: Prenadamedia Group.
Nuryulianti, D., & Ernawati. (2019). Penerapan Permainan Pasir Kinetik Untuk Mengatasi Permasalahan Ketergantungan Gadget Pada Keluarga Dengan Anak Usia Pra Sekolah. Urecol.
Putro, K. Z. (2016). Mengembangkan Kreativitas Anak Melalui Bermain. Aplikasia: Jurnal Aplikasi Ilmu-Ilmu Agama, 16(1), 19. Https://Doi.Org/10.14421/Aplikasia.V16i1.1170
Ruth. (2017). Moms, Ini 6 Manfaat Kinetic Sand Yang Sedang Booming!
Shofiyah, H., Nadlifah, N., & Purnama, S. (2020). Kemitraan Guru dan Orang Tua dalam Menangani Anak yang Masih Ditunggu pada Jam Belajar. Journal on Early Childhood Education Research (JOECHER), 1(2), 62-71. https://doi.org/10.37985/joecher.v1i2.10.
Suyadi. (2017). Teori Pembelajaran Anak Usia Dini: Dalam Kajian Neorosains. ( Nita Nur Muliawati, Ed.). Bandung: Pt Remaja Rosdakarya.
Utomo, H. B., Pd, M., Psi, M., Lailiyah, N. U. R., & Pd, M. (2018). Pada Anak Kelompok B Tk Aisyiyah Bustanul Athfal V Kediri Tahun Pelajaran 2017 / 2018 Oleh : Nurul Indana Dibimbing Oleh : Surat Pernyataan Artikel Skripsi Tahun 2018.
Wulandari, F. (2018). Pengaruh Bermain Kinetic Sand Terhadap Kreativitas Anak Usia 5-6 Tahun. Jurnal Anak Usia Dini, 3(2), 18–23. Diambil Dari Journal.Um-Surabaya.Ac.Id › Index.Php › Pedagogi
Yulsyofriends. (2013). Bahasa Anak Usia Dini. Padang: Unp Press.
Yuniati, E. (2018). Sandplay Mempengaruhi Perkembangan Motorik Hakus Anak Usia Prasekolah. Indonesian Journal Of Nursing Practices, 2(2), 61–67.