HUBUNGAN ANTARA KEBUTUHAN AFILIASI DENGAN PERILAKU ASERTIF PADA ANAK USIA 5-6 TAHUN DI YAYASAN BUAH HATI BUNDA, TK DAN PAUD BONDAR DESA TAMBUSAI BARAT
Article Sidebar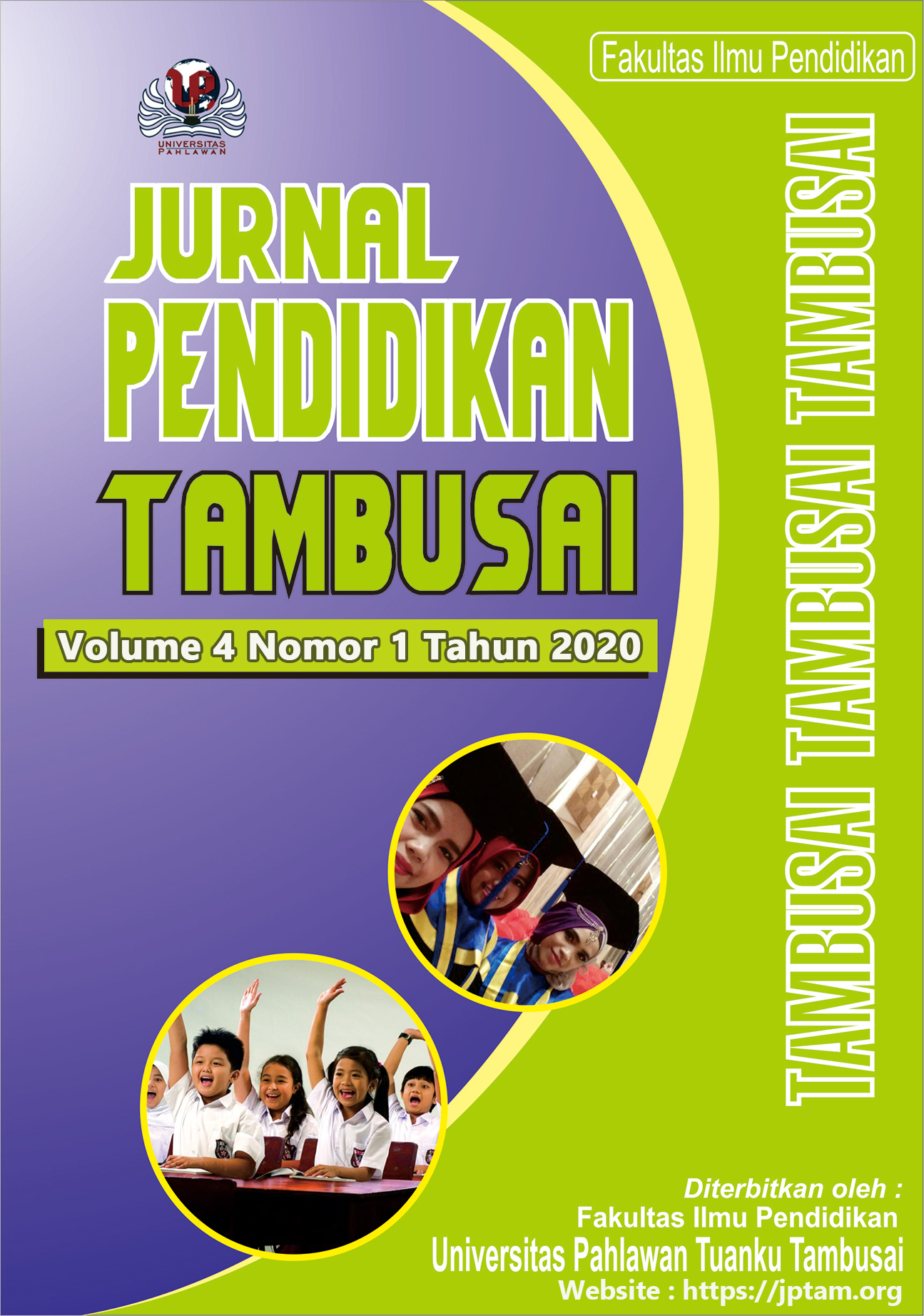 Published: Jan 30, 2020
Section:
Articles
Keywords:
Kebutuhan Afiliasi, Perilaku Asertif

Article Matrics :
Abstract views
11
times
Total Downloaded
1
times
This article can be traced in:
GOOGLE SCHOLAR
PORTAL GARUDA
BASE
INDONESIA ONESEARCH
MORAREF
Main Article Content
Fitri Wati
Pendidikan Guru Pendidikan Anak Usia Dini, Universitas Riau
Ria Novianti
Pendidikan Guru Pendidikan Anak Usia Dini, Universitas Riau
Enda Puspitasari
Pendidikan Guru Pendidikan Anak Usia Dini, Universitas Riau
Abstract
 Penelitian ini bertujuan untuk mengetahui hubungan antara kebutuhan afiliasi dengan perilaku asertif pada anak usia 5-6 tahun di Yayasan Buah Hati Bunda, TK dan PAUD Bondar Desa Tambusai Barat, Kecamatan Tambusai Kabupaten Rokan Hulu. Penelitian ini adalah penelitaian kuantitatif dengan jenis penelitian korelasi. Teknik sampling yang digunakan dalam penelitian ini yaitu sampel jenuh dengan jumlah sampel 30 orang. Teknik pengumpulan data yang digunakan yaitu lembar observasi. Teknik analisis data menggunakan teknik korelasi pearson product moment. Berdasarkan hasil uji hipotesis diketahui dari nilai koefisien korelasi sebesar rxy = 0.577 dengan taraf signifikan 0.001 < 0.05. dengan demikian dapat disimpulkan terdapat hubungan antara kebutuhan afiliasi dengan perilaku asertif. Tingkat hubungannya termasuk dalam kategori sedang dengan nilai koefisien determinan yang dihasilkan adalah sebesar 33.3% maka dapat diketahui bahwa kebutuhan afiliasi memberi kontribusi sebesar 33.3% terhadap perilaku asertif.
Downloads
Download data is not yet available.
Article Details
How to Cite
Wati, F., Novianti, R., & Puspitasari, E. (2020). HUBUNGAN ANTARA KEBUTUHAN AFILIASI DENGAN PERILAKU ASERTIF PADA ANAK USIA 5-6 TAHUN DI YAYASAN BUAH HATI BUNDA, TK DAN PAUD BONDAR DESA TAMBUSAI BARAT. Jurnal Pendidikan Tambusai, 4(1), 520-527. https://doi.org/10.31004/jptam.v4i1.494
Authors who publish with this journal agree to the following terms:
Authors retain copyright and grant the journal right of first publication with the work simultaneously licensed under a Creative Commons Attribution License that allows others to share the work with an acknowledgement of the work's authorship and initial publication in this journal.
Authors are able to enter into separate, additional contractual arrangements for the non-exclusive distribution of the journal's published version of the work (e.g., post it to an institutional repository or publish it in a book), with an acknowledgement of its initial publication in this journal.
Authors are permitted and encouraged to post their work online (e.g., in institutional repositories or on their website) prior to and during the submission process, as it can lead to productive exchanges, as well as earlier and greater citation of published work (See The Effect of Open Access).
References
Ali dan Astori (2010). Psikologi Remaja Perkembangan Anak Usia Dini. PT. Bumi Aksara. Jakarta
Anggraini, J. (2016). Hubungan Antara Kebutuhan Afiliasi dengan Asertifitas Pada Peserta Didik di Madrasah Aliyah Patra Mandiri Palembang. Universitas Raden Fatah Palembang
Dewi, T., Kuncoro, J.(2011). Kebutuhan Berafiliasi, Introversi Kepribadian serta Ketergantungan pada Facebook pada Mahasiswa. Jurnal Unissula 06(2)
Ginting, BO., Masykur, AM. (2014). Hubungan Antara Harga Diri dengan Asertivitas pada Siswa Kelas XI SMA Kesatrian 2 Semarang. Jurnal Undip 03(4)
Irmawati, DF. (2017). Hubungan Antara Perilaku Asertif dan Harga Diri dengan Kecenderungan Melakukan Seks Pada Remaja Putri. Program Magister Psikologi Fakultas Psikologi UNTANG Surabaya. Tesis 892
Novianti, R. (2012). Teknik Observasi bagi pendidikan anak usia dini. Educhild, 01(1), 22-29.
Novianti, R. (2018). PARENT-INK: Stiletto Book. Stiletto Book
Sabda, M. (2013). Hubungan Perilaku Asertif dengan Penyesuaian Sosial pada Siswa MTS al-Istam Serang. Jurnal
Sugiyono (2013). Metode Penelitian Pendidikan. Alfabeta. Bandung.
Most read articles by the same author(s)