MENINGKATKAN HASIL BELAJAR PPKN SISWA KELAS IX 7 SMPN 1 LIRIK MELALUI MODEL VCT
Article Sidebar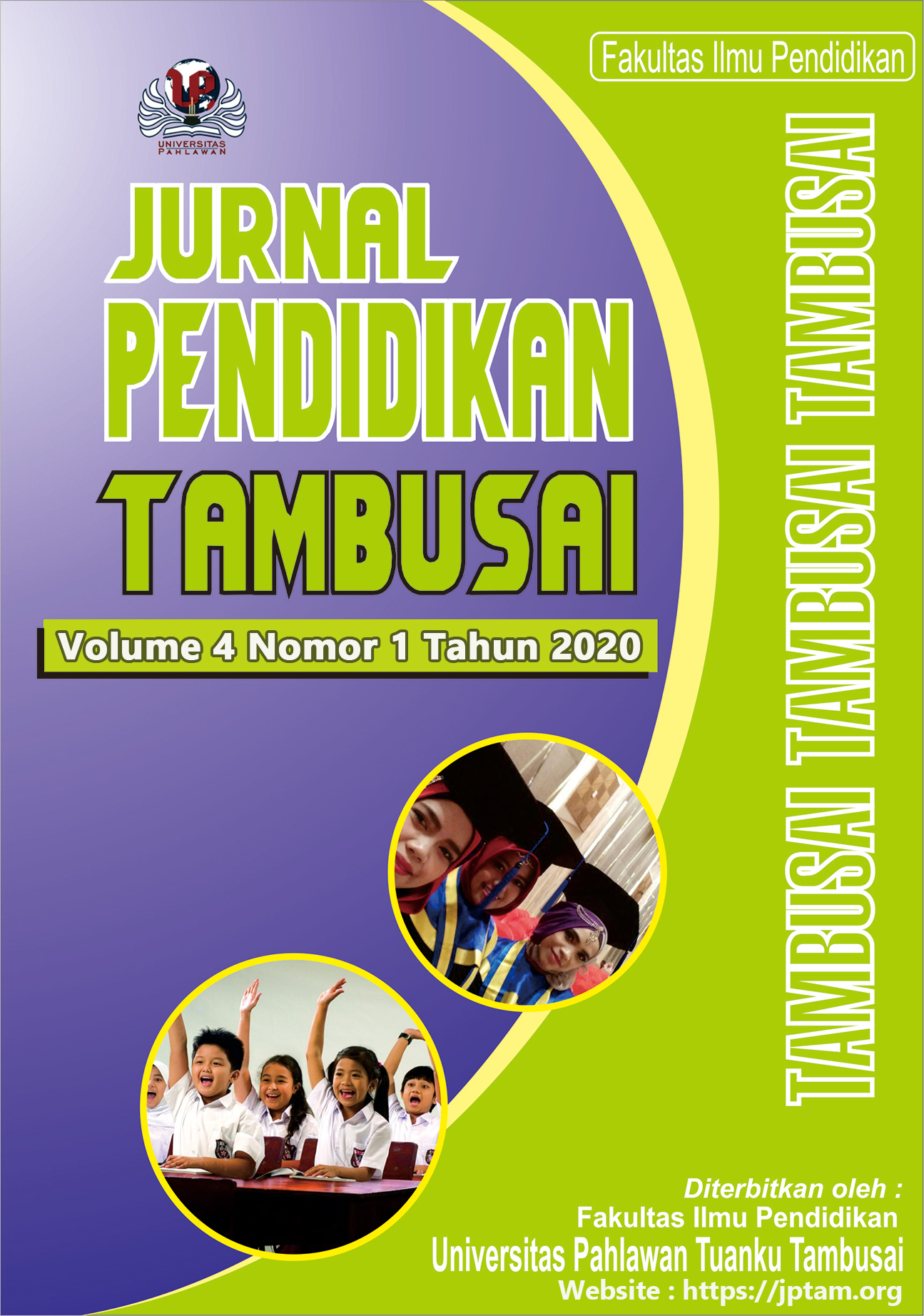 Published: Jun 16, 2020
Section:
Articles
Keywords:
VCT (Value Clarification Teachnique), Keberagaman masyarakat dalam bingkai Bhinneka Tunggal Ika, Hasil Belajar

Article Matrics :
Abstract views
2
times
Total Downloaded
0
times
This article can be traced in:
GOOGLE SCHOLAR
PORTAL GARUDA
BASE
INDONESIA ONESEARCH
MORAREF
Main Article Content
Nurhayati Nurhayati
SMP Negeri 1 Lirik, Indragiri Hulu Riau, Indonesia
Abstract
Berdasarkan observasi, hasil belajar siswa di SMP Negeri 1 Lirik belum mencapai nilai kriteria kelulusan minimal pada pebelajaran PPKn disebabkan kurang tepatnya memilih model pembelajaran sehingga siswa kurang termotivasi untuk belajar. Penelitian ini berupaya membangun proses pembelajaran yang lebih baik, dengan menciptakan inovasi-inovasi yang dapat meningkatkan hasil belajar siswa. Salah satunya melalui penerapan model VCT dalam pebelajaran PPKn di kelas IX 7 SMP Negeri 1 Lirik. Hasil penelitian menunjukkan bahwa (1) Aktivitas guru pada siklus 1 yaitu 74%, dan mengalami peningkatan pada siklus 2 yaitu 86%. (2) aktifitas siswa pada siklus 1 yaitu 67%, pada siklus 2 meningkat yaitu 81% (3) Ketuntasan belajar siswa pada siklus 1 sebesar 71,9%, dan meningkat pada siklus 2 sebesar 90,61. Berdasarkan hasil analisis data dapat disimpulkan bahwa penerapan model Value Clarification Technique sangat cocok digunakan pada pembelajaran PPKn dan dapat meningkatkan hasil belajar siswa kelas IX 7 SMP Negeri 1 Lirik.
Downloads
Download data is not yet available.
Article Details
Authors who publish with this journal agree to the following terms:
Authors retain copyright and grant the journal right of first publication with the work simultaneously licensed under a Creative Commons Attribution License that allows others to share the work with an acknowledgement of the work's authorship and initial publication in this journal.
Authors are able to enter into separate, additional contractual arrangements for the non-exclusive distribution of the journal's published version of the work (e.g., post it to an institutional repository or publish it in a book), with an acknowledgement of its initial publication in this journal.
Authors are permitted and encouraged to post their work online (e.g., in institutional repositories or on their website) prior to and during the submission process, as it can lead to productive exchanges, as well as earlier and greater citation of published work (See The Effect of Open Access).
References
Ai Tin Sumartini,dkk. 2018, PPKn SMP/MTs PPKn Buku Siswa Kelas IX. Pusat Kurikulum dan Perbukuan, Balitbang, Kemendikbud. Edisi Revisi 2018.
Arikunto, S. 1998. Prosedur Penelitian. Jakarta: Rinneka Cipta.
Balitbang, 2017, Kementrian Pendidikan dan Kebudayaan.
Permendikbud, 2018, Permendikbud No 37 tahun 2018 tentang standar Isi Kurikulum SMP/MTs.
Kemendikbud, 2017, Silabus pembelajaran SMP/MTs Balitbang, kementrian pendidikan dan kebudayaan tahun 2017.
Tin Sumartini,dkk. 2018, PPKn SMP/MTs Buku Guru Kelas IX. Pusat Kurikulum dan Perbukuan, Balitbang, Kemendikbud. Edisi Revisi 2018.
W. Winkel, 1989. Psikologi Pengajaran.

Internet
Aswan Zain, 2019. Pengertian Hasil Belajar. Di akses melalui https://www.zonareferensi.com/pengertian-hasil-belajar/
Burton, 1984, Hakikat Pembelajaran, diakses melalui http://www.karyatulisku.com /2017/10/hakikat-belajar-hakikat-pembelajaran-hasil-belajar.html
Gagne, Berliner, 1983, diakses melalui http://www.karyatulisku.com/2017/10/hakikat-belajar-hakikat-pembelajaran-hasil-belajar.html