PENINGKATAN HASIL BELAJAR PEREKAYASAAN SISTEM AUDIO MELALUI PEMBELAJARAN KOOPERATIF TIPE TUTOR TEMAN SEBAYA DI KELAS XI AV 2 SMK NEGERI 1 BANGKINANG KOTA
Article Sidebar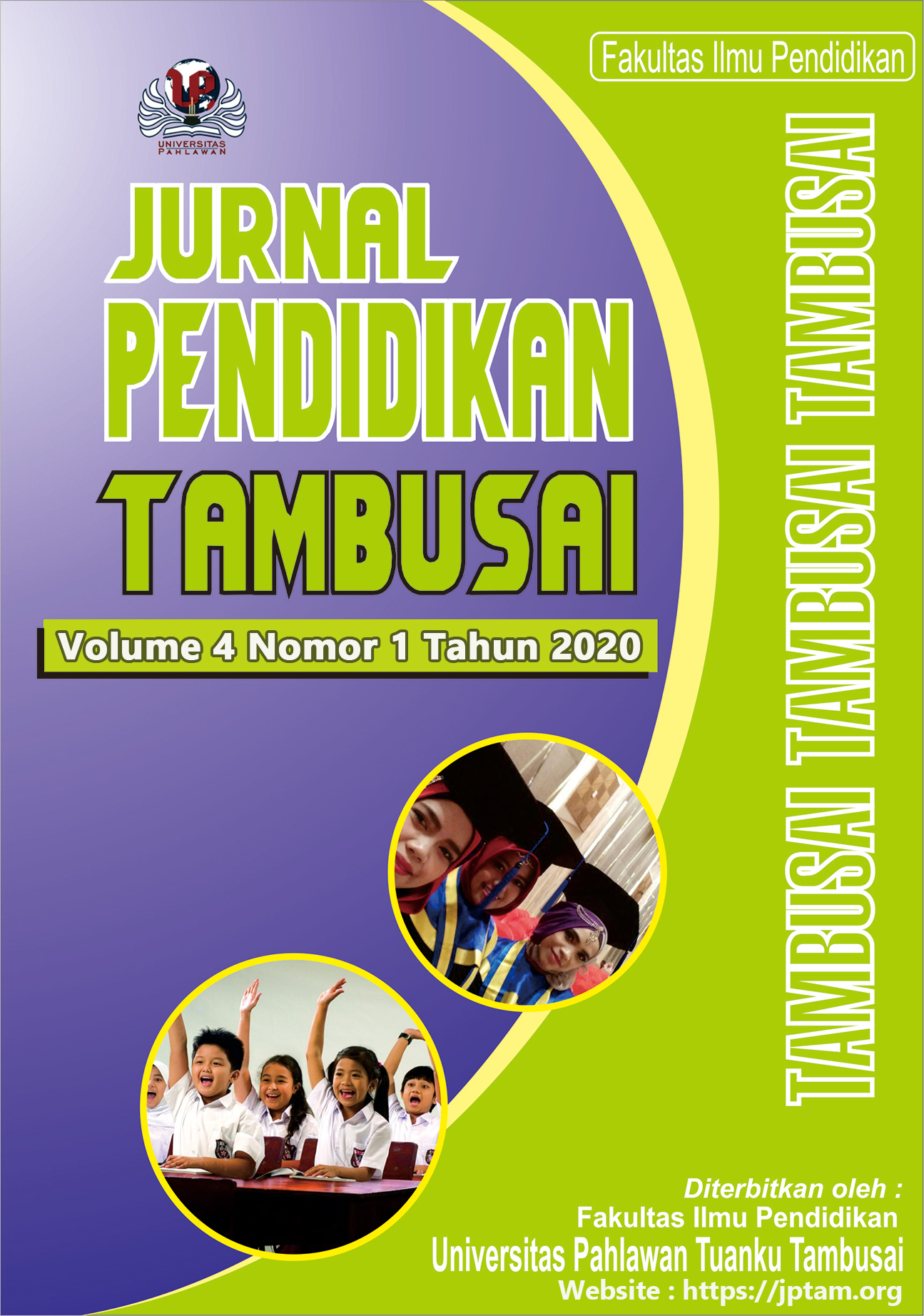 Published: Jun 16, 2020
Section:
Articles
Keywords:
Hasil Belajar, Kooperatif Tipe Tutor Teman Sebaya

Article Matrics :
Abstract views
1
times
Total Downloaded
0
times
This article can be traced in:
GOOGLE SCHOLAR
PORTAL GARUDA
BASE
INDONESIA ONESEARCH
MORAREF
Main Article Content
Rika Defira
Guru SMK Negeri 1 Bangkinang, Kampar, Riau Indonesia
Abstract
Dalam proses belajar mengajar guru mempunyai tugas untuk memilih model pembelajaran berikut media yang tepat sesuai dengan materi yang disampaikan demi tercapainya tujuan pembelajaran. Dalam proses belajar mengajar di kelas terdapat keterkaitan yang amat erat antara guru, siswa, dan sarana. Penelitian tindakan kelas ini dilakukan dalam dua siklus dengan subyek penelitian siswa kelas XI AV2  SMK Negeri 1 Bangkinang Kota semester 1 tahun pelajaran 2016/2017. Data keaktifan siswa dikumpulkan dengan pedoman observasi dan data tentang hasil belajar dikumpulkan dengan tes hasil belajar. Pelaksanaan tindakan diawali dengan membagi kelas atas 6 kelompok, menyampaikan tujuan pembelajaran, menyampaikan materi pembelajaran, kerja kelompok dalam menyelesaikan Lembaran Kerja, presentase kelompok dan tes. Hasil penelitian menunjukkan Penerapan Model Pembelajaran Kooperatif Tipe Tutor Sebaya sebagai model pembelajaran Perekayasaan Sistem Audio untuk penerapan aplikasi proteus 8 dapat meningkatkan keaktifan siswa dan dapat meningkatkan hasil belajar siswa dari rata-rata 56,15  dengan ketuntasan klasikal 27 % pada siklus I menjadi 78,46 dengan ketuntasan klasikal 84% pada siklus II. Dari hasilpenelitian dapat disimpulkan bahwa Penerapan Model Pembelajaran Kooperatif tipe Tutor Sebaya sebagai metode pembelajaran dapat meningkatkan hasil belajar Perekayasaan Sistem Audio siswa, sehingga dapat dijadikan alternatif pilihan pada pembelajarn Teknik Audio Video.
Downloads
Download data is not yet available.
Article Details
How to Cite
Defira, R. (2020). PENINGKATAN HASIL BELAJAR PEREKAYASAAN SISTEM AUDIO MELALUI PEMBELAJARAN KOOPERATIF TIPE TUTOR TEMAN SEBAYA DI KELAS XI AV 2 SMK NEGERI 1 BANGKINANG KOTA. Jurnal Pendidikan Tambusai, 4(1), 767-778. https://doi.org/10.31004/jptam.v4i1.527
Authors who publish with this journal agree to the following terms:
Authors retain copyright and grant the journal right of first publication with the work simultaneously licensed under a Creative Commons Attribution License that allows others to share the work with an acknowledgement of the work's authorship and initial publication in this journal.
Authors are able to enter into separate, additional contractual arrangements for the non-exclusive distribution of the journal's published version of the work (e.g., post it to an institutional repository or publish it in a book), with an acknowledgement of its initial publication in this journal.
Authors are permitted and encouraged to post their work online (e.g., in institutional repositories or on their website) prior to and during the submission process, as it can lead to productive exchanges, as well as earlier and greater citation of published work (See The Effect of Open Access).
References
Arikunto, Suharsimi. 2001. Prosedur Penelitian Suatu Pendekatan Praktek. Rineksa Cipta: Jakarta

Arsyad, Azhar. 1997. Media Pembelajaran. PT. RajaGrafindo Persada: Jakarta.
Atma Murni,dkk,(2009). Model-Model Pembelajaran Inovatif dan Media, Cendikia Insani: Pekanbaru

Departemen Pendidikan dan Kebudayaan, 1994. Petunjuk Pelaksanaan Proses Belajar Mengajar, Balai Pustaka: Jakarta.

Darmansyah,(2009) Penelitian Tindakan Kelas ( Pedoman Praktis Bagi Guru dan Dosen), Sukabina Press: Padang

Syaiful Bahri Djamarah,(1995). Strategi Belajar Mengajar, Rineka Cipta: Jakarta
Muslihuddin, 2008, Kiat Sukses Melakukan Penelitian Tindakan Kelas dan Sekolah, LPMP Jawa Barat.
Nana Sudjana.1995. Penelitian Hasil Proses Belajar mengajar. Bandung: Remaja Rosdakarya.
Nasution, 2004, Berbagai Pendekatan Dalam Proses Belajar Mengajar, Jakarta: Bumi Aksara.
Kemdikbud.2013.Buku Teknik Elektronika Dasar,Jakarta
Kemdikbud. 2013.Buku kurikulum 2013. Perekayasaan Sistem Audio Jilid 1.Jakarta