Pelatihan Kecerdasan Emosi untuk Meningkatkan Kesejahteraan Siswa (Student Well-Being) di SMP "X" Sleman
Keywords:
Kesejahteraan Siswa, Pelatihan Kecerdasan Emosi
Abstract
Penelitian ini bertujuan untuk mengetahui bagaimana pelatihan kecerdasan emosi dapat meningkatkan kesejahteraan siswa di SMP "X" Sleman. Penelitian ini menggunakan rancangan pretest-posttest with control group dengan melibatkan 17 orang siswa di SMP "X" Sleman. Pengukuran menggunakan skala kesejahteraan siswa yang dimodifikasi milik Hascher (2007). Uji hipotesis menggunakan analisis Mann Whitney dan Friedman dengan hasil diperoleh nilai signifikansi sebesar 0.923 (p> 0.05) dan nilai Z sebesar -0.096, yang mengindikasikan bahwa tidak terdapat perbedaan kesejahteraan siswa pada kelompok eksperimen dan kelompok kontrol setelah diberikan pelatihan kecerdasan emosi. Dapat disimpulkan bahwa pelatihan kecerdasan emosi belum dapat meningkatkan kesejahteraan siswa di SMP "X" Sleman.
References
Azwar, S. 2012. Penyusunan Skala Psikologi (Edisi ke- 2). Yogyakarta: Pustaka Pelajar.
Bar-On, R. 2012. The Impact of Emotional Intelligence on Health and Wellbeing. Texas: University of Texas Medical Branch.
Diaz, E. R., Fernandez, A. R., & Axpe, I. (2018). Perceived Emotional Intelligence and Life Satisfaction Among Adolescent Students. Journal of happiness studies, 1-18. doi.org/10.1007/s10902-018-0058-0
Estika, R. 2014. Penyusunan Alat Ukur Student Well-Being untuk Siswa Sekolah Menengah. Tesis (Tidak Diterbitkan). Yogyakarta: Universitas Gadjah Mada.
Fabio, A. D., & Kenny, M. E. 2016. Promoting Well-Being: The Contribution of Emotional Intelligence. Front psychol, 7. doi: 10.3389/fpsyg.2016.01182
Goleman, D. 2005. Kecerdasan Emosional (Emotional Intelligence). Jakarta: PT. Gramedia Pustaka Utama.
Hascher, T. 2003. Well-being in school: Why students need social support. Dalam P. Mayring & C. von Rhön eck (Eds.), Learning emotions-The influence of affective factors on classroom learning (127-142). Bern, Switzerland: Lang.
Hascher, T. 2007. Exploring Student' Well-Being by Taking A Variety of Looks into The Classroom. Hellenic journal of psychology, 4, 331-349.
Hurlock, Elizabeth B. 1999. Psikologi Perkembangan: Suatu Pendekatan Sepanjang Rentang Kehidupan (Edisi Kelima). Jakarta: Erlangga.
Karyani, U., Prihartanti, N., Dinar, W., Lestari, R., & dkk. 2015. The Dimensions of Student Well-being. In psychology forum UMM, 413-419.
Konu, A., & Rimpela, M. 2002. Well-being in school: a conceptual model. Health promotion international, 17 (1), 79-87.
Maharishi, P., & Ganesh, K. J. 2013. Influence of the emotional intelligence on general well being of government welfare residential school children. Journal of humanities and social science, 13 (6), 42-45.
Marin, P., & Brown, B. 2008. The School Environment and Adolescent Well-Being: Beyond Academics. Trends child research brief, 1-11.
Noble, T., McGrath, H., Wyatt, T., Carbines, R., & Robb, L. 2008. Scoping study into approaches to student wellbeing: Final Report. Sydney: ACU National.
OECD. 2007. Pisa 2015 Results: Students' Well-Being (Volume III). Paris: OECD Publishing. dx.doi.org/10.1787/9789264273856-en
Petegem, K. V., Creemers, B., Aelterman, A., & Rosseel, Y. 2008. The importance of pre-measurements of wellbeing and achievement for students' current wellbeing. South african journal of education, 28, 451-468.
Putri, D. Riskiana. 2015. Peran Dukungan Sosial dan Kecerdasan Emosi terhadap Kesejahteraan Subjektif pada Remaja Awal. Jurnal indigenous, 1 (1), 12-22.
Seniati, L., Yulianto, A., & Setiadi, B. N. 2005. Psikologi Eksperimen. Jakarta: PT. Indeks Kelompok Gramedia.
Setyahadi, S. Y., & Yanuvianti, M. 2018. Studi Deskriptif Mengenai Student Well-Being pada Siswa SMA X Bandung. Prosiding Psikologi, Seminar Penelitian Sivitas Akademika Unisba, 4(1), 1-6.
Soutter, A. K., Gilmore, A., & O'Steen, B. 2011. How do High School Youths' Educational Experiences Relate to Well-Being? Towards a Trans-Disciplinary Conceptualization. Journal happiness study, 12, 591-631.
Szcygiel, D., & Mikolajczak, M. 2017. Why are people high in emotional intelligence happier? They make the most of their positive emotions. Personality and individual differences, 117, 177-181.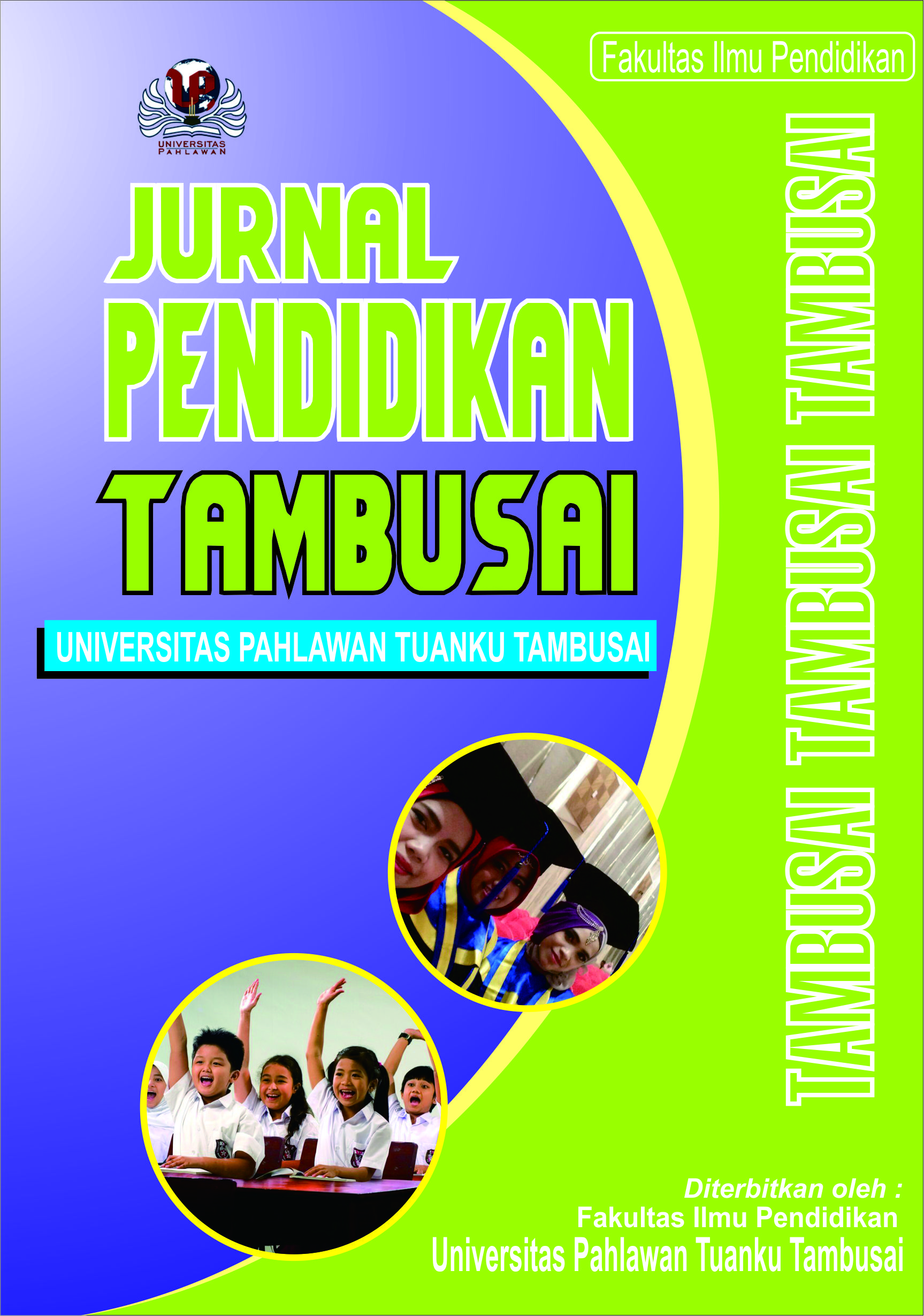 Downloads
How to Cite
Hasanah, N., Silfia Novembli, M., & Ustafiano, B. (2023). Pelatihan Kecerdasan Emosi untuk Meningkatkan Kesejahteraan Siswa (Student Well-Being) di SMP "X" Sleman. Jurnal Pendidikan Tambusai, 7(2), 8793–8801. https://doi.org/10.31004/jptam.v7i2.7134
Section
Articles of Research
License
Copyright (c) 2023 Nisaul Hasanah, Meta Silfia Novembli, Bintha Ustafiano
This work is licensed under a Creative Commons Attribution-ShareAlike 4.0 International License.
Authors who publish with this journal agree to the following terms:
Authors retain copyright and grant the journal right of first publication with the work simultaneously licensed under a Creative Commons Attribution License that allows others to share the work with an acknowledgement of the work's authorship and initial publication in this journal.
Authors are able to enter into separate, additional contractual arrangements for the non-exclusive distribution of the journal's published version of the work (e.g., post it to an institutional repository or publish it in a book), with an acknowledgement of its initial publication in this journal.
Authors are permitted and encouraged to post their work online (e.g., in institutional repositories or on their website) prior to and during the submission process, as it can lead to productive exchanges, as well as earlier and greater citation of published work (See The Effect of Open Access).