Disonansi Kognitif Kpopers Indonesia Terkait Cancel Culture sebagai Dampak dari Media Korea "Dispatch" (Studi pada Penggemar Seungri di Twitter)
Keywords:
Cancel Culture, Disonansi Kognitif, K-Pop, Kpopers, Media Korea Dispatch, Twitter
Abstract
Cancel culture merupakan hal yang menakutkan bagi tokoh publik karena dapat menjadi ancaman bagi karir selebriti. Di Korea Selatan terdapat sebuah media yang seringkali mengungkap skandal tokoh publiknya, yaitu bernama Dispatch. Sedangkan di Indonesia, praktik cancel culture juga telah menjangkau kalangan remaja dan Kpopers. Kpopers merupakan julukan bagi penggemar K-pop atau Korean Pop. Ketika terjadi cancel culture terhadap salah satu idola Kpopers, maka media akan sibuk meliput berbagai opini publik hingga menimbulkan disonansi kognitif. Tujuan penelitian ini untuk mengetahui disonansi kognitif yang diakibatkan oleh "Dispatch" terhadap penggemar Seungri saat idolanya mengalami cancel culture, serta untuk mengetahui cara mengurangi kondisi disonan penggemar Seungri di Twitter. Penelitian ini menggunakan pendekatan kualitatif dengan metode penelitian deskriptif. Teknik pengumpulan data yang digunakan adalah melalui wawancara di Twitter serta dokumentasi berupa tangkapan layer tweet yang menggambarkan keadaan disonan. Dalam penelitian ini mewawancarai tiga Kpopers Indonesia di Twitter sebagai informan terutama penggemar Seungri. Hasilnya terjadi perbedaan antara rumor media dengan fakta pengadilan yang menyebabkan disonansi kognitif dimana secara perlahan fakta tersebut bisa mengurangi kondisi disonan penggemar Seungri.
References
Choe, D.-H. (2018). Prosecutors' role and their relationship with the police in South Korea: In a comparative perspective. Internationa Journal of Law, Crime, and Justice, 55, 88–96. https://doi.org/https://doi.org/10.1016/j.ijlcj.2018.10.003
Fadholi, Prisanto, G. F., Ernungtyas, N. F., Irwansyah, & Hasna, S. (2020). Disonansi Kognitif Perokok Aktif di Indonesia. Jurnal RAP (Riset Aktual Psikologi Universitas Negeri Padang), 11(1), 1–14. https://doi.org/10.24036/rapun.v11i1.108039
Fatonah, T., & Chozanah, R. (2021, July 3). Dispatch Rilis Obrolan Teks Seungri dan 3 Temannya tentang Layanan Prostitusi Ilegal. Suara.Com. https://www.suara.com/entertainment/2021/07/03/173828/dispatch-rilis-obrolan-teks-seungri-dan-3-temannya-tentang-layanan-prostitusi-ilegal?page=1
Hasibuan, L. (2023, February 6). Sosok Seungri, Mantan Idol Kpop yang Segera Bebas Penjara. CNBC Indonesia. https://www.cnbcindonesia.com/lifestyle/20230206170509-33-411472/sosok-seungri-mantan-idol-kpop-yang-segera-bebas-penjara
Karunia, H., Ashri, N., & Irwansyah. (2021). Fenomena Penggunaan Media Sosial: Studi Pada Teori Uses and Gratification. Jurnal Teknologi Dan Sistem Informasi Bisnis, 3, 92–104. https://doi.org/https://doi.org/10.47233/jteksis.v3i1.187
Mardeson, E., & Mardesci, H. (2022). FENOMENA BOIKOT MASSAL (CANCEL CULTURE) DI MEDIA SOSIAL. JURNAL RISET INDRAGIRI, 1(3), 174–181.
McCusker, K., & Gunaydin, S. (2015). Research Using Qualitative, Quantitative or Mixed Methods and Choice Based on the Research. Perfusion, 30, 537–542. https://doi.org/https://doi.org/10.1177/0267659114559116
Park, S. (2023). Former Big Bang member Seungri to be discharged from prison. Dipe Dispatch. https://www.dipe.co.kr/2237969
Purnamasari, N. I. (2022). CANCEL CULTURE: DILEMA RUANG PUBLIK DAN KUASA NETIZEN. Mediakom?: Jurnal Ilmu Komunikasi, 6(2), 137–149. https://doi.org/10.35760/mkm.2022.v6i2.7719
Rinata, A. R., & Dewi, S. I. (2019). FANATISME PENGGEMAR KPOP DALAM BERMEDIA SOSIAL DI INSTAGRAM. Interaksi: Jurnal Ilmu Komunikasi, 8(2), 13–23.
Shabira, R. N. (2022, February 16). Apa Sih Dispatch, Media yang Langganan Bongkar Skandal Kencan Artis? IDN Times. https://www.idntimes.com/korea/knews/rafifa-nur-shabira-1/apa-sih-dispatch-media-yang-bongkar-kronologi-skandal-kim-seon-ho?page=all
Sugiyono. (2019). Metodelogi Penelitian Kuantitatif dan Kualitatif Dan R&D. ALFABETA.
Utami, A. D. W. (2022). FENOMENA CANCEL CULTURE DALAM PERSPEKTIF KONSTRUKSI DISONANSI KOGNITIF DAN KESEIMBANGAN WARGANET DI SOSIAL MEDIA. DESKOVI?: Art and Design Journal, 5(1), 52–60.
Wibisono, G. (2017). Media Baru dan Nasionalisme Anak Muda: Pengaruh Penggunaan Media Sosial "Good News From Indonesia" terhadap Perilaku Nasionalisme. Jurnal Studi Pemuda, 6(2), 590–604.
Wonkliping, S., & Surasmi, R. (2022). Cancel Culture dalam Pemberitaan Kasus Bullying Artis Korea di Instagram. Prosiding Jurnalistik , 8(1), 260–265.
Yahya, A. H., & Sukmayadi, V. (2020). A Review of Cognitive Dissonance Theory and Its Relevance to Current Social Issues. MIMBAR?: Jurnal Sosial Dan Pembangunan, 36(2), 480–488. https://doi.org/10.29313/mimbar.v36i2.6652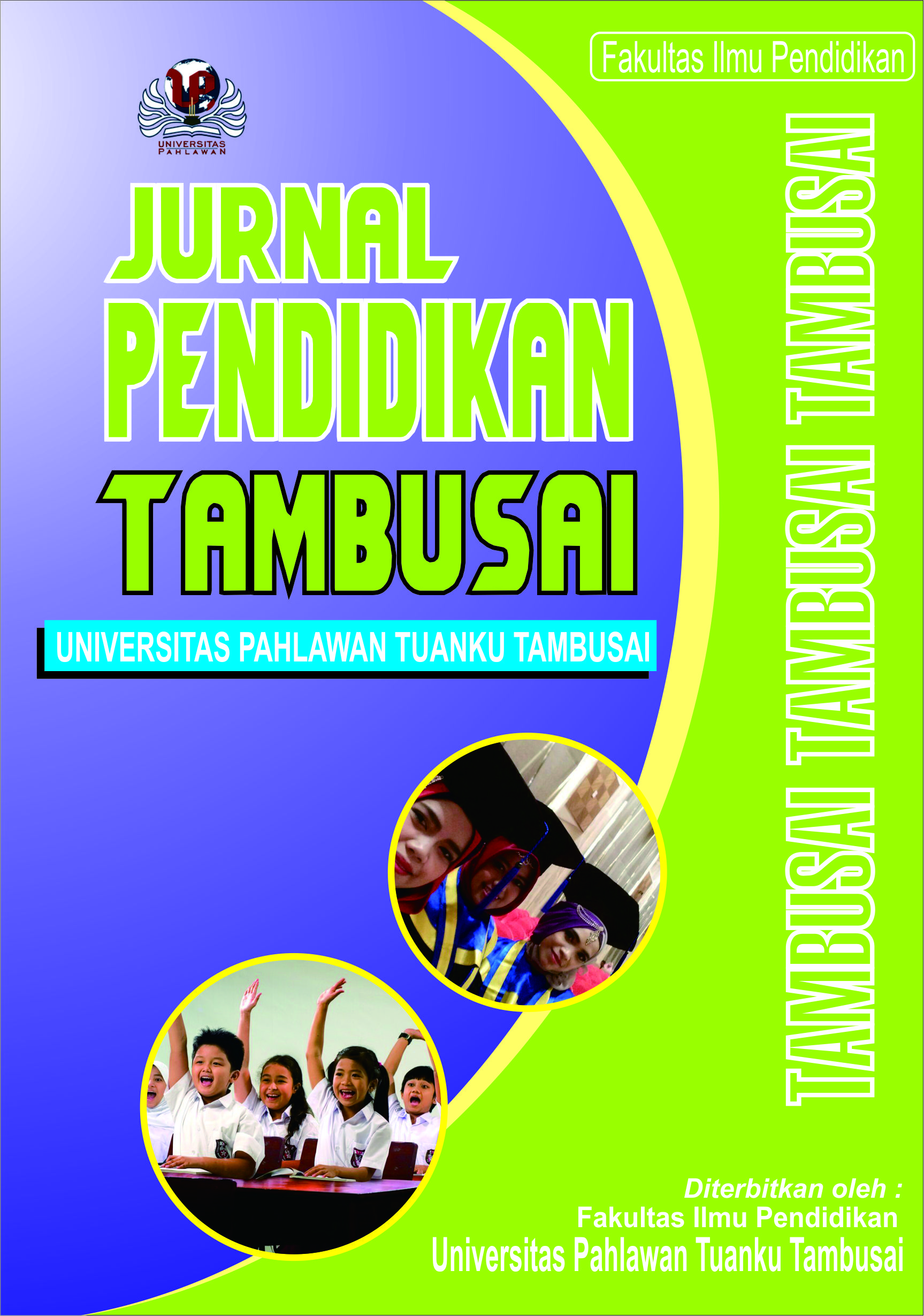 Downloads
How to Cite
Budiati, A. A. T. ., & Sukmarini, A. V. . (2023). Disonansi Kognitif Kpopers Indonesia Terkait Cancel Culture sebagai Dampak dari Media Korea "Dispatch" (Studi pada Penggemar Seungri di Twitter). Jurnal Pendidikan Tambusai, 7(2), 7369–7377. https://doi.org/10.31004/jptam.v7i2.7394
Section
Articles of Research
License
Authors who publish with this journal agree to the following terms:
Authors retain copyright and grant the journal right of first publication with the work simultaneously licensed under a Creative Commons Attribution License that allows others to share the work with an acknowledgement of the work's authorship and initial publication in this journal.
Authors are able to enter into separate, additional contractual arrangements for the non-exclusive distribution of the journal's published version of the work (e.g., post it to an institutional repository or publish it in a book), with an acknowledgement of its initial publication in this journal.
Authors are permitted and encouraged to post their work online (e.g., in institutional repositories or on their website) prior to and during the submission process, as it can lead to productive exchanges, as well as earlier and greater citation of published work (See The Effect of Open Access).