Tradisi Kalosara dalam Perspektif Nilai Pendidikan Karakter pada Pernikahan Suku Tolaki Kabupaten Kolaka
Keywords:
Tradisi Kalosara, Suku Tolaki, Nilai, Pendidikan Karakter
Abstract
Tradisi Kalosara merupakan salah satu tradisi yang berasal dari suku Tolaki Kabupaten Kolaka. Kalosara merupakan benda yang disakralkan oleh masyarakat suku Tolaki yang dijadikan simbol hukum adat dan kebudayaan yang digunakan dalam berbagai upacara adat, salah satunya adalah upacara pernikahan. Adapun tujuan penelitian ini adalah untuk mengetahui tradisi kalosara dalam perspketif nilai pendidikan karakter pada suku Tolaki Kabupaten Kolaka Provinsi Sulawesi Tenggara. Jenis penelitian ini menggunakan penelitian kualitatif dengan pendekatan etnografi. Data yang diperoleh dari hasil observasi, wawancara dan studi pustaka. Berdasarkan hasil penelitian ini bahwa nilai karakter yang terdapat dalam tradisi kalosara diantaranya adalah nilai religius, nilai moral, nilai sosial, nilai budaya, nilai tanggung jawab dan toleransi.
References
Adisusilo, Suptarjo, 2013, Pembelajaran Nilai Karakter Konstruksi dan VCT Sebagai Inovasi Pendekatan Pembelajaran Afektif. Jakarta: PT Rajagrafindo Persada
Alfin, 2013. Nilai-nilai Agama dan Budaya Yang Melandasi Interkasi Sosial di Pondok Pesantren Cikadeun Banten. Disertai FPS IKIP Bandung
Amalia, 2018. Implementasi Nilai-Nilai Budaya. Jurnal Pedagogika. 3(4)
Amiruddin, Ketut Suardika, Anwar, 2017. Kolasara di Kalangan Masyarakat Tolaki di Sulawesi Tenggara, MUDRA: Jurnal Seni Budaya.32 (2). 209-219
Dewantara, Ki Hajar, 2013, Ki Hajar Dewantara: Pendidikan Pemikiran, Konsepsi, Keteladanan, Sikap Merdeka I (Pendidikan). Yogyakarta: Majelis Luhur Persatuan Tamansiswa
Iqbal Alimuddin, 2021. Kalosara, Kearifan Lokal Orang tolaki Yang Perkokoh Persatuan. https://gusdurian.net/kalosara-kearifan-lokal-orang-tolaki-yang-perkokoh-persatuan/ diakses tanggal 10 Juni 2023
Lintion, 2017. Nilai Budaya Dalam Cerita Rakyat Kyai Agung Gribigdi Kecamatan Jatinon, Kabupaten Klaten dan Fungsi Bagi masyarakat Pemiliknya. Surakarta: UMS
Nurcholish Madjid, 1999a. Cendekiawan dan Religiusitas Masyarakat, Kolom-kolom di Tabloid TEKAD. Jakarta: TEKAD
Sprandley, 2017. Metode Etnografi. Yogyakarta, Tiara Wacana
Tamam, 2012. Konsep dan Model Pendidikan Karakter. Bandung: PT. Remaja
Tarimana, Abdurrauf, 1995. Kebudayaan Tolaki, Jakarta, Balai Pustaka
Wajdi,F, 2020, Nilai-Nilai Karakter Etnis Bajo Relevan Dengan Nilai karakter Bangsa, Makassar: Yayasan Barcode
Z. Putra & F. Wajdi, 2021. Implementation of Leadership Values in Pancasila Paradigm As Character Building Values. SHEs: Confrence Series 4(4) 45-52.
Z. Putra, 2018. Implementasi Pendidikan Pancasila Sebagai Character Building Mahasiswa di Universitas Sembilanbelas November Kolaka. Jurnal Citizenship: Media Publikasi Pendidikan Pancasila dan Kewarganegaraan. 1(1) 9-13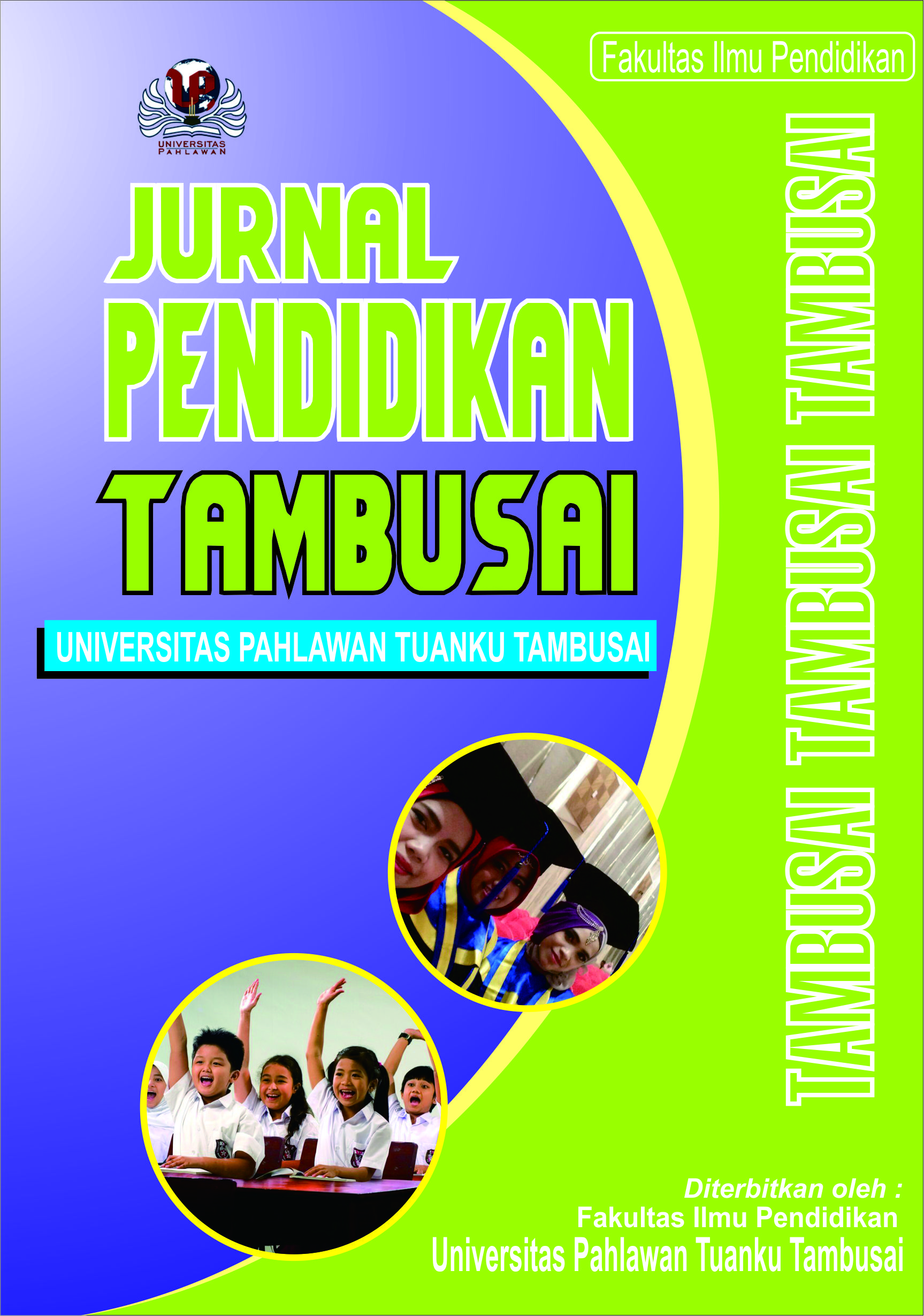 Downloads
How to Cite
Ramly, A., Putra, Z., Hariyadi, S. ., Suriaman, S., & Husnah, N. (2023). Tradisi Kalosara dalam Perspektif Nilai Pendidikan Karakter pada Pernikahan Suku Tolaki Kabupaten Kolaka . Jurnal Pendidikan Tambusai, 7(2), 7747–7754. https://doi.org/10.31004/jptam.v7i2.7465
Section
Articles of Research
License
Authors who publish with this journal agree to the following terms:
Authors retain copyright and grant the journal right of first publication with the work simultaneously licensed under a Creative Commons Attribution License that allows others to share the work with an acknowledgement of the work's authorship and initial publication in this journal.
Authors are able to enter into separate, additional contractual arrangements for the non-exclusive distribution of the journal's published version of the work (e.g., post it to an institutional repository or publish it in a book), with an acknowledgement of its initial publication in this journal.
Authors are permitted and encouraged to post their work online (e.g., in institutional repositories or on their website) prior to and during the submission process, as it can lead to productive exchanges, as well as earlier and greater citation of published work (See The Effect of Open Access).