Manajemen Pendidikan Anak Usia Dini Berbasis Masyarakat di Era Revolusi Industri 4.0
Abstract
Accumulative technological advances from time to time have driven the industrial revolution. This requires the world of education to improve the quality system dynamically. Early Childhood Education (PAUD) as the basis for the Industrial Revolution 4.0, must prepare itself with new strategies. This article aims to examine the world of early childhood in the Industrial Reform era 4.0. The research method uses library research. The results of the study indicate that there are community-based PAUD development strategies, namely: First, the thing to do is unite the community's understanding of Early Childhood. Second, the community and government prepare educational staff (teachers) and ideal-professional education as well as seek and encourage (morally and materially) educational staff to increase competence, especially in facing the era of the industrial revolution 4.0.Third, the community participates in designing the curriculum that willbe given to students. The fourth strategy is supervision and evaluation.
References
Anshori. 2010. Transformasi Pendidikan Islam. Jakarta: GP Press.
Astuti, Waluya, S. B., & Asikin, M. n.d. "Strategi Pembelajaran Dalam Menghadapi Tantangan Era Revolusi Industri 4.0. Prosiding Seminar Nasional Pascasarjana UNNES."
Carruthers, H. n.d. "Education in the Fourth Industrial Revolution, Relocate Global."
Education technology and Mobile Learning. 2016. "9 Fundamental Digital Skills for 21st Century Teachers." 316.
Fuad, Nurhatti. 2014. Manajemen Pendidikan Berbasis Masyarakat: Konsep Dan Strategi Implementasi. Jakarta: Rajawali Press.
Ihsan Maulana, Nurhafizah. 2019. "Analisis Kebijakan Pendidikan Anak Usia Dini Di Era Revolusi Industri 4.0." Jurnal Pendidikan Tambusai, Fakultas Ilmu Pendidikan, Univ. Negeri Padang3(2):155.
Mulyasa. 2004. Manajemen PAUD. Bandung: PT Remaja Rosydakarya. Nasional, Departemen Pendidikan. n.d. UU RI No. 20 Tahun 2003
Tentang Sistem Pendidikan Nasional. Jakarta: Departemen Pendidikan Nasional.
Nata, Abuddin. n.d. "Guru Profesional Di Era Digital."
Oos M. Anwas. 2012. "Model PAUD Posdaya Sebagai Alternative Pelaksanan Pendidikan Anak Usia Dini Berbasis Masyarakat." Jurnal Pendidikan Dan Kebudayan 18(3):321.
Pasaribu, Saadatul Awaliyah. 2017. "Konseptualisasi PAUD Berbasis Pendidikan Karakter." 1(1):403.
Rahman, Hasibuan S. 2000. Karakteristik Anak Usia Dini. Jakarta: Rineka Cipta.
RC, Ahmad Rifai. 2013. "Model Pengelolaan Program Pendidikan Anak Usia Dini Berbasis Masyarakat." Jurnal Ilmu Pengetahuan 19(1):120.
Sagala, Syaiful. 2004. Manajemen Berbasis Sekolah Dan Masyarakat.
Jakarta: PT. Nimas Multima.
Sihombing, Umberto. 2001. Konsep Dan Pengembangan Pendidikan Berbasis Masyarakat", Dalam Fasli Djalal Dan Dedi Supriadi, Reformasi Pendidikan Dalam Konteks Otonomi Daerah. Yogjakarta: Adicita Karya Nusa.
Sukartono. 2018. Revolusi Industri 4.0 Dan Dampaknya Terhadap Pendidikan Di Indonesia.
Suryanto. 2005. Konsep Dasar Pendidikan Anak Usia Dini. Jakarta: PT Bumi Kasara.
Susilo, Setiadi. 2016. Pedoman Penyelenggaraan PAUD. Jakarta: Bee Media Pustaka.
Tatik Widaningsih, Pungki Nahyu Widyawati, Ahmad Shodiq, Achmad Zayadi. 2019. "Revolusi Industri 4.0 Dan PAUD Untuk Generasi Alfa: Sebuah Telaah." Prosiding Seminar Nasional Pendidikan FKIP, Universitas Sultan Agung Tirtayasa 2(1):35.
Theguardian.com. 2017. "We May Have Less than Five Years to Change How We Learn, Earn and Care."
Ulfa, Maria. 2015. "SYAHADAT: Sebuah Pendekatan Dalam Mengoptimalkan Manajemen Berbasis Masyarakat." Jurnal Al Ijtimaiyyah 1(1):115.
Umi Nur Qomariyah, Diah Puji Nali Brata. 2018."Konsep PAUD Alam Sebagai Upaya Pemberdayaan Masyarakat."
Yahya, Muhammad. 2018."Era Industri 4.0: Tantangan Dan Peluang Perkembangan Pendidikan Kejuruan Indonesia."
Zubaidi. 2012. Pendidikan Berbasis Masyarakat. Yogjakarta: Pustaka Pelajar.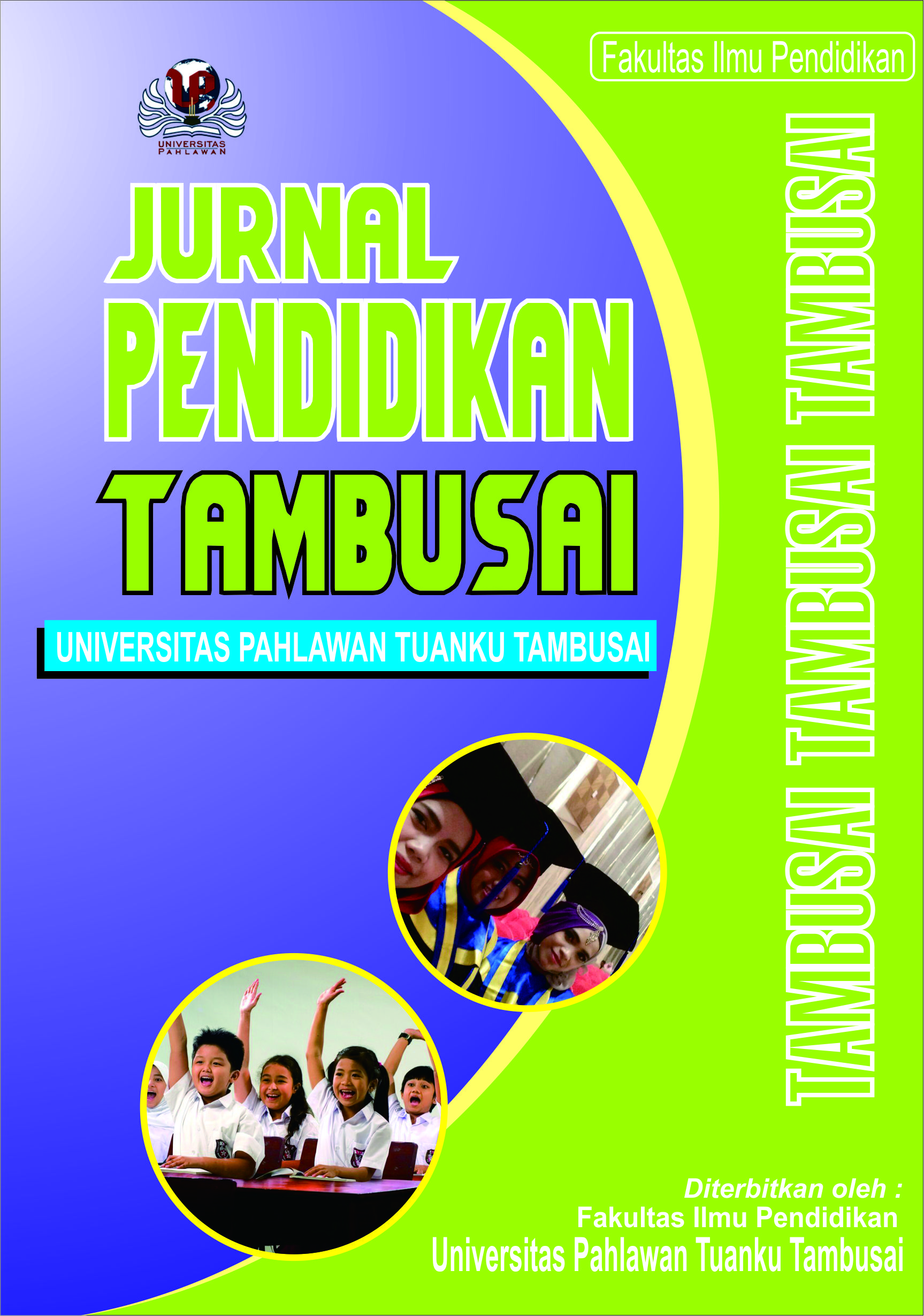 Downloads
How to Cite
Gondo Subandi, Ribut Wahyu Eryanti, & Atok Miftachul Hudha. (2023). Manajemen Pendidikan Anak Usia Dini Berbasis Masyarakat di Era Revolusi Industri 4.0. Jurnal Pendidikan Tambusai, 7(2), 9478–9488. https://doi.org/10.31004/jptam.v7i2.7682
Section
Articles of Research
License
Copyright (c) 2023 Gondo Subandi, Ribut Wahyu Eryanti, Atok Miftachul Hudha
This work is licensed under a Creative Commons Attribution-ShareAlike 4.0 International License.
Authors who publish with this journal agree to the following terms:
Authors retain copyright and grant the journal right of first publication with the work simultaneously licensed under a Creative Commons Attribution License that allows others to share the work with an acknowledgement of the work's authorship and initial publication in this journal.
Authors are able to enter into separate, additional contractual arrangements for the non-exclusive distribution of the journal's published version of the work (e.g., post it to an institutional repository or publish it in a book), with an acknowledgement of its initial publication in this journal.
Authors are permitted and encouraged to post their work online (e.g., in institutional repositories or on their website) prior to and during the submission process, as it can lead to productive exchanges, as well as earlier and greater citation of published work (See The Effect of Open Access).