Pengembangan E-Modul Kimia Berbasis PjBL-STEM pada Materi Reaksi Kimia untuk Fase E SMA
Keywords:
E-modul, PjBL, STEM
Abstract
Penelitian ini bertujuan untuk mengembangkan e-modul kimia berbasis PjBL-STEM pada materi reaksi kimia untuk fase E SMA dan menganalisis hasil validitas serta praktikalitas e-modul yang dikembangkan. Jenis penelitian ini adalah Research and Development (R&D) dengan model pengembangan 4D. Penelitian ini dibatasi hingga tahap develop pada uji praktikalitas. Instrumen penelitian yang digunakan berupa angket validitas dan praktikalitas. E-modul divalidasi oleh tiga dosen kimia dan dua guru kimia fase E di SMAN 16 Padang. Data validitas dianalisis dengan menggunkan rumus Aiken's V dan data praktikalitas dianalisis dengan statistika deskriptif. Dari hasil penelitian didapatkan rata-rata skor validitas 0,85 dengan kategori sangat valid dan rata-rata skor praktikalitas 88% (oleh siswa) dan 86% (oleh guru) dengan kategori sangat praktis. Hasil penelitian menunjukkan bahwa e-modul kimia berbasis PjBL-STEM pada materi reaksi kimia untuk Fase E SMA/MA valid dan praktis sehingga dapat diuji efektifitasnya.
References
Aulya, R. A., Asyhar, R., & Yusnaidar. (2021). Pengembangan E-Modul Kimia Berbasis PjBL-STEM untuk Pembelajaran Daring Siswa SMA pada Materi Larutan Penyangga Development of The Chemistry E-Module Based on Project Based Learning Method and STEM Approach for Online Class on Buffer Solution Lessons. Jurnal Of The Indonesian Society Of Integrated Chemistry, 13(2), 84–91. https://doi.org/10.22437/jisic.v13i2.14506
Darnella, R., Syarifah, S., & Afriansyah, D. (2020). Penerapan Metode Concept Mapping (Peta Konsep) dan Pengaruhnya Terhadap Kemampuan Berpikir Kritis Siswa pada Materi Sistem Gerak di MAN 1 Palembang. Jurnal Intelektualita: Keislaman, Sosial Dan Sains, 9(1), 73–86. https://doi.org/10.19109/intelektualita.v9i1.5579
Dewi, M. R. (2022). Kelebihan dan Kekurangan Project-based Learning untuk Penguatan Profil Pelajar Pancasila Kurikulum Merdeka. Ejournal UPI, 19(2), 213–226.
Febrianto, Y., & Kurniawati, D. (n.d.). Entalpi Pendidikan Kimia Pengembangan e-LKPD Terintegrasi STEM-PjBL pada Materi Asam Basa Kelas XI SMA Menggunakan Flip PDF Proffesional Software.
Hernawan, A. H., Permasih, & Dewi, L. (2008). Panduan Pengembangan Bahan Ajar. Depdiknas Jakarta, 1–13. http://file.upi.edu/Direktori/FIP/JUR._
Jauhariyyah, F. R., Suwono, H., & Ibrohim. (2017). Science, Technology, Engineering and Mathematics Project Based Learning (STEM-PjBL) pada Pembelajaran Sains. Prosiding Seminar Pendidikan IPA Pascasarjana UM, 2, 432–436. https://pasca.um.ac.id/conferences/index.php/ipa2017/article/view/1099
Kemendikbud. (2017). Panduan Praktis Penyusunan E-Modul. 1–57.
Kemendikbudristek. (2022). Dimensi, Elemen, dan Subelemen Profil Pelajar Pancasila pada Kurikulum Merdeka. 1–37.
Khairani, M., Sutisna, S., & Suyanto, S. (2019). Studi Meta-Analisis Pengaruh Video Pembelajaran Terhadap Hasil Belajar Peserta Didik. Jurnal Biolokus, 2(1), 158. https://doi.org/10.30821/biolokus.v2i1.442
Ma'wa, A. J., Toto, T., & Kustiawan, A. (2022). Pengaruh Model PJBL-STEM dalam Pembelajaran IPA pada Materi Bioteknologi terhadap Motivasi Belajar Siswa. J-KIP (Jurnal Keguruan Dan Ilmu Pendidikan), 3(1), 307. https://doi.org/10.25157/j-kip.v3i1.7256
Maydiantoro, A. (2019). Model-Model Penelitian Pengembangan (Research and Development). Jurnal Metode Penelitian, 10, 1–8.
Moshinsky, M. (1959). Naskah-Naskah Model Pembelajaran. Phys., 13(1), 104–116.
Puji, K. M., Gulo., F., & Ibrahim., A. R. (2014). Pengembangan Multimedia Interaktif Untuk Pembelajaran Bentuk Molekul Di Sma. J.Pen.Pend.Kim, 1(1), 59–65.
Ronawati Silaban, Rina Elvia, & Febrian Solikhin. (2022). Pengembangan E-Modul Kimia Berorientasi Literasi Sains Pada Materi Kesetimbangan Kimia Di Sma Negeri 3 Bengkulu Tengah. Alotrop, 6(2), 180–189. https://doi.org/10.33369/alo.v6i2.25515
Usboko, M. D. R., Parsa, I. M., & Baitanu, Z. Y. (2021). Penerapan Pembelajaran Stem Dengan Model Pjbl Di Kelas Xi Titl Smk N 2 Kupang Untuk Meningkatkan Kemampuan Berpikir Kreatif. Jurnal Spektro, 4(1), 8–14. http://ejurnal.undana.ac.id/index.php/spektro/article/download/5006/2904
Yerimadesi, Y., Bayharti, B., Handayani, F., & Legi, W. F. (2017). Pengembangan Modul Kesetimbangan Kimia Berbasis Pendekatan Saintifik Untuk Kelas Xi Sma/Ma. Sainstek?: Jurnal Sains Dan Teknologi, 8(1), 85. https://doi.org/10.31958/js.v8i1.444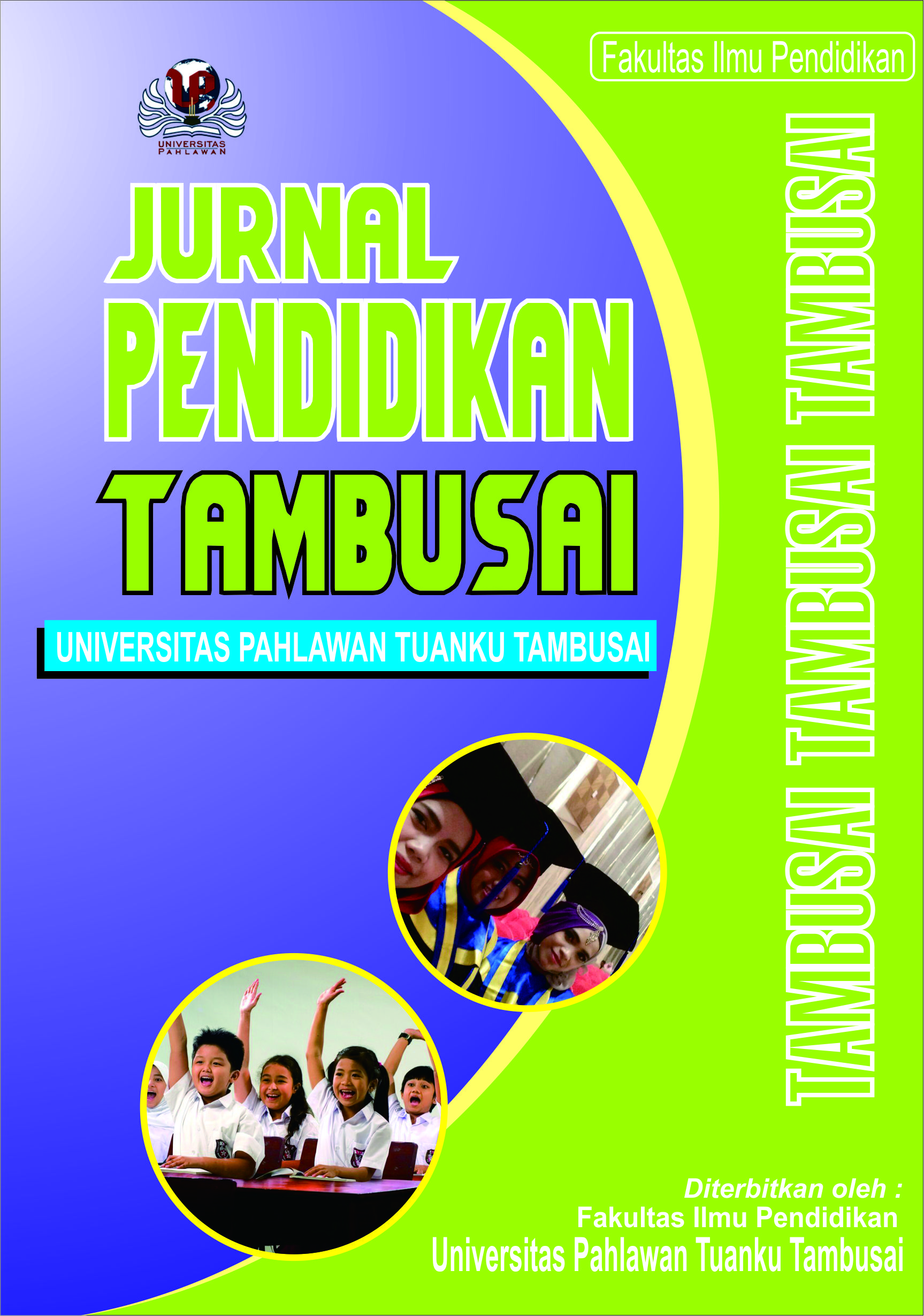 Downloads
How to Cite
Silvanny, S., & Yerimadesi, Y. (2023). Pengembangan E-Modul Kimia Berbasis PjBL-STEM pada Materi Reaksi Kimia untuk Fase E SMA. Jurnal Pendidikan Tambusai, 7(2), 11720–11730. https://doi.org/10.31004/jptam.v7i2.8240
Section
Articles of Research
License
This work is licensed under a Creative Commons Attribution-ShareAlike 4.0 International License.
Authors who publish with this journal agree to the following terms:
Authors retain copyright and grant the journal right of first publication with the work simultaneously licensed under a Creative Commons Attribution License that allows others to share the work with an acknowledgement of the work's authorship and initial publication in this journal.
Authors are able to enter into separate, additional contractual arrangements for the non-exclusive distribution of the journal's published version of the work (e.g., post it to an institutional repository or publish it in a book), with an acknowledgement of its initial publication in this journal.
Authors are permitted and encouraged to post their work online (e.g., in institutional repositories or on their website) prior to and during the submission process, as it can lead to productive exchanges, as well as earlier and greater citation of published work (See The Effect of Open Access).