Strategi Guru dalam Membentuk Karakter Disiplin pada Siswa MAN 1 Kerinci
Keywords:
Strategi, Guru, Karakter, Disiplin
Abstract
This research is expected to be able to examine the procedures carried out by educators in forming the disciplinary personality of students at MAN 1 Kerinci. The character of discipline is an important aspect of student self-awareness, which affects academic achievement and everyday life. The exploratory strategy used is subjective with a contextual investigative approach. Information was gathered through class perceptions, interviews with instructors, and examination of related records. Examination participants consist of educators related to outstanding students at MAN 1 Kerinci. The results of the study show that educators use different techniques in shaping the personality of discipline in students. This system combines set rules and standards, implementation of clear results, organized and planned learning, and a model of regulation by educators. Educators also involve students in making choices regarding class rules to increase students' sense of pride and obligation to discipline. This study provides an understanding of the procedures that can be carried out in forming the personality of discipline in students at MAN 1 Kerinci. The consequences of this exam are expected to be a reference for educators, schools, and other related parties in making successful people training programs.
References
Andriyuan, A. (2018). Meningkatkan Profesionalisme Guru Mengajar Melalui Penerapan Penilaian Kinerja Guru Di Smp Negeri 5 Singingi Kabupaten Kuantan Singingi. JURNAL PAJAR (Pendidikan Dan Pengajaran), 2(4), 497. https://doi.org/10.33578/pjr.v2i4.5690.
Arifin, Ba. S., & Rusdiana. (2019). Manajemen Pendidikan Karakter. februari 2019. Dian, R., Harahap, E., & Yus, A. (2019). Hubungan Kerjasama Orang Tua Dan Guru Untuk Mendisiplinkan Anak. Jurnal Tematik, 9(1), 81.
Ely, R. (2016). Hubungan Kedisiplinan Terhadap Hasil Belajar Siswa Kelas V Di Sd Negeri 10 Banda Aceh. Pesona Dasar (Jurnal Pendidikan Dasar Dan Humaniora), 3(4), 43–53.Esmiati, A. N., Prihartanti, N., & Partini, P. (2020). Efektivitas pelatihan kesadaran diri untuk meningkatkan kedisiplinan siswa. Jurnal Ilmiah Psikologi Terapan, 8(1), 113. https://doi.org/10.22219/jipt.v8i1.11052
Fawaid, M. M. (2017). Implementasi Tata Tertib Sekolah Dalam Meningkatkan Karakter Kedisiplinan Siswa. Jurnal Civic Hukum, 2(1), 9. https://doi.org/10.22219/jch.v2i1.9899.
Kaminudin Telaumbanua. (2018). Efektivitas Layanan Konseling Kelompok Dalam Meningkatkan Kedisiplinan Belajar Siswa Kelas Xi SMA Negeri 1 Lahusa. Jurnal Education, 4(1), 25–31.
Muhaimin, Witono, H., & Jiwandono, I. S. (2021). Peran Guru Dalam Membentuk Karakter Disiplin Siswa Kelas V SDN 42 Ampenan. JIKAP PGSD: Jurnal Ilmiah Ilmu Kependidikan, 5(2), 186–194.
Pulungan, A. S. (2017). Strategi Guru dalam Pembentukan Karakter Siswa di SMA Al- Hidayah Medan Tahun Ajaran 2016/2017 (Vol. 110265, p. 110493).
Putri, D. P. (2018). Pendidikan Karakter Pada Anak Sekolah Dasar di Era Digital. 2(1). http://journal.staincurup.ac.id/index.php/JPD
Sopian, A. (2016). Tugas, Peran, Dan Fungsi Guru Dalam Pendidikan. Raudhah Proud To Be Professionals?: Jurnal Tarbiyah Islamiyah, 1(1), 88–97. https://doi.org/10.48094/raudhah.v1i1.10.
Sormin, D., & Rahma Rangkuti, F. (2018). Strategi Guru Dalam Membentuk Karakter Siswa Mi Terpadu Mutiara Kota Padangsidimpuan. TAZKIR: Jurnal Penelitian Ilmu-Ilmu Sosial Dan Keislaman, 4(2), 219. https://doi.org/10.24952/tazkir.v4i2.1107
Priyatun. (2021). Urgensi Keteladanan Dalam Pendidikan Islam. Irsyaduna Jurnal Studi Kemahasiswaan, 1(1), 14–24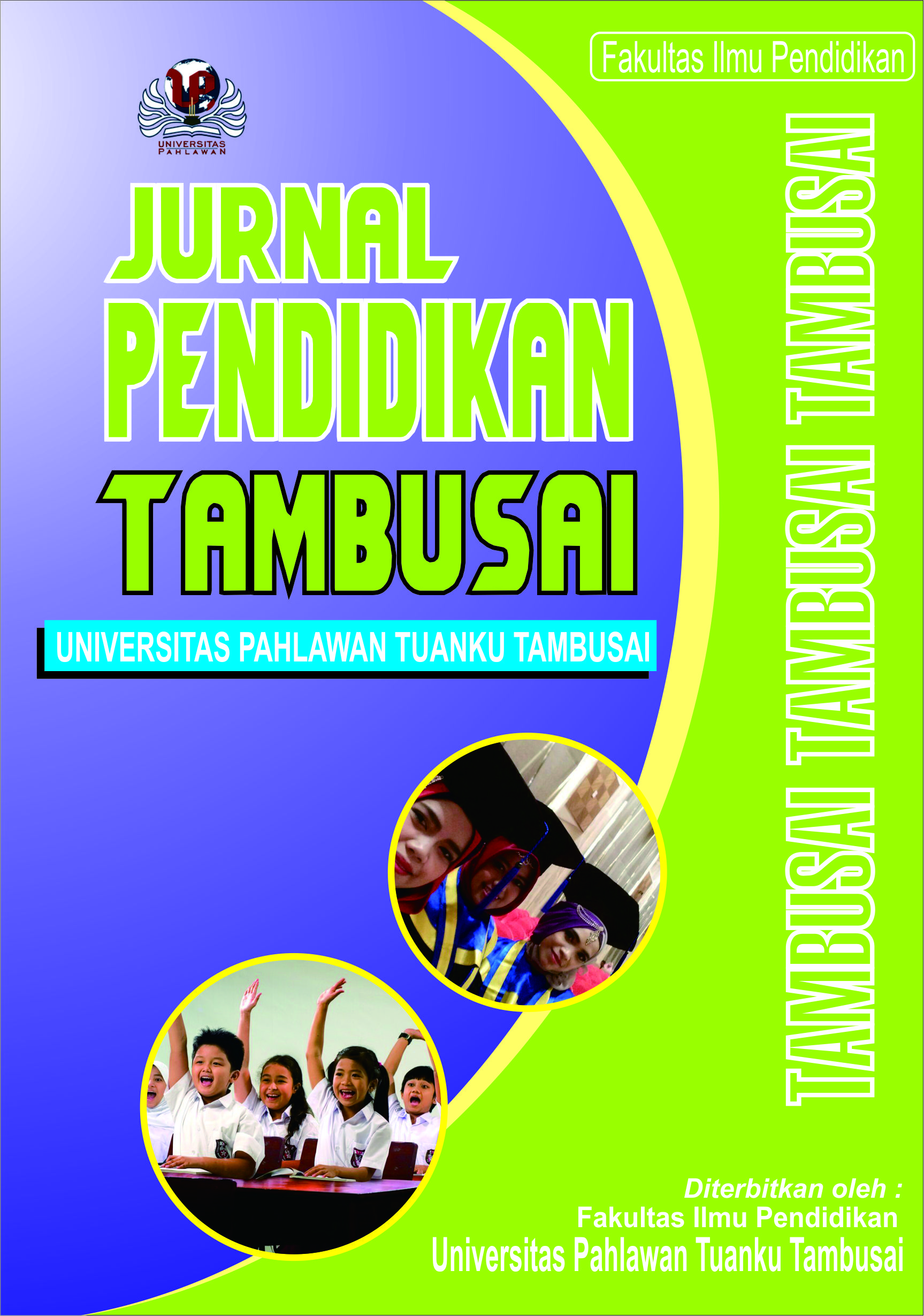 Downloads
How to Cite
Sappaile, B. I. ., Sujarot, S., Handayani, E. S. ., Amarullah, A., Prastawa, S., & Haddar, G. A. (2023). Strategi Guru dalam Membentuk Karakter Disiplin pada Siswa MAN 1 Kerinci. Jurnal Pendidikan Tambusai, 7(2), 12237–12243. https://doi.org/10.31004/jptam.v7i2.8338
Section
Articles of Research
License
Authors who publish with this journal agree to the following terms:
Authors retain copyright and grant the journal right of first publication with the work simultaneously licensed under a Creative Commons Attribution License that allows others to share the work with an acknowledgement of the work's authorship and initial publication in this journal.
Authors are able to enter into separate, additional contractual arrangements for the non-exclusive distribution of the journal's published version of the work (e.g., post it to an institutional repository or publish it in a book), with an acknowledgement of its initial publication in this journal.
Authors are permitted and encouraged to post their work online (e.g., in institutional repositories or on their website) prior to and during the submission process, as it can lead to productive exchanges, as well as earlier and greater citation of published work (See The Effect of Open Access).