Pencegahan Penularan Covid-19 Berbasis Kearifan Lokal dalam Masyarakat Minangkabau
Keywords:
Pencegahan, Penularan COVID-19, Kearifan local
Abstract
Kearifan lokal masyarakat dalam upaya pencegahan dan pengendalian COVID-19  merupakan  hal penting untuk memutus mata rantai penularan COVID-19. Penelitian ini bertujuan untuk menggambarkan kearifan lokal masyarakat Minangkabau dalam mencegah dan mengendalikan penyebaran COVID-19. Penelitian ini menggunakan metode kuantitatif dengan metode survey yang menggunakan kuesioner dalam bentuk aplikasi google form. Selain itu penelitian ini juga menggunakan metode penelitian kualitatif, dimana pengumpulan data dilakukan dengan menggunakan teknik wawancara mendalam (indepth interview) dengan informan yang dipilih secara purposive. Hasil penelitian menunjukkan bahwa  sebagian besar responden sudah melakukan upaya pencegahan penularan COVID-19 dengan menggunakan masker ketika ke luar rumah (95,41%), membersihkan tangan (91,20), mengganti pakaian dan mandi sesampai di rumah (74%), tidak bepergian dan bekerja di rumah (71%). Sebagian besar responden meningkatkan daya tahan tubuh dengan mengkosumsi makanan bergizi seimbang (78,39%), kosumsi sayur dan buah  (77,24%) dan kosumsi suplemen untuk daya tahan tubuh dan multivitamin (55,06%). Kearifan lokal yang terdapat dalam masyarakat di Minangkabau bisa dimanfaatkan untuk  pencegahan dan pengendalian penularan COVID-19. Kearifan lokal masyarakat merupakan potensi yang bisa dimanfaatkan dalam upaya pencegahan dan pengendalian COVID-19
References
Andriani, H. (2020). Effectiveness of Large-Scale Social Restrictions (PSBB) toward the New Normal Era during COVID-19 Outbreak: a Mini Policy Review. Journal of Indonesian Health Policy and Administration, 5(2), 61–65. https://doi.org/10.7454/ihpa.v5i2.4001
Arditama, E. (2020). Jurnal Pendidikan Kewarganegaraan Undiksha Vol. 8 No. 2 (Mei, 2020). Jurnal Pendidikan Kewarganegaraan Undiksha, 8(2), 2599–2686. Retrieved from https://ejournal.undiksha.ac.id/index.php/JJPP
Balitbang Provinsi Sumatera Barat. (2020). Laporan Evaluasi PSBB Tahap II.
Buana, D. R. (2020). Analisis Perilaku Masyarakat Indonesia dalam Menghadapi Pandemi Virus Corona (Covid-19) dan Kiat Menjaga Kesejahteraan Jiwa. SALAM: Jurnal Sosial Dan Budaya Syar-I, 7(3). https://doi.org/10.15408/sjsbs.v7i3.15082
Cahyorini. (2020). Ringkasan Penelitian Pengetahuan, Sikap, Dan Perilaku Hidup Sehat Masyarakat Dalam Menghadapi Pandemi Covid-19 Di Indonesia.
Dewi, Y. K., & Riyandari, B. A. (2020). Potensi Tanaman Lokal sebagai Tanaman Obat dalam Menghambat Penyebaran COVID-19. Jurnal Pharmascience, 7(2), 112. https://doi.org/10.20527/jps.v7i2.8793
Dhewantara, P. W., Prasetyowaty, H., Ipa, M., Astuti, E. P., & Widawati, M. (2020). Ringkasan Hasil Kajian Pengetahuan, Sikap, Persepsi Dan Praktik Masyarakat Indonesia Terhadap COVID-19.
Ghanbari, M. K., Behzadifar, M., Bakhtiari, A., Behzadifar, M., Azari, S., Gorji, H. A., … Bragazzi, N. L. (2021). Assessing Iran's health system according to the COVID-19 strategic preparedness and response plan of the World Health Organization: Health policy and historical implications. Journal of Preventive Medicine and Hygiene, 61(4), E508–E519. https://doi.org/10.15167/2421-4248/jpmh2020.61.4.1613
Kumala, R. D. M. (2020). Legal Analysis of Government Policy on Large Scale Social Restrictions in Handling Covid-19. The Indonesian Journal of International Clinical Legal Education, 2(2), 181–200. https://doi.org/10.15294/ijicle.v2i2.38326
Lestari, P., & Sularso, S. (2020). The COVID-19 impact crisis communication model using gending jawa local wisdom. International Journal of Communication and Society, 2(1), 47–57. https://doi.org/10.31763/ijcs.v2i1.150
Media, Y., & Alfitri. (2020). Lesbian , Gay , Bisexual , and Transgender and Alternative Policies for Its Alleviation in Minangkabau Community. Advances in Health Sciences Research, 22(Ishr 2019), 273–278. Atlantis Press.
Moudy, J., & Syakurah, R. A. (2020). Pengetahuan terkait usaha pencegahan Coronavirus Disease (COVID-19) di Indonesia. Higeia Journal of Public Health Research and Development, 4(3), 333–346.
Nakhostin-Ansari, Amin, Aghajani, F., Khonji, M. S., Aghajani, R., Pirayandeh, P., … Rudsari, H. H. (2021). Did Iranians respect health measures during Nowruz holidays? A study on Iranians' knowledge, attitude and practice toward COVID-19. Journal of Preventive Medicine and Hygiene, 61(4), E501–E507. https://doi.org/10.15167/2421-4248/jpmh2020.61.4.1576
Nugraha, A. S. (2020). Sosietas Jurnal Pendidikan Sosiologi Kearifan Lokal dalam Menghadapi Pandemi Covid-19?: Sebuah Kajian Literatur. Sosietas Jurnal Pendidikan Indonesia, 10(1), 745–753.
Retnaningsih, E., Nuryanto, N., Oktarina, R., Komalasari, O., & Maryani, S. (2020). The effect of knowledge and attitude toward coronavirus disease-19 transmission prevention practice in south sumatera province, indonesia. Open Access Macedonian Journal of Medical Sciences, 8(T1), 198–202. https://doi.org/10.3889/oamjms.2020.5184
Rumperia, M. G. (2020). Etnobotani Pencegahan Corona Virus Disease (Covid-19) Menurut Tradisi War Wen Suku Kurudu Provinsi Papua. Prosiding Seminar Nasional Pendidikan …. Retrieved from http://research-report.umm.ac.id/index.php/psnpb/article/view/3607
Sitohang, T. R., Rosyad, Y. S., Rias, Y. A., Malini, H., & Widodo, A. K. (2021). Perilaku Masyarakat Indonesia Bagian Barat Selama Pandemi Covid 19. Jurnal Kesehatan, 11(3), 356. https://doi.org/10.35730/jk.v11i3.775
Syarifah, Purba, N., & Mukidi. (2021). Local Wisdom as an Effort to Increase Immunity with Tawadhu Berwudhu to Prevent the Covid 19 Pandemic in Talang Village , Serdang Bedagai Regency. 02(01), 53–57.
Triyanto, E., & Kusumawardani, L. H. (2020). Analysis of Change Behavior Prevention of Covid-19 Transmission Based on Integrated Behavior Model. Jurnal Keperawatan Soedirman, 15(2). https://doi.org/10.20884/1.jks.2020.15.2.1441
Yanti, B., Wahyudi, E., Wahiduddin, W., Novika, R. G. H., Arina, Y. M. D., Martani, N. S., & Nawan, N. (2020). Community Knowledge, Attitudes, and Behavior Towards Social Distancing Policy As Prevention Transmission of Covid-19 in Indonesia. Jurnal Administrasi Kesehatan Indonesia, 8(2), 4. https://doi.org/10.20473/jaki.v8i2.2020.4-14
Yasa, I. W. P. (2020). Tri Hita Karana untuk Pencegahan COVID-19 di Bali. Jurnal Socius: Journal of Sociology Research and Education, 7(1), 54. https://doi.org/10.24036/scs.v7i1.176
Yunarti, Y., Nurainas, N., Yulkardi, Y., & Ramona, F. (2016). Rasionalisasi Sakit dan Penyakit dalam Konstelasi Budaya Minangkabau (Kajian Etnomedisin di Agam dan Tanah Datar). Antropologi Indonesia, 35(1). https://doi.org/10.7454/ai.v35i1.4719
Zamzami, L., & Hendrawati. (2014). Kearifan Budaya Lokal Masyarakat Maritim Untuk Upaya Mitigasi Bencana Di Sumatera Barat. Jurnal Antropologi: Isu-Isu Sosial Budaya, 16(1), 37. https://doi.org/10.25077/jantro.v16i1.18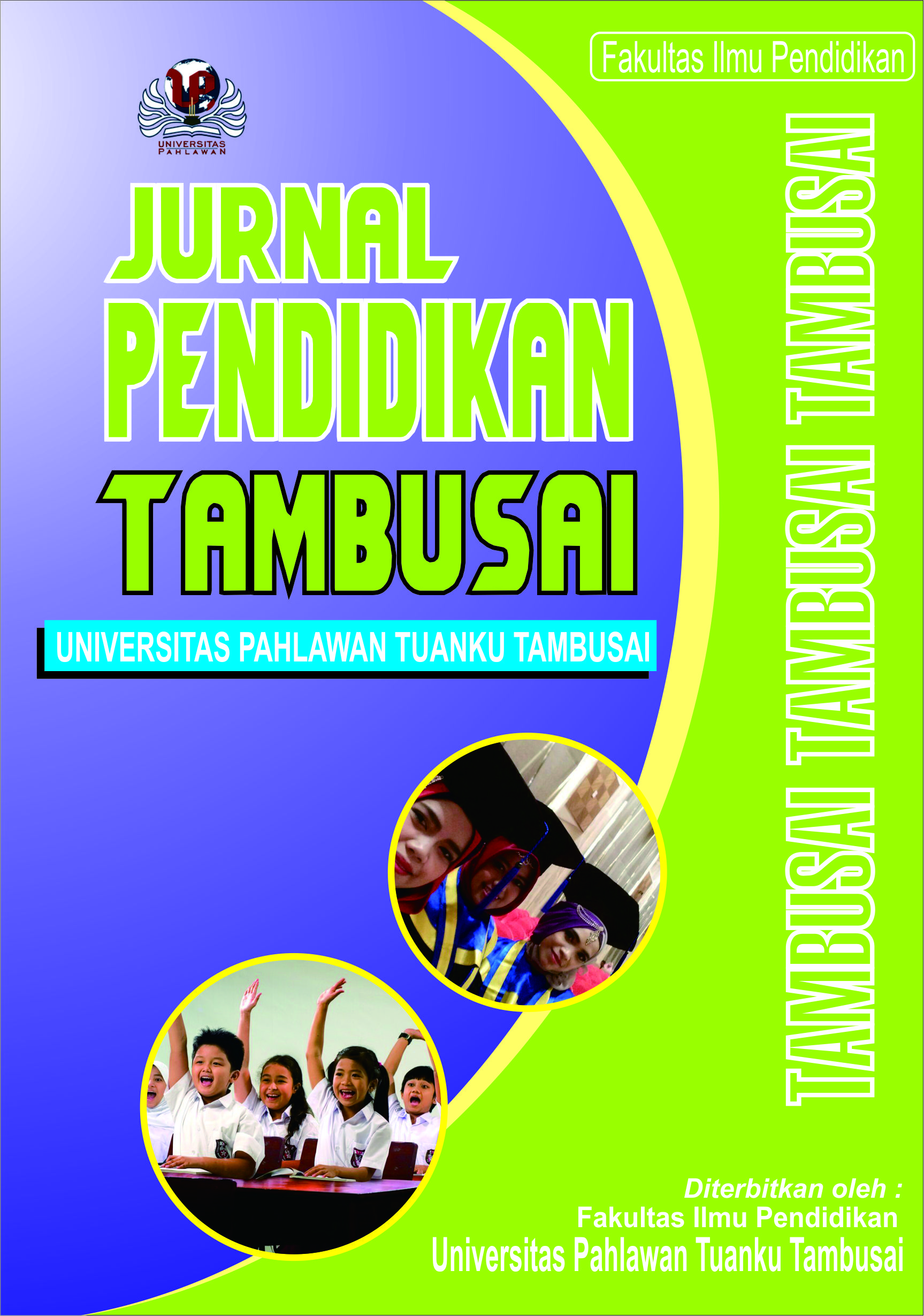 Downloads
How to Cite
Elfemi, N., Media, Y., & Isnaini, I. (2023). Pencegahan Penularan Covid-19 Berbasis Kearifan Lokal dalam Masyarakat Minangkabau. Jurnal Pendidikan Tambusai, 7(2), 12456–12465. https://doi.org/10.31004/jptam.v7i2.8374
Section
Articles of Research
License
Authors who publish with this journal agree to the following terms:
Authors retain copyright and grant the journal right of first publication with the work simultaneously licensed under a Creative Commons Attribution License that allows others to share the work with an acknowledgement of the work's authorship and initial publication in this journal.
Authors are able to enter into separate, additional contractual arrangements for the non-exclusive distribution of the journal's published version of the work (e.g., post it to an institutional repository or publish it in a book), with an acknowledgement of its initial publication in this journal.
Authors are permitted and encouraged to post their work online (e.g., in institutional repositories or on their website) prior to and during the submission process, as it can lead to productive exchanges, as well as earlier and greater citation of published work (See The Effect of Open Access).