The Transitivity System of the Texts in Nias Language Handbook used in Elementary School Published by Yayasan Gema Budaya Nias
Keywords:
Sistem Transitivitas, Jenis Proses, Teks Dalam Bahasa Nias
Abstract
Penelitian ini difokuskan pada analisis Sistem Transitivitas Teks dalam Buku Panduan Bahasa Nias yang Digunakan di Kelas Enam Sekolah Dasar Penerbitan Yayasan Gema Budaya Nias. Tujuan penelitian adalah untuk menemukan sistem transitivitas teks, untuk mengidentifikasi seberapa sering sistem transitivitas ditemukan pada teks-teks dalam buku pegangan bahasa Nias yang digunakan di kelas enam sekolah dasar yang diterbitkan oleh Yayasan Gema Budaya Nias; dan mendeskripsikan hubungan antara hasil analisis dalam pembelajaran bahasa Nias di kelas enam sekolah dasar. Dalam mencapai tujuan penelitian, peneliti menggunakan Systemic Functional Grammar yang berhubungan dengan penelitian deskriptif kualitatif, yang mengumpulkan data pada bidang ilmiah, menggunakan metode ilmiah untuk membangun pandangan peneliti, dan mendeskripsikannya melalui kata-kata kompleks dan deskripsi holistik tentang objek penelitian. belajar. Berdasarkan analisis data ditemukan bahwa enam proses sistem transitivitas dapat ditemukan dalam sepuluh teks dalam buku pegangan bahasa Nias. Kesepuluh teks tersebut terdiri dari 160 klausa. Menilik dari analisis di atas, proses material merupakan frekuensi yang dominan terjadi pada teks yang terdiri dari 92 proses atau sebesar 57,5% dari total klausa. Hasil penelitian ini berimplikasi pada proses belajar mengajar bahasa Nias sebagai mata pelajaran lokal di Nias. Proses sistem transitivitas menggambarkan beberapa peran pengajaran tata bahasa Nias kepada siswa sebagai pertimbangan dan panduan bagi guru yang mengajar bahasa Nias.
References
Adelstein, Michael E and Jean G. Pival. 1976. The Writing Commitment, New York: Harcourt Brace Jovanovich, Inc.
Apendi, T.A and Muliani R.E. 2020. The Analysis of Transitivity Process of Students' Descriptive Text. PROJECT (Professional Journal of English Education. Volume 3, No.3, 359-366.
Arikunto. S. 2006. Prosedur Penelitian Suatu Pendekatan Praktik. Jakarta: PT. Rineka Cipta.
Berry, M. 1977. Introduction to Systemic Linguistics: Structures and Systems. Vol.1. London : Batsford.
Bloor, T., and Bloor, M. (2004). The Functional analysis of English. A Hallidayan approach. (2nd Ed). London: Arnold.
Butt, D., Fahey, R., Feez, S., Spinks, S. and Yallop, C. 2003. Using Functional
Grammar – An Explorer' s Guide.Sydney:Macquarie University, National Centre for English Language Teaching and Research.
Chappell, Phill. 2013. An Intoduction to Systemic Functional Grammar. https: //hoprea.wordpress.com /2013/02/07/
Cohen, at al. 2007. Research Methods in Education. New York: Roudledge.
Coulthard, M. 2005 . Advancesin Written Text Analysis. London: Routledge.
Davidse, S. 1992. "Transitivity/Ergativity: The Janus-headed Grammar of Actions and Events," in M. Davies and L. Ravelli (eds) : 105-135
Eggins, S. 1994 . An Introduction to Systemic Functional Lingui stics London:Pinter.
Eggins, S. 2004. An Introduction to Systemic Functional Linguistics. London : Continuum.
Francesca. 2014. Any port in a storm: A systemic functional analysis of linguistic choices of representation in news texts. University of Tampere: School of Communication, Media and Theatre European and Russian Studies Master's Programme Journalism and Mass Communication.
Fauzi, Fikri. 2011. Improving Students' Ability in Writing Descriptive Text Using Clustering Technique of Eighth Grade Students of MTs Darul Ma'arif Cipete in Academic Year 2010/2011. Jakarta: Syarif Hidayatullah State Islamic University.
Fawcett, R. 1987. "The Semantics of Clause and Verb for Relational Processes in English," in M. A. K. Halliday and R. Fawcett (eds.): 130-183.
Fawcett, R. 1980. Cognitive Linguistics and Social Interaction: Towards an Integrated Model of a Systemic Functional Grammar and the Other Components of an Interacting Mind. Exeter & Heidelberg : University of Exeter & Julius Groos.
Fowler, R. 1986. Linguistic Criticism. Oxford : Oxford University Press.
Francesca, V. 2014. Any Port in a Storm: A Systemic Functional Analysis of Linguistic Choices of Representation in News Texts. University of Tampere: School of Communication, Media and Theatre
Halliday, M. A. K. 1973. Explorations in the functions of language. Explorations
in Language Study. London: Edward Arnold.
Halliday, M. A. K. 1978. Language asSocial Semiotic. London: Arnold.
Halliday, M. 1985. An Introduction to Functional Grammar. London: Arnold.
Halliday, M., and C. Matthiessen. 2004. An Introduction to Functional Grammar (3rdEdition), London: Arnold.
Halliday and Matthissen 2014. An Introduction to Functional Grammar. New York : Routledge
Hammond, J. et al. 1992. English for Social Purposes: A Handbook for Teachers of Adult Literacy. Sydney : National Centre for English Language Teaching and Research.
Hatch, J. 2002. Doing Qualitative Research in Education Setting. Albany: State University of New York Press.
Ingatan Gulö. Nias Unmutated Personal Pronouns. English Linguistics, Universitas Padjadjaran, Bandung, Indonesia IOSR Journal Of Humanities And Social Science (IOSR-JHSS) Volume 19, Issue 1, Ver. IV (Jan. 2014), PP 129-134 e-ISSN: 2279-0837, p-ISSN: 2279-0845. www.iosrjournals.org
I Wayan Arka, Wa'özisökhi Nazara, Reflexivisation without reflexives: a note from Nias. Linguistika Journal: Wahana Pengembang Cakrawala Linguistik, 9(17), 2002, 0854-9163.
Gerot, L. and Wignell, P. 1995. Making Sense of Functional Grammar. Australia: Antipadean Educational Enterprises (AEE).
Lea Brown, A grammar of Nias selatan, doctoral diss., University of Sydney, Sydney, Australia, 2001.
Lincoln, Y.S. and Cuba, E. G. 1985. Judging in the Quality of Case Study Reports. Qualitaive Study in Education.
Lock., Graham. 1996. Functional English Grammar. British : CUP
Mahya Alaei1 and Saeideh Ahangari, 2016. A Study of Ideational Metafunction in Joseph Conrad's "Heart of Darkness": A Critical Discourse Analysis. Department of English, Faculty of Persian Literature and Foreign languages, Tabriz Branch, Islamic Azad University, Tabriz, Iran
Martin, J. 1992. English Text: System and Structure. Philadelphia / Amsterdam : John Benjamins.
Miles,M. B. and Huberman, M. A. and Saldana, J. 2014. Qualitative Data Analysis (3rd addition). California : Sage Publication.
Moleong, Lexy, J. 2005. Metodologi Penelitian Kualitatif Edisi Revisi. Bandung: PT Remaja Rosdakarya Offset.
Nawawi, Hadari. 1995. Metode Penelitian Bidang Sosial. Yokyakarta: Gajah Mada University Press.
Sadighi, F. and Bavali, M. 2008. Chomsky's Universal Grammar and Halliday's Systemic Functional Linguistics: An appraisal and a compromise. Journal of Pan-Pacific Association of Applied Linguistics, 12(1), 11-28. Azad University, Shiraz Branch.
Sanjaya, Wina. 2009. Penelitian Tindakan Kelas. Jakarta: Kencana Prenada Media Group.
Saragih, A. 2010. Introducing Systemic Functional Grammar of English. A Handbook for Lecturer. Unpublished.
Setiyadi, Ag, Bambang. 2006. Metode Penelitian untuk Penelitian Bahasa Asing: Pendekatan Kuantitatif dan Kualitatif. Yokyakarta: Penerbit Graha Ilmu.
Siahaan, Junita. 2013. An Analysis of Students' Ability and Difficulties in Writing Descriptive Texts. Jakarta: English Education Study Program of Indonesia University of Education.
Simpson, P. 1993. Language, Ideology and Point of View. London : Routledge.
Sinar, Tengku Silvana. 2003. Teori dan Analisis Wacana: PendekataSystemik Fungsional. Medan: Pustaka Bangsa Press.
Thompson, G. (2004) . Introducing Functional Gr ammar London: Arnold.
Umiyati, M., Yanti, N. P. M. P. (2022). Language Metafunction in Cosmetic Advertisement. International Journal of Systemic Functional Linguistics. Vol 5 (1). 13-22. Doi: https://doi.org/10.55637/ijsfl.5.1.4919.13-22.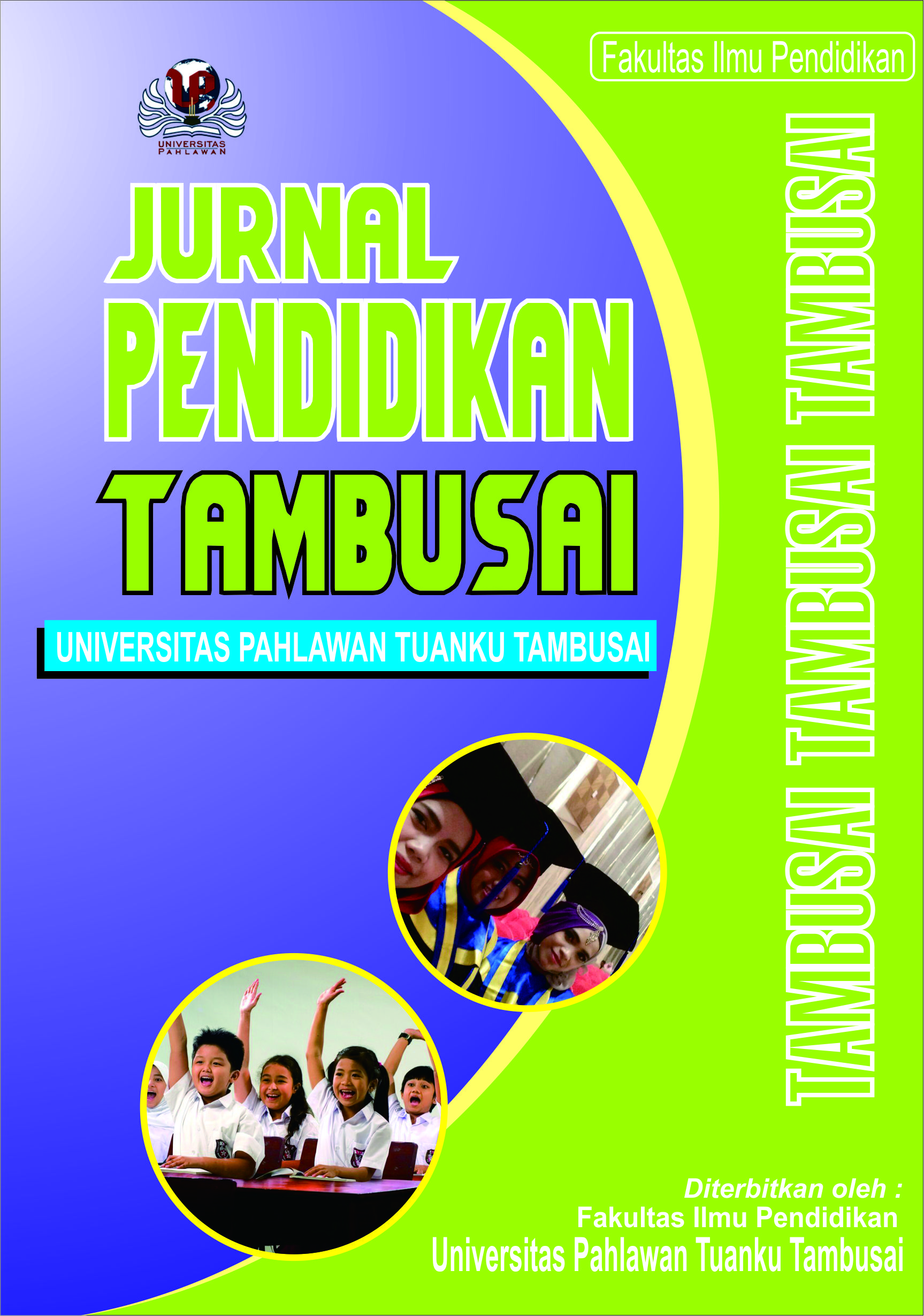 Downloads
How to Cite
Daeli, H., & Maru'ao, N. . (2023). The Transitivity System of the Texts in Nias Language Handbook used in Elementary School Published by Yayasan Gema Budaya Nias. Jurnal Pendidikan Tambusai, 7(2), 13468–13480. https://doi.org/10.31004/jptam.v7i2.8531
Section
Articles of Research
License
Authors who publish with this journal agree to the following terms:
Authors retain copyright and grant the journal right of first publication with the work simultaneously licensed under a Creative Commons Attribution License that allows others to share the work with an acknowledgement of the work's authorship and initial publication in this journal.
Authors are able to enter into separate, additional contractual arrangements for the non-exclusive distribution of the journal's published version of the work (e.g., post it to an institutional repository or publish it in a book), with an acknowledgement of its initial publication in this journal.
Authors are permitted and encouraged to post their work online (e.g., in institutional repositories or on their website) prior to and during the submission process, as it can lead to productive exchanges, as well as earlier and greater citation of published work (See The Effect of Open Access).