Mengungkap Makna Kata Matr dalam Al-Qur'an: Tinjauan Tafsir Al-Misbah
Keywords:
Matr, Al-Qur'an, Tafsir
Abstract
Hujan merupakan kejadian alam yang unik dan menakjubkan. Hujan dapat menghidupi sekaligus menjadi bencana bagi makhluk hidup. Penelitian ini bertujuan untuk menganalisis makna kata matr (hujan) dalam al-Qur'an menurut Tafsir Al-Misbah karya Quraish Shihab. Jenis penelitian ini adalah kajian pustaka (library research) dengan pendekatan tafsir. Sumber data primer penelitian ini adalah kitab Tafsir Al-Mishbah karya Quraish Shihab. Sumber data sekunder adalah beberapa kitab tafsir, buku, dan jurnal yang membahas fokus kajian. Data dikumpulkan dengan menggunakan metode dokumentasi dan dianalisis dengan teknik analisis isi. Hasil penelitian menunjukkan bahwa makna kata matr dalam al-Qur'an bukanlah hujan pembawa rahmat melainkan hujan yang membawa bencana (azab). Dalam konteks sekarang, manusia harus introspeksi diri mengenai bencana alam yang terjadi. Bisa jadi bencana tersebut merupakan ujian, peringatan, atau bahkan azab dari Allah swt.
References
Al-Baqi', M. F. 'Abd. (1992). Mu'jam al-Mufahras li Alfaz al-Qur'an al-Karim. Kairo: Dar al-Fikr.
Al Jufri, M. A. (2022). Musibah dan Pandemi Covid-19: Pembacaan Maq??id? Terhadap Ayat Musibah Dalam Al-Qur'an. REVELATIA Jurnal Ilmu Al-Quran dan Tafsir, 3(2), 179–196.
Burga, M. A., Bani, S., & Usri, U. (2020). The Relevance of Islamic Education Values in Sacrifice Worship to the Learning of Formal Education. POTENSIA: Jurnal Kependidikan Islam, 5(2), 149–178.
Departemen Agama RI. (2009). Al-Qur'an dan Tafsirnya: Edisi yang Disempurnakan, Jilid IX. Jakarta: Departemen Agama RI.
Hestina, N. A. (2020). Wabah Penyakit Menular (Covid 19) dan Perumpamaan dalam Al-Quran. Mumtaz: Jurnal Studi Al-Quran dan Keislaman, 4(2), 125–138.
Khalwani, A., Hasyim, M. Y. A., & Miftahudin, A. (2017). Kata Bermakna Hujan dalam Al-Quran (Tinjauan Semantik dan Stilistika). Lisanul Arab: Journal of Arabic Learning and Teaching, 6(1), 1–5.
Munawwir, A. W. (1997). Al-Munawwir: Kamus Arab Indonesia. Surabaya: Pustaka Progresif.
Othman, M. S., Shafie, A. A., & Ismail, M. Z. (2017). Makna Perkataan Hujan dalam al-Quran Berdasarkan Konteks Situasi. Jurnal Kemanusiaan, 15(2).
Qutb, S. (2000). Tafsir Fi Zhilalil Quran. Jakarta: Gema Insani.
Rahman, F. (2018). Tema-tema Pokok Al-Quran. Jakarta: Mizan Pustaka.
Ruslan, R., Burga, M. A., & Noer, M. U. (2022). Theological Belief Towards Islamic Spiritual Belief: Evidence From South Sulawesi, Indonesia. HTS Teologiese Studies/Theological Studies, 78(4), 6. https://doi.org/10.4102/hts.v78i4.8009
Shihab, M. Q. (1997). Mukjizat Al-Quran: Ditinjau dari Aspek Kebahasaan, Aspek Ilmiah, dan Pemberitaan Gaib. Jakarta: Mizan Pustaka.
Shihab, M. Q. (2007). Tafsir Al-Misbah: Pesan, Kesan dan Keserasian al-Qur'an. Jakarta: Lentera Hati.
Simanjuntak, D. (2019). Rizqi dalam Al-Qur'an. Jurnal El-Qanuniy: Jurnal Ilmu-Ilmu Kesyariahan Dan Pranata Sosial, 5(1), 119–133.
Sunarsa, S. S. S. (2022). Tafsir Moderat Tentang Musibah Pandemi Covid-19 (Kajian QS. al-Hadid ayat 22-23 Menurut Tafsir Ibn Katsir). Al-Afkar, Journal For Islamic Studies, 66–82.
Syarifah, U. (2010). Manhaj Tafsir dalam Memahami Ayat-ayat Kisah dalam Al Quran. ULUL ALBAB Jurnal Studi Islam, 11(2), 142–156.
Syukran, A. S. S. A. S. (2019). Fungsi Al-Qur'an bagi Manusia. Al-I'jaz: Jurnal Studi Al-Qur'an, Falsafah Dan Keislaman, 1(2), 90–108.
Yendra, R. (2017). Khazanah Hujan dalam Al-Qur'an dan Hadist. SITEKIN: Jurnal Sains, Teknologi dan Industri, 14(2), 134–143.
Zulfa, M. I., & Afroni, M. (2022). Makna Musibah dalam Al Quran. Bashrah, 2(2), 122–134.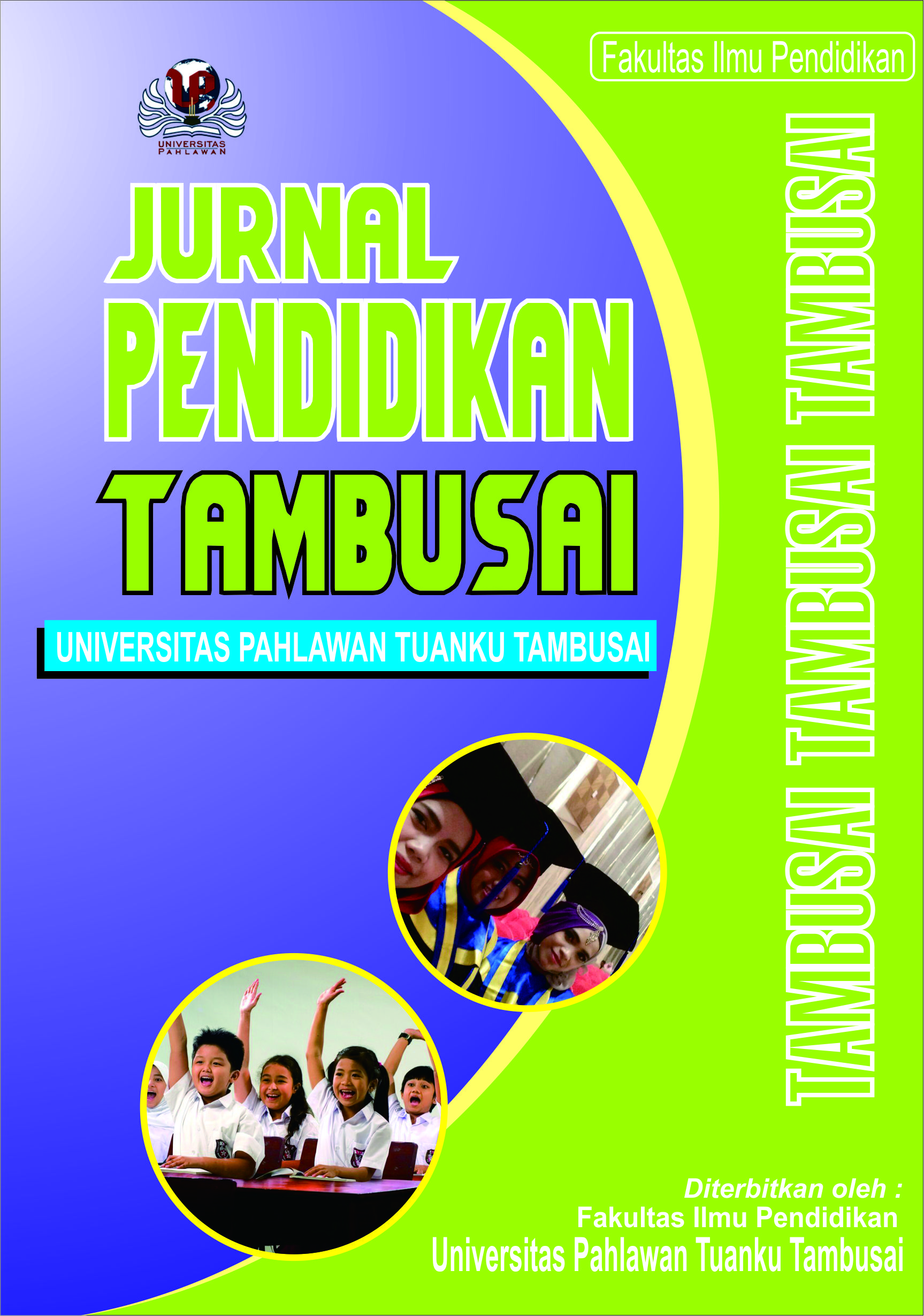 Downloads
How to Cite
Ruslan, R., Safa, N. H. A. ., Khalik, M. F. ., & Burga, M. A. . (2023). Mengungkap Makna Kata Matr dalam Al-Qur'an: Tinjauan Tafsir Al-Misbah. Jurnal Pendidikan Tambusai, 7(2), 15001–15005. https://doi.org/10.31004/jptam.v7i2.8762
Section
Articles of Research
License
Authors who publish with this journal agree to the following terms:
Authors retain copyright and grant the journal right of first publication with the work simultaneously licensed under a Creative Commons Attribution License that allows others to share the work with an acknowledgement of the work's authorship and initial publication in this journal.
Authors are able to enter into separate, additional contractual arrangements for the non-exclusive distribution of the journal's published version of the work (e.g., post it to an institutional repository or publish it in a book), with an acknowledgement of its initial publication in this journal.
Authors are permitted and encouraged to post their work online (e.g., in institutional repositories or on their website) prior to and during the submission process, as it can lead to productive exchanges, as well as earlier and greater citation of published work (See The Effect of Open Access).