Upaya Pengenalan Budaya Sekolah Kepada Guru Baru SMA XYZ Tangerang
Keywords:
Budaya Sekolah, New Teacher Induction, Guru Baru
Abstract
Sekolah merupakan organisasi pendidikan yang kinerjanya sangat ditentukan oleh kemampuan guru-gurunya sebagai pekerja intelektual. Pada konteks guru baru, new teacher induction adalah periode kritis dalam karier mereka karena akan mempengaruhi pertumbuhan secara profesional. Peneliti mendapati bahwa guru-guru baru SMA XYZ, merasa kesulitan untuk beradaptasi dengan budaya sekolah yang ada. Penelitian ini mengidentifikasi faktor-faktor yang menjadi kendala atau kelemahan upaya pengenalan budaya sekolah SMA terhadap guru-guru barunya, serta menggali strategi implementasi yang tepat untuk meminimalisir kendala atau kelemahan yang terjadi. Penelitian kualitatif studi kasus dengan desain penelitian Eisenhardt dijalankan. Subjek penelitian adalah lima guru baru di SMA XYZ serta lima pimpinan SMA XYZ. Teori model mini terbentuk dengan menampilkan sembilan faktor yang menjadi kendala atau kelemahan upaya pengenalan budaya sekolah terhadap guru baru SMA XYZ, yaitu active learning perception, lack of technology use, transformational leadership, school misperception, organizational learning, lots of teaching load, KM training problems, gap generation, dan lack of coaching.
References
Antunes, Helder de Jesus Ginja, dan Paulo Gonçalves Pinheiro. 2020. "Linking Knowledge Management, Organizational Learning and Memory." Journal of Innovation & Knowledge 5 (2): 140–49. https://doi.org/10.1016/j.jik.2019.04.002.
Assegaff, Setiawan. 2014. "Trend Pemanfaatan Teknologi Informasi dalam Implementasi Knowledge Management." Jurnal SISFO STIKOM Dinamika Bangsa, 1–8.
Bass, Bernard M., dan Ronald E. Riggio. 2006. Transformational Leadership. 2 ed. New Jersey: Psychology Press. https://doi.org/10.4324/9781410617095.
Brannick, Teresa, Séan de Búrca, Brian Fynes, Evelyn Roche, dan Séan Ennis. 2002. "Service Management Practice?Performance Model: A Focus on Training and Listening Practices." Journal of European Industrial Training 26 (8): 394–403. https://doi.org/10.1108/03090590210444973.
Cacioppe, Ron. 1997. "Leadership Moment by Moment!" Leadership & Organization Development Journal 18 (7): 335–45. https://doi.org/10.1108/01437739710190648.
Eisenhardt, Kathleen M. 1989. "Building Theories from Case Study Research." The Academy of Management Review 14 (4): 532–50.
Fadli, Muhammad Rijal. 2021. "Memahami Desain Metode Penelitian Kualitatif." HUMANIKA 21 (1): 33–54. https://doi.org/10.21831/hum.v21i1.38075.
Flick, Uwe. 2014. An Introduction to Qualitative Research. California: SAGE Publications, Inc.
Hangül, ?ükrü. 2017. "An Evaluation of the New Teacher Induction Program in Turkey through the Eyes of Beginning Teachers." Journal of Education and Practice 8 (10): 191–201. https://files.eric.ed.gov/fulltext/EJ1139628.pdf.
Heng, Choong Yong, dan Rashad Yazdanifard. 2013. "Generation Gap; Is There any Solid Solution? From Human Relation Point of View." International Journal of Economy, Management and Social Sciences 2 (10): 837–40. https://www.researchgate.net/profile/Assoc-Prof-Dr-Rashad-Yazdanifard/publication/260219890_Generation_Gap_Is_There_any_Solid_Solution_From_Human_Relation_Point_of_View/links/0a85e53032b0aa1fcc000000/Generation-Gap-Is-There-any-Solid-Solution-From-Human-Relation-Point-of-View.pdf.
Hood Cattaneo, Kelsey. 2017. "Telling Active Learning Pedagogies Apart: From Theory to Practice." Journal of New Approaches in Educational Research 6 (2): 144–52. https://doi.org/10.7821/naer.2017.7.237.
Jahya, Arnida, Siti Nur Izyan Azlin, Rozana Othman, dan Noor Rafathi Romaiha. 2020. "Turnover Intention among Gen-Y: The Role of Training and Development, Compensation and Organizational Culture." International Journal of Academic Research in Business and Social Sciences 10 (10). https://doi.org/10.6007/ijarbss/v10-i10/7975.
Johnson, Marianne, dan Bryan Engelhardt. 2021. "Student Evaluations and Increased Teaching Load." SSRN Electronic Journal. https://doi.org/https://doi.org/10.2139/ssrn.3983517.
Lima, Rui M., Pernille Hammar Andersson, dan Elisabeth Saalman. 2017. "Active Learning in Engineering Education: a (re)introduction." European Journal of Engineering Education 42 (1): 1–4. https://doi.org/10.1080/03043797.2016.1254161.
Mohammed, Saleh. 2018. "Effective Job Satisfaction on Training Needs of Agricultural Workers in Extensive Work Zone at Iraqi Provinces: A Case Study." Asian Research Journal of Arts & Social Sciences 6 (2): 1–12. https://doi.org/10.9734/ARJASS/2018/37798.
Nadeak, Erni Hanna, dan Dylmoon Hidayat. 2017. "Karakteristik Pendidikan yang Menebus di Suatu Sekolah Kristen [The Characteristics of Redemptive Education In a Christian School]." Polyglot: Jurnal Ilmiah 13 (2): 87–97. https://doi.org/10.19166/pji.v13i2.439.
Nickerson, Jack A., dan Todd R. Zenger. 2004. "A Knowledge-Based Theory of the Firm—The Problem-Solving Perspective." Organization Science 15 (6): 617–32. https://doi.org/10.1287/orsc.1040.0093.
Rahardjo, Mudjia. t.t. "Antara Konsep, Proposisi, Teori, Variabel, dan Hipotesis dalam Penelitian." Diakses 13 Mei 2023. http://repository.uin-malang.ac.id/2410/2/2410.pdf.
Ravenswood, Katherine. 2011. "Eisenhardt's impact on theory in case study research." Journal of Business Research 64 (7): 680–86. https://doi.org/10.1016/j.jbusres.2010.08.014.
Senge, Peter M. 2006. The Fifth Discipline: The Art & Practice Of The Learning Organization. New York: Doubleday.
Sugiyono. 2015. Metode Penelitian Pendidikan (Pendekatan Kuantitatif, Kualitatif, dan R&D). Bandung: Alfabeta.
Sukmadinata, Nana Syaodih. 2010. Metode Penelitian Pendidikan. Bandung: PT Remaja Rosdakarya.
Takeuchi, Hirotaka, dan Ikujiro Nonaka. 1995. The Knowledge-Creating Company. Oxford: Oxford University Press.
Thomas, Gary, dan Kevin Myers. 2015. The Anatomy of the Case Study. London: Sage Publications.
Yukl, Gary. 2002. Leadership in organizations. 5 ed. New York: Pearson Education, Inc.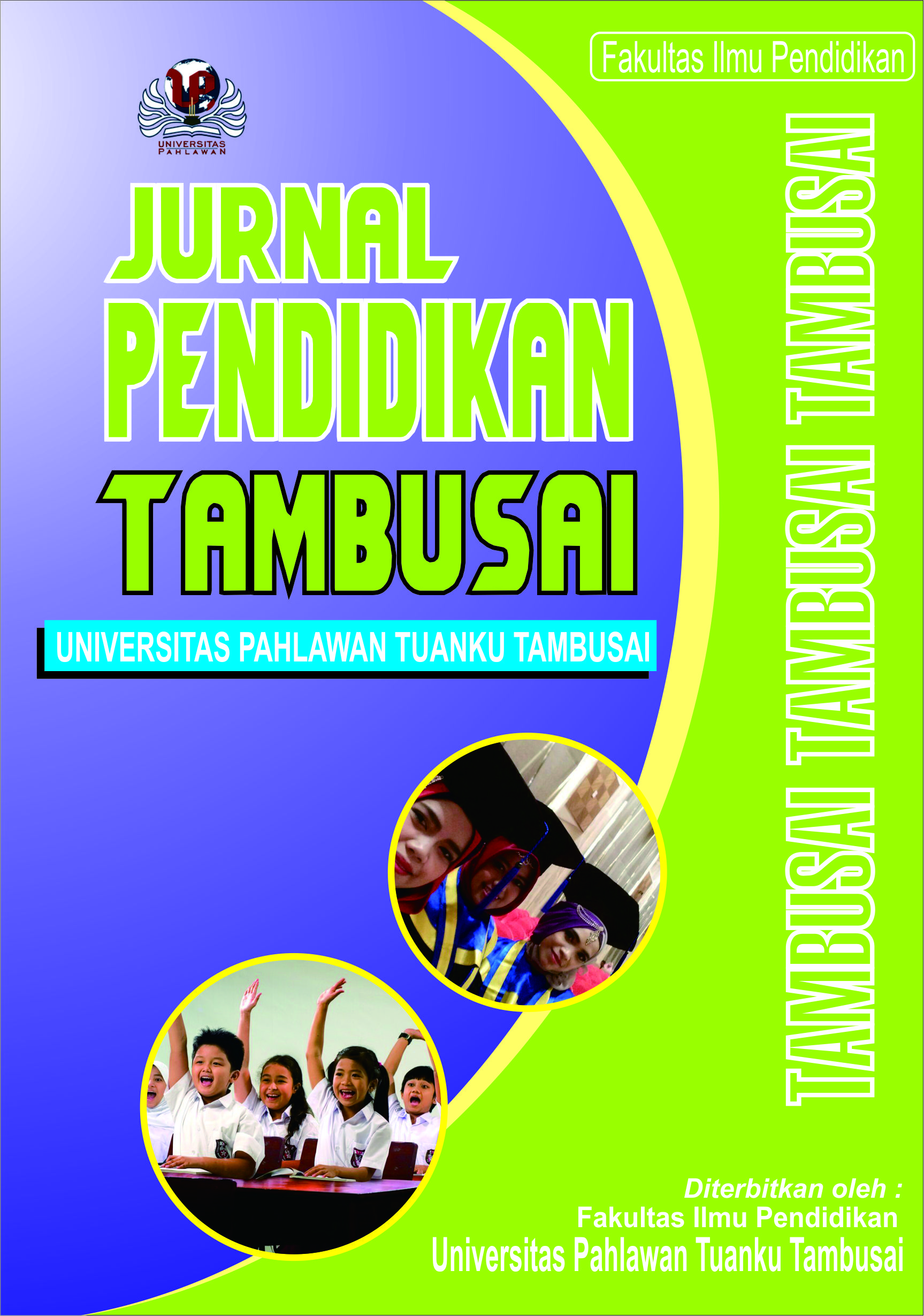 Downloads
How to Cite
Sari, A. A. ., & Ardi, A. (2023). Upaya Pengenalan Budaya Sekolah Kepada Guru Baru SMA XYZ Tangerang. Jurnal Pendidikan Tambusai, 7(2), 15299–15310. https://doi.org/10.31004/jptam.v7i2.8805
Section
Articles of Research
License
Authors who publish with this journal agree to the following terms:
Authors retain copyright and grant the journal right of first publication with the work simultaneously licensed under a Creative Commons Attribution License that allows others to share the work with an acknowledgement of the work's authorship and initial publication in this journal.
Authors are able to enter into separate, additional contractual arrangements for the non-exclusive distribution of the journal's published version of the work (e.g., post it to an institutional repository or publish it in a book), with an acknowledgement of its initial publication in this journal.
Authors are permitted and encouraged to post their work online (e.g., in institutional repositories or on their website) prior to and during the submission process, as it can lead to productive exchanges, as well as earlier and greater citation of published work (See The Effect of Open Access).