MENINGKATKAN HASIL BELAJAR MATEMATIKA MELALUI MODEL THINK PAIR AND SHARE PADA KELAS VIII.5 SMP NEGERI 2 BANGKINANG KOTA TAHUN PELAJARAN 2015/2016
Article Sidebar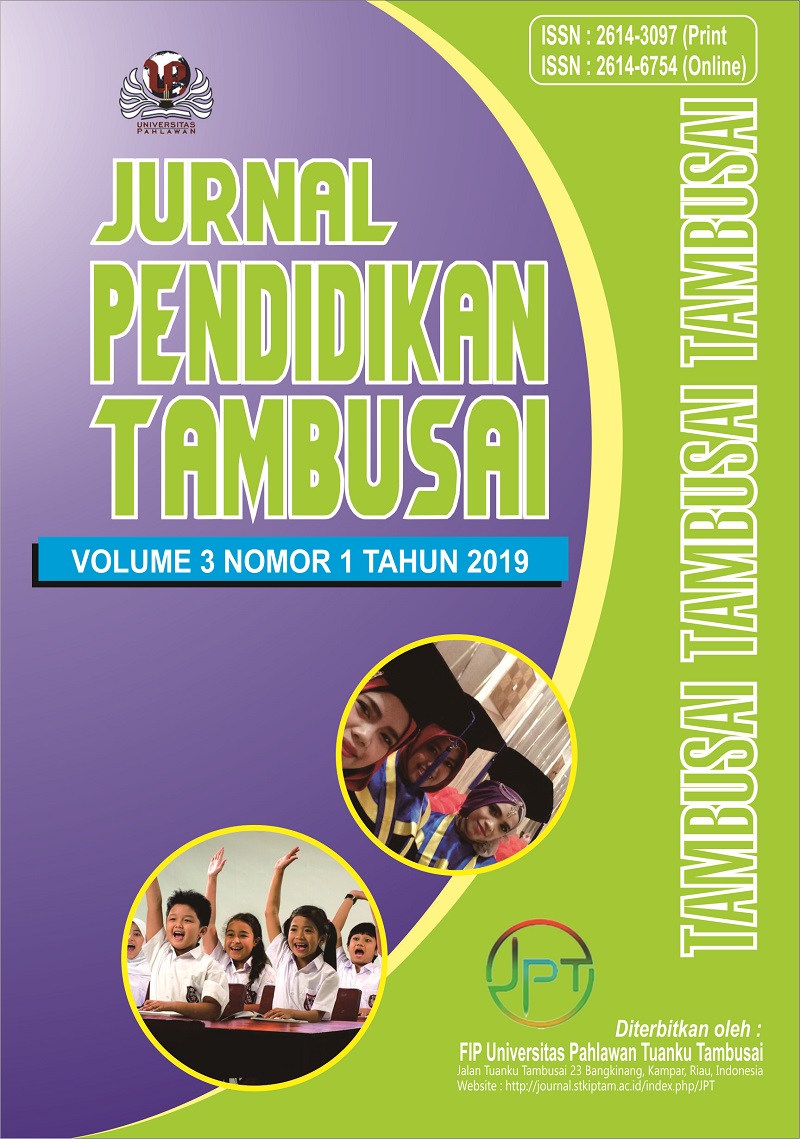 Published: Feb 19, 2019
Section:
Articles
Keywords:
Pembelajaran Kooperatif Think Pair And Share, Hasil Belajar Matematika

Article Matrics :
Abstract views
18
times
Total Downloaded
20
times
This article can be traced in:
GOOGLE SCHOLAR
PORTAL GARUDA
BASE
INDONESIA ONESEARCH
MORAREF
Main Article Content
Mardiana Mardiana
SMPN 2 Bangkinang Kota
Abstract
Penelitian ini bertujuan untuk meningkatkan hasil belajar siswa melalui model Think Pair and Share, dengan latarbelakang penelitian berawal dari  semakin lemahnya kualitas belajar siswa, interaksi  aktif antara siswa dengan guru atau siswa dengan siswa jarang terjadi, siswa kurang terampil menjawab pertanyaan atau bertanya tentang konsep konsep yang diajarkan, siswa kurang bisa belajar dalam kelompok diskusi dan memecahkan masalah yang diberikan. Mereka lebih cenderung belajar sendiri, akibat dari pembelajaran yang terpusat pada guru. Untuk meningkatkan hasil belajar dan aktivitas siswa dalam Pembelajaran Matematika dilakukan Penelitian Tindakan Kelas dengan menggunakan model pembelajaran Think Pair And share. Adapun yang dinilai dalam penelitian ini adalah aktivitas  belajar klasikal, aktivitas belajar dalam kelompok dan hasil belajar siswa yang diuji dengan melakukan ulangan harian. Hasil penelitian menunjukan adanya peningkatkan hasil belajar setelah tindakan kelas dengan model Pembelajaran Think Pair And Share dilaksanakan pada siklus I dan II. Dimana : 1. Hasil aktivitas belajar klasikal setelah tindakan kelas dilaksanakan 70,68% pada siklus satu menjadi 93,10% pada siklus kedua., 2. Aktivitas belajar kelompok dari 82,75% pada siklus satu menjadi 81,02% pada siklus kedua, 3. Rerata hasil belajar dari 83,97 pada siklus satu menjadi 87,24 pada siklus kedua. Dari hasil penelitian tersebut dapat disimpulkan dengan model pembelajaran  Think Pair And Share dapat meningkatkan hasil belajar Matematika siswa kelas VIII.5 di SMP Negeri  2 Bangkinang Kota Tahun Pelajaran 2015/2016.
Downloads
Download data is not yet available.
Article Details
How to Cite
Mardiana, M. (2019). MENINGKATKAN HASIL BELAJAR MATEMATIKA MELALUI MODEL THINK PAIR AND SHARE PADA KELAS VIII.5 SMP NEGERI 2 BANGKINANG KOTA TAHUN PELAJARAN 2015/2016. Jurnal Pendidikan Tambusai, 3(1), 14-23. https://doi.org/10.31004/jptam.v3i1.199
This work is licensed under a Creative Commons Attribution-ShareAlike 4.0 International License.
Authors who publish with this journal agree to the following terms:
Authors retain copyright and grant the journal right of first publication with the work simultaneously licensed under a Creative Commons Attribution License that allows others to share the work with an acknowledgement of the work's authorship and initial publication in this journal.
Authors are able to enter into separate, additional contractual arrangements for the non-exclusive distribution of the journal's published version of the work (e.g., post it to an institutional repository or publish it in a book), with an acknowledgement of its initial publication in this journal.
Authors are permitted and encouraged to post their work online (e.g., in institutional repositories or on their website) prior to and during the submission process, as it can lead to productive exchanges, as well as earlier and greater citation of published work (See The Effect of Open Access).
References
Hamzah B. Uno, 2007. Model Pembelajaran Menciptakan Proses Belajar Mengajar yang Kreatif dan efektif. Bumi Aksara.
Mujiono. Dan Dimyati. 2002. Belajar dan Pembelajaran. Derejtorat Jendral Pendidikan Tinggi : Jakarta
Oemar Hamalik. 2007. Strategi Pembelajaran dan Mengajar. CV. Maulana. Bandung.
Sardiman, A. M. 2003. Interaksi dan mativasi Belajar Mengajar. Raja Grafindo Persada. Jakarta
Slameto, 2003. Belajar dan Faktor-Faktor yang Mempengaruhinya. Sardiman. 2007. Interaksi dan Motivasi Belajar Mengajar. PT Raja Grafindo Persada. Jakarta..
Sudjana, Nana. 2004. Penilaian Hasil Proses Belajar Mengajar. Bandung: PT. Remaja Rosdakarya.