PENGARUH PENERAPAN MODEL PEMBELAJARAN KOOPERATIF TIPE STAD DALAM MATERI POKOK MAKROMOLEKUL TERHADAP MOTIVASI BELAJAR SISWA KELAS XII IPA 1 DI SMA NEGERI 1 RENGAT BARAT
Article Sidebar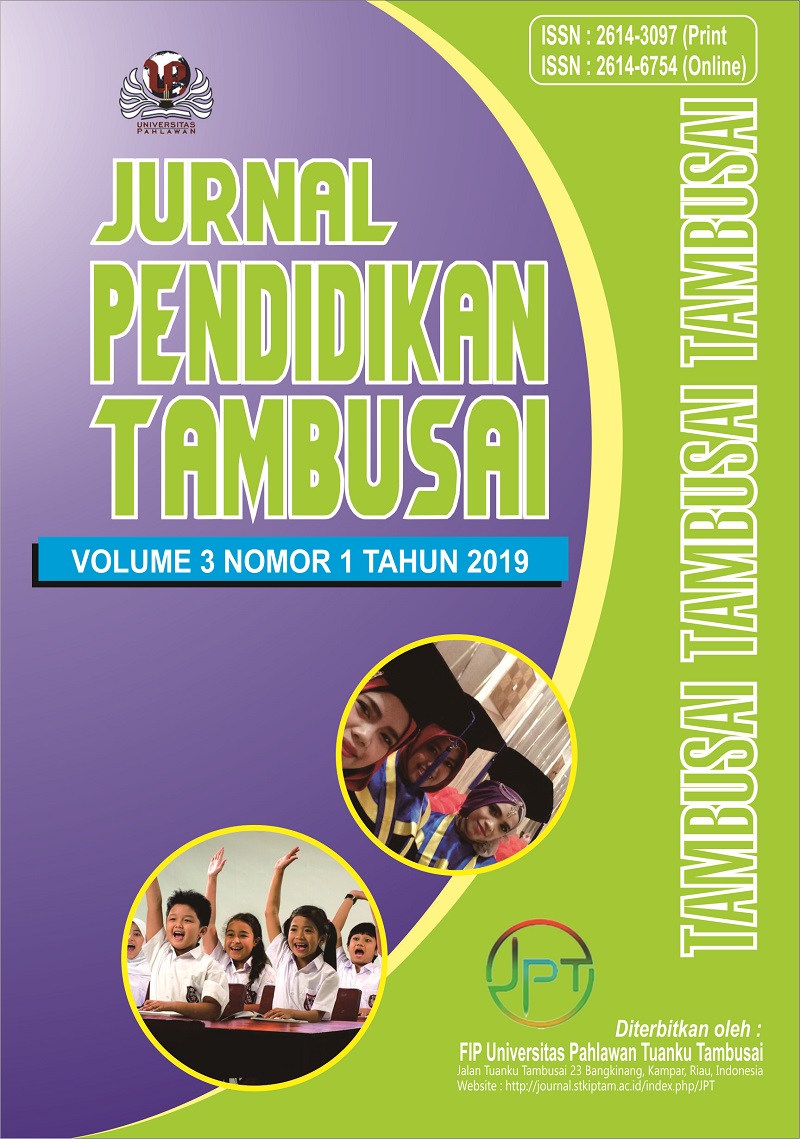 Published: Feb 19, 2019
Section:
Articles
Keywords:
Motivasi, Student Teams Acheivement Division (STAD)

Article Matrics :
Abstract views
77
times
Total Downloaded
77
times
This article can be traced in:
GOOGLE SCHOLAR
PORTAL GARUDA
BASE
INDONESIA ONESEARCH
MORAREF
Main Article Content
Siti Lestari
Guru SMA Negeri 1 Rengat Barat, Indragiri Hulu Riau, Indonesia
Abstract
Motivasi merupakan salah satu faktor penting yang akan mempengaruhi belajar dan hasil belajar.Seseorang yang memiliki motivasi kecenderungan untuk mencurahkan segala kemampuannya untuk menghasilkan hasil belajar yang optimal sesuai dengan hasil belajar yang diharapkan.semakin tinggi. Motivasi yang dimiliki siswa akan mendorong siswa belajar lebih giat lagi dan frekuensi belajarnya menjadi semakin meningkat. Akan tetapi,kuat dan lemahnya motivasi seseorang berbeda,hal itu dipengaruhi oleh beberapa faktor antara lain cita-cita atau aspirasi,kemampuan belajar, kondisi siswa, kondisi lingkungan sekolah, unsur-unsur dinamis dalam belajar dan upaya gurudalam membelajarkan siswa. Penelitian ini adalah penelitian tindakan kelas (classroom action research)yang dilaksanakan dalam 3 siklus. Rata-rata persentase siswa yang serius dalam diskusi kelompok pada siklus 1 adalah 74,44%, sudah di atas seperdua dari siswa yang mengikuti pelajaran. Jumlah siswa yang serius belajar tampaknya semakin meningkat pada siklus 2 sehingga reratanya mencapai 90,00%. Dan diakhir penelitian rata-rata tingkat keseriusan siswa meningkatlagi menjadi 98.89% pada siklus 3. Berdasarkan hasil analisis data penelitian ini, maka disimpulkan model pembelajaran kooperatif tipe Student Teams Acheivement Division (STAD) dapat meningkatkan motivasi belajar mata pelajaran Kimia siswa Kelas XII IPA1 SMA Negeri 1 Rengat Barat.
Downloads
Download data is not yet available.
Article Details
How to Cite
Lestari, S. (2019). PENGARUH PENERAPAN MODEL PEMBELAJARAN KOOPERATIF TIPE STAD DALAM MATERI POKOK MAKROMOLEKUL TERHADAP MOTIVASI BELAJAR SISWA KELAS XII IPA 1 DI SMA NEGERI 1 RENGAT BARAT. Jurnal Pendidikan Tambusai, 3(1), 99-111. https://doi.org/10.31004/jptam.v3i1.207
This work is licensed under a Creative Commons Attribution-ShareAlike 4.0 International License.
Authors who publish with this journal agree to the following terms:
Authors retain copyright and grant the journal right of first publication with the work simultaneously licensed under a Creative Commons Attribution License that allows others to share the work with an acknowledgement of the work's authorship and initial publication in this journal.
Authors are able to enter into separate, additional contractual arrangements for the non-exclusive distribution of the journal's published version of the work (e.g., post it to an institutional repository or publish it in a book), with an acknowledgement of its initial publication in this journal.
Authors are permitted and encouraged to post their work online (e.g., in institutional repositories or on their website) prior to and during the submission process, as it can lead to productive exchanges, as well as earlier and greater citation of published work (See The Effect of Open Access).
References
Agus Suprijono, 2009. Cooperative Learning teori & aplikasi Paikem.Yogyakarta: Pustaka Pelajar.
Asis Saefuddin, Ika Berdiati,2014. Pembelajaran Efektif. Bandung: Remaja Rosdakarya.
Dimyati, Mudjiono,2009. Belajar dan Pembelajaran. Jakarta :Rineka Cipta.
Trianto, 2007.Model-model Pembelajaran Inovatif berorientasi Konstruktivistik. Jakarta:Prestasi Pustaka.
Tukiran Taniredja, Efi Miftah Faridli, Sri Harminto, 2011. Model-model Pembelajaran Inovatif. Bandung: Alfabeta.