PENINGKATAN KUALITAS KINERJA GURU MELALUI SARANA RAPOR GURU DI SMAN 1 TAPUNG HILIR
Article Sidebar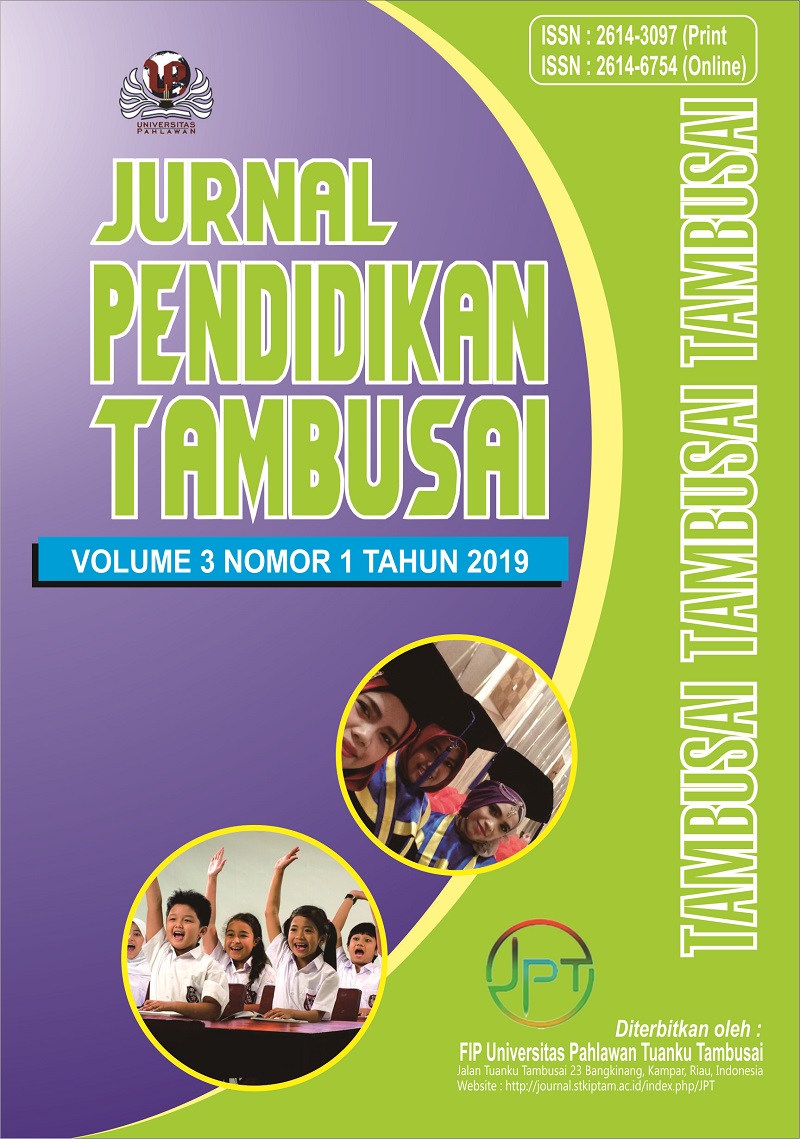 Published: Feb 19, 2019
Section:
Articles
Keywords:
kualitas kinerja guru, rapor

Article Matrics :
Abstract views
34
times
Total Downloaded
22
times
This article can be traced in:
GOOGLE SCHOLAR
PORTAL GARUDA
BASE
INDONESIA ONESEARCH
MORAREF
Main Article Content
Sarpiati Sarpiati
Guru SMA Negeri 1 Tapung Hilir Kampar, Riau, Indonesia
Abstract
Penelitian ini bertujuan menggali dan mengungkapkan informasi tentang upaya peningkatkan kualitas guru-guru melalui sarana rapor guru di SMAN 1 Tapung Hilir dalam menjalankan tanggungjawabnya. Jika tidak maka output yang dihasilkanpun juga tidak berkualitas. Biasanya guru akan lebih semangat meningkatkan kualitasnya jika berikan reward atau sanksi bagi yang tidak melaksanakan tugasnya dengan baik. Untuk itu, perlu adanya evaluasi rutinan kepada guru agar termotivasi untuk meningkatkan kualitas dirinya. Salah satu cara untuk mengevaluasi kualitas kinerja guru di SMAN 1 Tapung Hilir adalah dengan menerapkan sistem rapor. Teknik pelaksanaan sistem rapor di SMAN 1 Tapung Hilir melalui beberapa tahapan, yaitu membuat perencanaan (menyusun kisi-kisi dan melaksanakan uji coba), mengumpulkan data, mengolah data, menafsiran data data, dan laporan. Di SMAN 1 Tapung Hilir, sistem rapor ini telah diterapkan sejak tahun 2013 hingga saat ini. Dan hasilnya cukup positif terhadap peningkatan kinerja guru. Dengan karya tulis ini, diharapkan pembaca dapat menerapkan pengisian rapor di sekolah atau instansinya masing-masing untuk menghasillkan guru dan tenaga kependidikan  yang berkualitas
Downloads
Download data is not yet available.
Article Details
This work is licensed under a Creative Commons Attribution-ShareAlike 4.0 International License.
Authors who publish with this journal agree to the following terms:
Authors retain copyright and grant the journal right of first publication with the work simultaneously licensed under a Creative Commons Attribution License that allows others to share the work with an acknowledgement of the work's authorship and initial publication in this journal.
Authors are able to enter into separate, additional contractual arrangements for the non-exclusive distribution of the journal's published version of the work (e.g., post it to an institutional repository or publish it in a book), with an acknowledgement of its initial publication in this journal.
Authors are permitted and encouraged to post their work online (e.g., in institutional repositories or on their website) prior to and during the submission process, as it can lead to productive exchanges, as well as earlier and greater citation of published work (See The Effect of Open Access).
References
Arifin, Zainal. 2010. Evaluasi Pembelajaran (Teori dan Praktik). Bandung :Dipublikasikan di internet (Diakses tanggal 8 April 2018)
Dimyati dan Mudjiono. 2006. Belajar dan Pembelajaran, Jakarta : Rineka Cipta.
Suroso, 2009. Persepsi Siswa Terhadap Perpustakaan Dalam Menunjang Proses