PENINGKATAN HASIL BELAJAR PENJUMLAHAN BILANGAN MELALUI MODEL KOPERATIF TIPE MAKE A MATCH DI KELAS I TEMA PENGALAMANKU SDN 8 BENGKALIS KECAMATAN BENGKALIS
Article Sidebar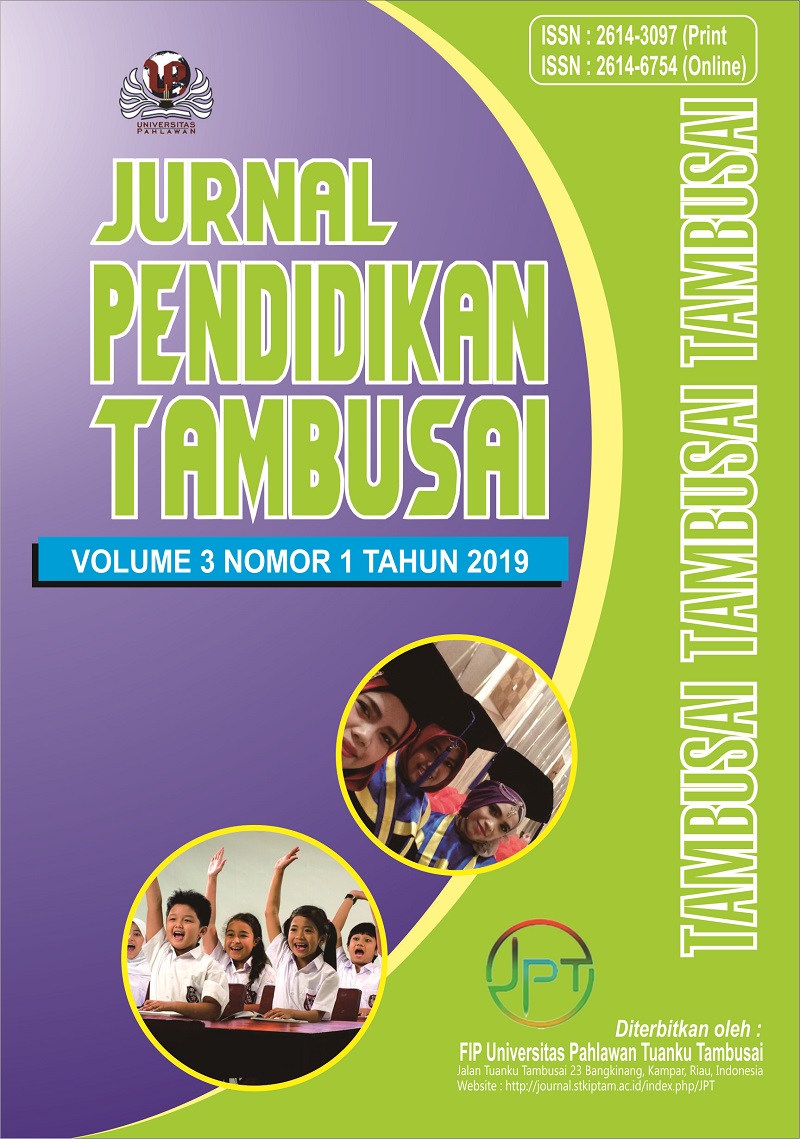 Published: Feb 19, 2019
Section:
Articles
Keywords:
hasil belajar, model kooperatif make a match

Article Matrics :
Abstract views
13
times
Total Downloaded
14
times
This article can be traced in:
GOOGLE SCHOLAR
PORTAL GARUDA
BASE
INDONESIA ONESEARCH
MORAREF
Main Article Content
Yuli Hartini
Guru SD Negeri 8 Bengkalis, Bengkalis, Riau, Indonesia
Abstract
Penelitian Tindakan Kelas ini dilakukan selama II siklus, tiap siklus terdiri dari dua pertemuan dengan tahap masing-masing siklus yaitu perencanaan, pelaksanaan, observasi dan refleksi. Subyek penelitiannya adalah siswa kelas 1 dengan jumlah 26 siswa. Variabel penelitiannya adalah hasil belajar siswa. Teknik pengumpulan data menggunakan tes dan nontes. Analisis data menggunakan kuantitatif dan kualitatif. Hasil penelitian hasil belajar siswa pada pra siklus terlihat sangat rendah dimana sebagian siswa kelas 1 SD Negeri 8 Bengkalis belum mencapai ketuntasan belajar. Hanya 13 orang siswa (50 %) dari 26 siswa yang tuntas belajar atau mencapai KKM sedangkan 13 orang siswa (50% ) siswa belum tuntas belajar. Selanjutnya pada siklus I dengan menggunakan model pembelajaran koperatif make a match telah mampu meningkatkan siswa yang tuntas belajar dari 26 orang siswa hanya 16 orang (61%) yang mengalami ketuntasan pada siklus I pertemuan 1 dan pada siklus I pertemuan 2 dari 26 orang 17 orang (69%) yang mengalami ketuntasan. Setelah dilanjutkan dengan siklus II pertemuan 1 mengalami peningkatan yaitu 18 orang siswa (71%) mengalami ketuntasan apalagi siklus II pertemuan 2 mengalami peningkatan yang signifikan yaitu 24 orang siswa (94%) telah tuntas belajar dan hanya 2 siswa yang belum mencapai ketuntasan. Dari hasil tersebut maka dapat disimpulkan bahwa penerapan model pembelajaran koperati make a match dapat meningkatkan hasil belajar matematika siswa kelas 1 materi penjumlahan dan pengurangan bilangan sampai 20 di SD Negeri 8 Bengkalis.
Downloads
Download data is not yet available.
Article Details
How to Cite
Hartini, Y. (2019). PENINGKATAN HASIL BELAJAR PENJUMLAHAN BILANGAN MELALUI MODEL KOPERATIF TIPE MAKE A MATCH DI KELAS I TEMA PENGALAMANKU SDN 8 BENGKALIS KECAMATAN BENGKALIS. Jurnal Pendidikan Tambusai, 3(1), 246-255. https://doi.org/10.31004/jptam.v3i1.218
This work is licensed under a Creative Commons Attribution-ShareAlike 4.0 International License.
Authors who publish with this journal agree to the following terms:
Authors retain copyright and grant the journal right of first publication with the work simultaneously licensed under a Creative Commons Attribution License that allows others to share the work with an acknowledgement of the work's authorship and initial publication in this journal.
Authors are able to enter into separate, additional contractual arrangements for the non-exclusive distribution of the journal's published version of the work (e.g., post it to an institutional repository or publish it in a book), with an acknowledgement of its initial publication in this journal.
Authors are permitted and encouraged to post their work online (e.g., in institutional repositories or on their website) prior to and during the submission process, as it can lead to productive exchanges, as well as earlier and greater citation of published work (See The Effect of Open Access).
References
Abdul Aziz wahab 2007. Metode dan Model-Model Mengajar IPS, Bandung: Alfabeta,
Ahmadi, Iif Khoiru dan Sofan Amri. 2011. Paikem Gembrot: Mengembangkan Pembelajaran Aktif, Inovatif, Kreatif, Efektif, Menyenangkan, Gembira dan Berbobot. Jakarta: PT. Prestasi Pustakaraya.
Akbar Sa'dun. 2008. Penelitian Tindakan Kelas (Filosofi, Metodologi, dan Implementasinya). Malang: Surya Pena Gemilang.
Alma, All. 2009. Guru Profesional: Menguasai Metode dan Terampil Mengajar. Bandung: Alfabeta.
Andrias Harefa.2009.Agar Menulis-Mengarang Bisa Gampang. Jakarta: PT Gramedia Pustaka Utama.
Beny Alexander. 2009. Manajemen Periklanan Bisnis. Bandung: Alfabeta.
Depdiknas, 2006. Kurikulum Tingkat Satuan Pendidikan (KTSP). Jakarta:Departemen Pendidikan Nasional.
Hoertomo, M.A, 2005, Kamus Lengkap Bahasa Indonesia, Mitra Pelajar
Isjoni, 2010. Pembelajaran Kooperatif Meningkatkan Kecerdasan Komunikasi Antar Peserta Didik. Yogakarta: Pustaka Pelajar
Komalasari, Kokom. 2010. Pembelajaran kontekstual: Konsep dan Aplikasi. Refika Aditama. Bandung.
Lie, Anita. 2002. Cooperative Learning: Mempraktikkan Cooperative Learning di Ruang-ruang Kelas. Grasindo. Jakarta