UPAYA MENCIPTAKAN PEMBELAJARAN MENYENANGKAN MELALUI OPTIMALISASI JEDA STRATEGIS DENGAN VIDEO MOTIVASI DAN HUMOR DALAM BELAJAR PPKN DI KELAS XI MM SMK N 1 BANGKINANG TAHUN PELAJARAN 2018/2019
Article Sidebar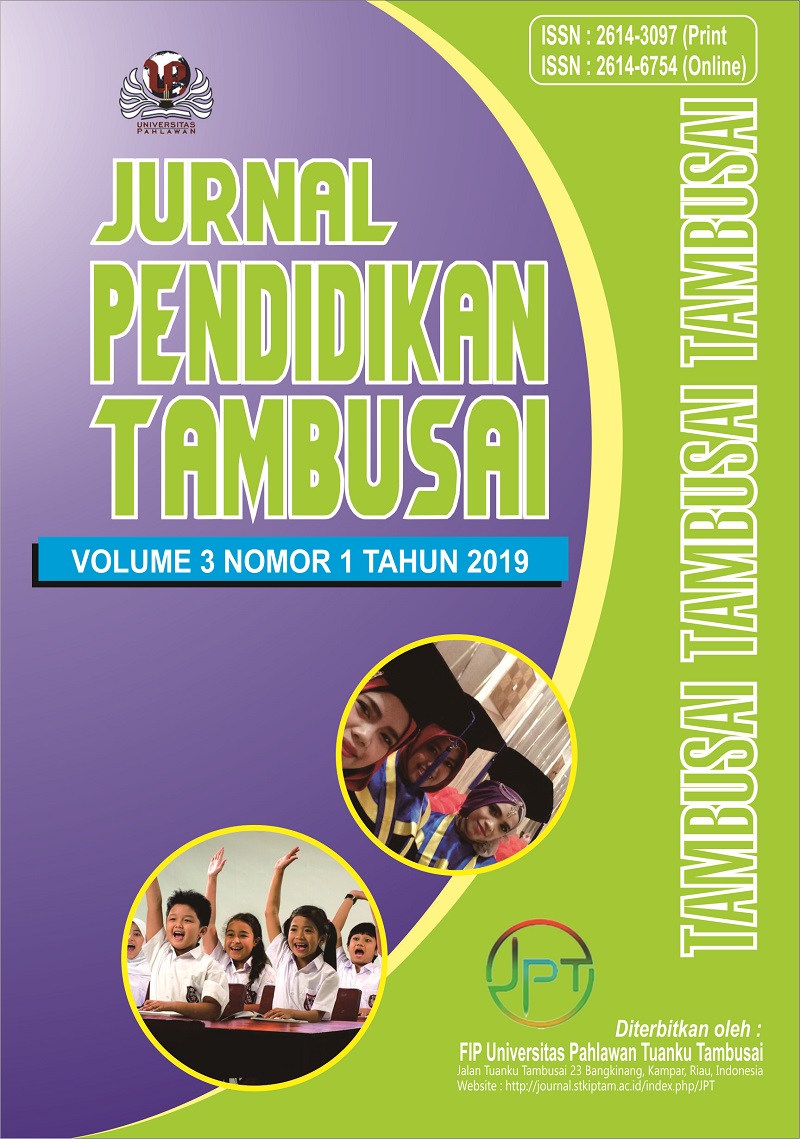 Published: Feb 19, 2019
Section:
Articles
Keywords:
pembelajaran menyenangkan, hasil belajar, motivasi belajar

Article Matrics :
Abstract views
21
times
Total Downloaded
50
times
This article can be traced in:
GOOGLE SCHOLAR
PORTAL GARUDA
BASE
INDONESIA ONESEARCH
MORAREF
Main Article Content
Djunaidi Djunaididjunaidi1971@gmail.com
SMK Negeri 1 Bangkinang Riau, Indonesia
Abstract
Rendahnya motivasi belajar, cepat bosan, sering jenuh saat mengikuti pelajaran, meningkatnya jumlah siswa keluar kelas, tingginya persentase siswa yang malas dan acuh tak acuh merupakan persoalan yang sering muncul dalam pembelajaran PPKn di SMK N 1 Bangkinang. Hal ini selain disebabkan karakteristik pelajaran PPKn yang pada umumnya bersifat teori dan hafalan, juga akibat strategi mengajar yang diterapkan guru cenderung monoton, kurang menyenangkan dan membosankan bagi siswa, sehingga pembelajaran menjadi tidak efektif dan berdampak rendahnya capaian hasil belajar. Penelitian tindakan kelas yang menerapkan strategi pembelajaran menyenangkan melalui optimalisasi jeda strategis menggunakan video motivasi ini merupakan upaya untuk mengatasi sebagian masalah tersebut. Hasil penelitian ini mengungkapkan bahwa penayangan video motivasi dan humor dapat memancing siswa untuk ketawa secara bersama-sama di dalam kelas. Dari hasil analisis observasi reaksi siswa saat jeda strategis, 83.96% siswa ketawa. Analisis angket mengungkapkan 86,35% siswa dapat tertawa dan menyatakan pembelajaran dengan penayangan video motivasi dan humor dalam jeda strategis sangat menyenangkan. Hasil belajar siswa menunjukkan angka rata-rata 71,8991 yang relatif lebih tinggi daripada capaian hasil belajar sebelumnya.
Downloads
Download data is not yet available.
Article Details
How to Cite
Djunaididjunaidi1971@gmail.comD. (2019). UPAYA MENCIPTAKAN PEMBELAJARAN MENYENANGKAN MELALUI OPTIMALISASI JEDA STRATEGIS DENGAN VIDEO MOTIVASI DAN HUMOR DALAM BELAJAR PPKN DI KELAS XI MM SMK N 1 BANGKINANG TAHUN PELAJARAN 2018/2019. Jurnal Pendidikan Tambusai, 3(1), 461-469. Retrieved from https://jptam.org/index.php/jptam/article/view/235
This work is licensed under a Creative Commons Attribution-ShareAlike 4.0 International License.
Authors who publish with this journal agree to the following terms:
Authors retain copyright and grant the journal right of first publication with the work simultaneously licensed under a Creative Commons Attribution License that allows others to share the work with an acknowledgement of the work's authorship and initial publication in this journal.
Authors are able to enter into separate, additional contractual arrangements for the non-exclusive distribution of the journal's published version of the work (e.g., post it to an institutional repository or publish it in a book), with an acknowledgement of its initial publication in this journal.
Authors are permitted and encouraged to post their work online (e.g., in institutional repositories or on their website) prior to and during the submission process, as it can lead to productive exchanges, as well as earlier and greater citation of published work (See The Effect of Open Access).
References
Berk, R.A. 1998. "Student Rating of 10 Strategies for Using Humor in College Teaching. "Journal of Excellece in College Teaching, 7, 71-92.
Brotherton, P. 1996. "The Company that Play Together". HR Magazine, 41, 76-83.
DePorter, Bobbi.,Reardon Mark.,Singer-Nouri, Sarah.1999. Quantum Teaching. Terjemahan Ary Nilandari. Bandung: Kaifa.
Dhoroty, Lynn. 1991.The ACT Aproach: The Artful Use of Suggestion for Integrative Learning. Bremen. Germany: PLS Verlag.
Dinas Pendidikan Sumbar.2003. Profil Pendidikan Sumatera Barat . Padang: Proyek PTP – Sumatera Barat.
Dryden, Gordon dan Vos, Jeannette. 2000. Revolusi Cara Belajar. Jakarta : Penerbit Kaifa.
Dryden, Gordon dan Vos, Jeannette. 2000. Revolusi Cara Belajar. Jakarta : Penerbit Kaifa.
Flowers,J. 2001. "The Value of Humour in Technology Education" Technology Teacher, 60, 10-13.
Friedmen, H., Hersyey, Friedmen, W., Linda, and Amoo, Taiwo. 2002. "Using Humor in the Introductory Statictcs Couse". City Univerisity of New York Journal of Statistics Education, 10 (3), 1- 13.
Gagne M., Robert. 1986. The Conditions of Learning and Theory of Instruction. Tokyo : Holt-Saunders Japan.
Herman Nirwana .2003. "Hubungan Tingkat Aspirasi dan Persepsi tentang Belajar dengan Hasil Belajar Matematika Siswa Sekolah Menengah Umum yang Berlatar Belakang Budaya Minangkabau dan Batak". Disertasi tidak diterbitkan. Malang: Program Pascasarjana Universitas Negeri Malang.
James Danandjaya. 1999. Humor dan Rumor Politik Masa Reformasi. Depok: Permata Ad.
Reigeluth, Charles, M. 1983. Instructional Design Theories and Model. New Jersey: Lawrence Erlbaum Associates.
Romiszowski, A.,J.,1986. Producing Instructional System. London: Kogan Page.
Shapiro, E. Lawrence.1997. Mengajarkan "Emotional Inteligent" pada Anak. Jakarta: PT. Gramedia Pustaka Utama.
Shor, Ira & Freire, Paulo. 2001. Menjadi Guru Merdeka. Yogyakarta: LKiS
Staton, F. Thomas. 1992. Cara Mengajar dengan Hasil yang Baik. (Metode-metode Mengajar Modern dalam Pendidikan Orang Dewasa)- Terjemahan Prof.J.F. Tahalele, M.A. Bandung: Cv. Diponegoro.
Syaiful Bahri Djamarah. (1994).Prestasi Belajar dan Kompetensi Guru. Surabaya: Usaha Nasional.
Travers, M.Robert.1982. Essentials of Learning. New York: Macmillan Publishing Co.Inc