UPAYA PENINGKATAN HASIL BELAJAR PRAKTEK PEMBUBUTAN DENGAN METODE PEMBELAJARAN LANGSUNG DAN BIMBINGAN INDIVIDUAL PADA SISWA KELAS XI TP2 TEKNIK PEMESINAN SMK N 1 BANGKINANG TAHUN PELAJARAN 2018/2019
Article Sidebar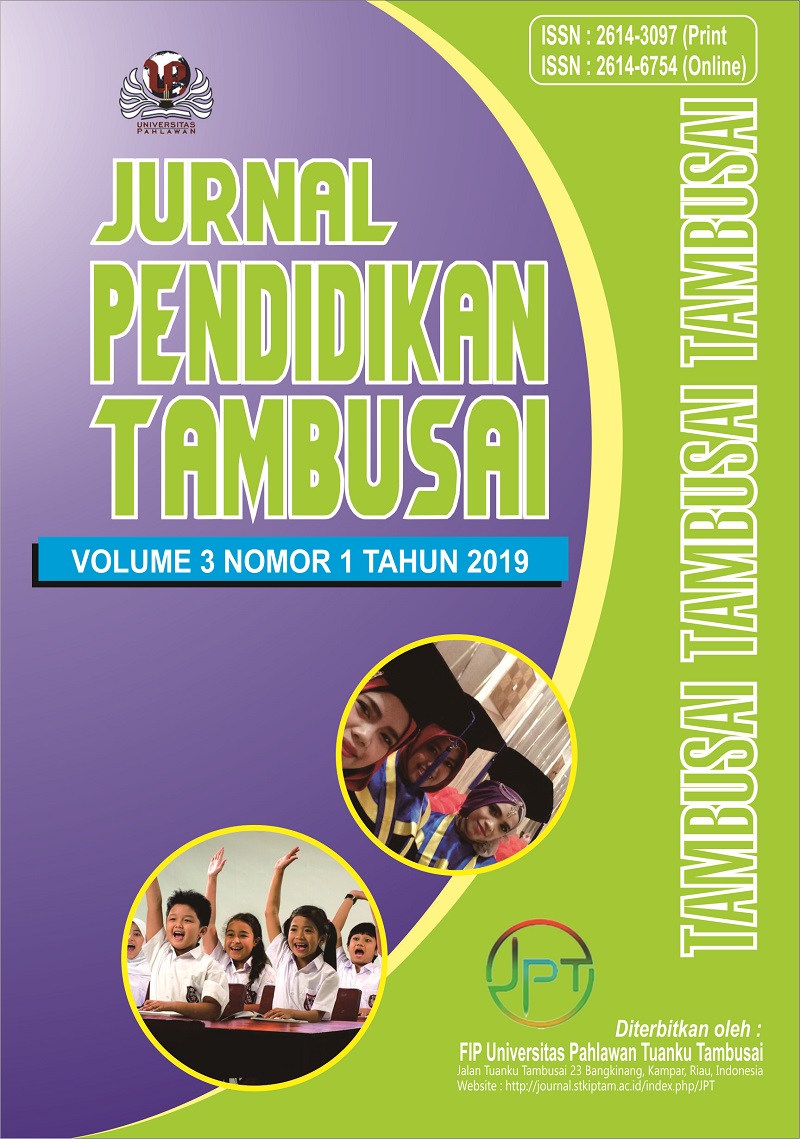 Published: Feb 19, 2019
Section:
Articles
Keywords:
Metode pembelajaran langsung, Bimbingan individual, Praktek Pembubutan

Article Matrics :
Abstract views
27
times
Total Downloaded
42
times
This article can be traced in:
GOOGLE SCHOLAR
PORTAL GARUDA
BASE
INDONESIA ONESEARCH
MORAREF
Main Article Content
Irdam Irdam
Sekolah Menengah Kejuruan Negeri 1 Bangkinang, Riau, Indonesia
Abstract
Berdasarkan pengamatan dan data yang ada penulis melihat ada gejala atau hal yang membuat hasil belajar praktek membubut pada kelas XI belum mendapatkan hasil yang baik sehingga perlu ditingkatkan. Penelitian ini penulis melakukan penelitian Tindakan Kelas dengan melaksanakan siklus pembelajaran yang dimulai dari perencanaan, pelaksanaan, observasi, refleksi. Setelah dilaksanakan siklus pembelajaran 1 direfleksi ternyata pada siklus I hasil belajar praktek siswa baru mencapai 54% dan kekurangan yang ada pada siklus I untuk dilaksanakan pada siklus II. Setelah dilakukan siklus I ternyata telah memenuhi target yaitu siswa yang nilai 71 telah mencapai 87%. Dilihat dari akhir siklus 2 maka dapat disimpulkan bahwa upaya peningkatan hasil belajar praktek siswa pembuatan arbor dengan metode pembelajaran langsung pada siswa kelas XI Program keahlian teknik pemesinan SMK Negeri 1 Bangkinang telah mencapai target yang diinginkan.
Downloads
Download data is not yet available.
Article Details
How to Cite
Irdam, I. (2019). UPAYA PENINGKATAN HASIL BELAJAR PRAKTEK PEMBUBUTAN DENGAN METODE PEMBELAJARAN LANGSUNG DAN BIMBINGAN INDIVIDUAL PADA SISWA KELAS XI TP2 TEKNIK PEMESINAN SMK N 1 BANGKINANG TAHUN PELAJARAN 2018/2019. Jurnal Pendidikan Tambusai, 3(1), 492-500. Retrieved from https://jptam.org/index.php/jptam/article/view/238
This work is licensed under a Creative Commons Attribution-ShareAlike 4.0 International License.
Authors who publish with this journal agree to the following terms:
Authors retain copyright and grant the journal right of first publication with the work simultaneously licensed under a Creative Commons Attribution License that allows others to share the work with an acknowledgement of the work's authorship and initial publication in this journal.
Authors are able to enter into separate, additional contractual arrangements for the non-exclusive distribution of the journal's published version of the work (e.g., post it to an institutional repository or publish it in a book), with an acknowledgement of its initial publication in this journal.
Authors are permitted and encouraged to post their work online (e.g., in institutional repositories or on their website) prior to and during the submission process, as it can lead to productive exchanges, as well as earlier and greater citation of published work (See The Effect of Open Access).
References
Amstead B.H, Philip F. Ostwald, Miron L. Begeman. 1993. Teknologi Mekanik jilid 2.Jakarta: Erlangga.
Daryanto. 1982. Petunjuk Keselamatan Kerja dalam Perbengkelan Mesin. Bandung: tarsito
Daryanto. 2002. Mesin Perkakas Bengkel. Jakarta: Rineka Cipta
Staton, F. Thomas. 1992. Cara Mengajar dengan Hasil yang Baik. (Metode-metode Mengajar Modern dalam Pendidikan Orang Dewasa)- Terjemahan Prof.J.F. Tahalele, M.A. Bandung: Cv. Diponegoro.
Sudjana. 2009. Metode Statistika,Bandung:Tarsito
Sudjana. 1998.Dasar-Dasar Proses Belajar Mengajar.Bandung:Sinar Baru
Suharsimi, Arikunto. 2006. Penelitian Tindakan Kelas. Edisi Revisi.Bumi Aksara.