MENINGKATKAN HASIL BELAJAR ILMU PENGETAHUAN ALAM (IPA) MATERI KEMAGNETAN MELALUI MODEL PEMBELAJARAN LANGSUNG (DIRECT INSTRUCTION) PADA SISWA KELAS IX.5 SMP NEGERI 1 LIRIK
Article Sidebar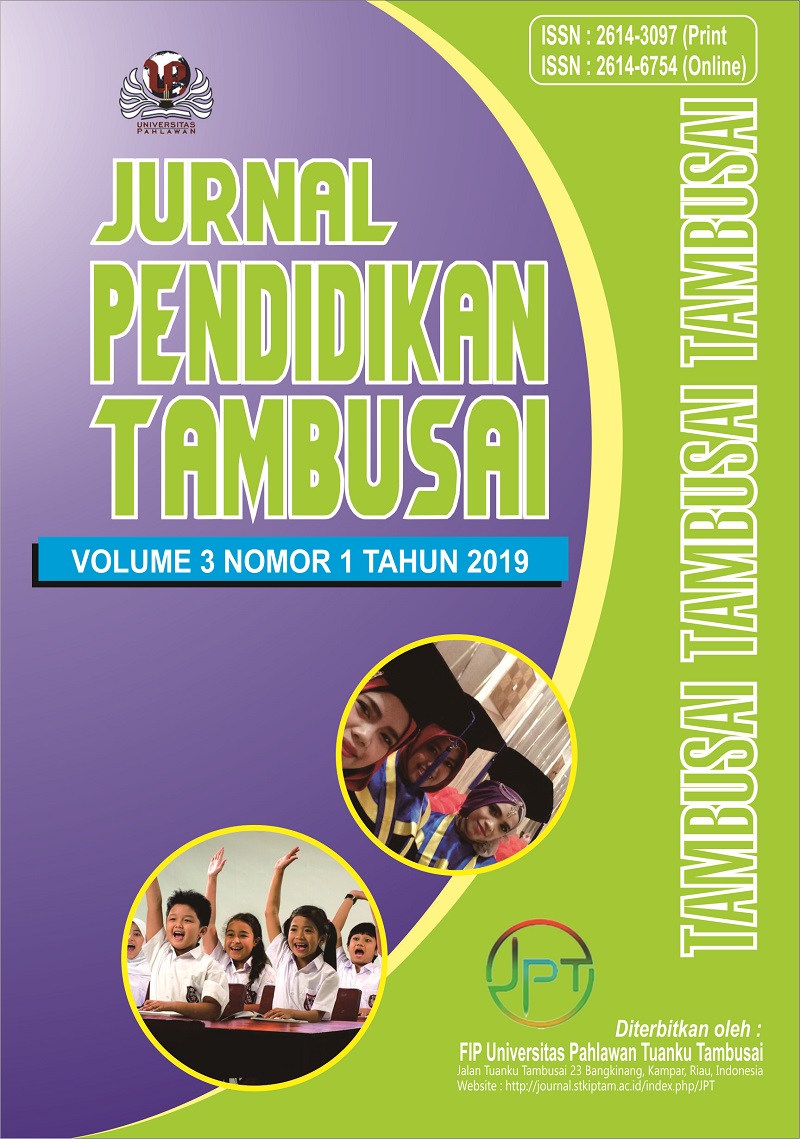 Published: Feb 19, 2019
Section:
Articles
Keywords:
Hasil Belajar, Model Pembelajaran Langsung

Article Matrics :
Abstract views
35
times
Total Downloaded
35
times
This article can be traced in:
GOOGLE SCHOLAR
PORTAL GARUDA
BASE
INDONESIA ONESEARCH
MORAREF
Main Article Content
Jaliarni Jaliarni
SMP Negeri 1 Lirik Indragiri Hulu, Riau, Indonesia
Abstract
Penelitian yang berjudul Peningkatan Hasil Belajar Ilmu Pengetahuan Alam (IPA) Melalui Model Pembelajaran Langsung (Direct Instrauction) Pada Siswa IX.5 SMP N 1 Lirik dilatar belakangi oleh rendahnya prestasi belajar siswa (nilai) IPA baik dalam ulangan harian, ulangan tengah semester, ulangan semester maupun Ujian Akhir Sekolah, yaitu dibawah nilai Kriteria Ketuntasan Minimal yaitu (70). Rendahnya prestasi siswa dimungkinkan salah satu adalah penggunaan metode pembelajaran yang digunakan oleh guru masih berpusat pada guru, sehingga aktifitas siswa tidak optimal. Dengan menggunakan model Pembelajaran. Langsung ini diharapkan dapat meningkatkan hasil belajar dan keaktifan siswa dalam pembelajaran IPA. Hasil penelitian menunjukkan adanya peningkatan hasil dari data kuantitatif maupun data kualitatif dari siklus I ke siklus II. Hasil temuan kuantitatif terhadap prestasi belajar siswa meningkat dari rata-rata nilai 73 menjadi 84 atau mengalami peningkatan 66.24%. Sedangkan hasil temuan kualitatif menunjukkan adanya peningkatan dalam hal perhatian, keberanian, kesungguhan, kemampuan dalam pembelajaran Kemagnetan.
Downloads
Download data is not yet available.
Article Details
How to Cite
Jaliarni, J. (2019). MENINGKATKAN HASIL BELAJAR ILMU PENGETAHUAN ALAM (IPA) MATERI KEMAGNETAN MELALUI MODEL PEMBELAJARAN LANGSUNG (DIRECT INSTRUCTION) PADA SISWA KELAS IX.5 SMP NEGERI 1 LIRIK. Jurnal Pendidikan Tambusai, 3(1), 501-513. Retrieved from https://jptam.org/index.php/jptam/article/view/240
This work is licensed under a Creative Commons Attribution-ShareAlike 4.0 International License.
Authors who publish with this journal agree to the following terms:
Authors retain copyright and grant the journal right of first publication with the work simultaneously licensed under a Creative Commons Attribution License that allows others to share the work with an acknowledgement of the work's authorship and initial publication in this journal.
Authors are able to enter into separate, additional contractual arrangements for the non-exclusive distribution of the journal's published version of the work (e.g., post it to an institutional repository or publish it in a book), with an acknowledgement of its initial publication in this journal.
Authors are permitted and encouraged to post their work online (e.g., in institutional repositories or on their website) prior to and during the submission process, as it can lead to productive exchanges, as well as earlier and greater citation of published work (See The Effect of Open Access).
References
Undang-undang Pendidikan No.20 Tahun 2003 tentang Sistem Pendidikan Nasional
Peraturan Pemerintah No. 19 Tahun 2005 tentang Standar Naional Pendidikan
Arends, Richard. 1997. Learning to teach. Singapore: John Willey and Sons Arikunto, Suharsimi. 2007. Metodologi Penelitian ( Sebuah Pendekatan Praktik). Bandung: Rineka Cipta Depdiknas. 2006.
Pringgodibyo dkk. 1993. Standar Kompetens dan Kompetensi Dasar IPA SMP.
Suparman Kardi & M.Nur. 2000. Penelitian tindakan kelas. Jakarta: Dirjen Dikti Depdiknas
Usman Efendi, Pembelajaran Langsung. Surabaya: Unesa University Press
Arikunto, Suharsimi. 2006. Penelitian Tindakan Kelas. Jakarta: Bumi Aksara.
Kardi, Soeparman. Mohammad Nur. 2000. Pengajaran Langsung. Surabaya: Universitas Negeri Malang.
Purwanto, Dr. M. Pd. 2009. Evaluasi Hasil Belajar. Yogyakarta: Pustaka Pelajar. Slameto. 2003. Belajar dan Faktor-faktor yang mempengaruhinya. Edisi Revisi. Cetakan keempat. Jakarta: Rineka Cipta.
Trianto. 2007. Model Pembelajaran Terpadu dalam Teori dan Praktek, Prestasi Pustaka Publiser, Jakarta
Dimyati dan Mudjiono 2006, Belajar dan Pembelajaran. Jakarta: Rineka Cipta