MENIGKATKAN HASIL BELAJAR MATEMATIKA TENTANG SOAL CERITA MELALUI MODEL PEMBELAJARAN MAKE-A MATCH SISWA KELAS I
Article Sidebar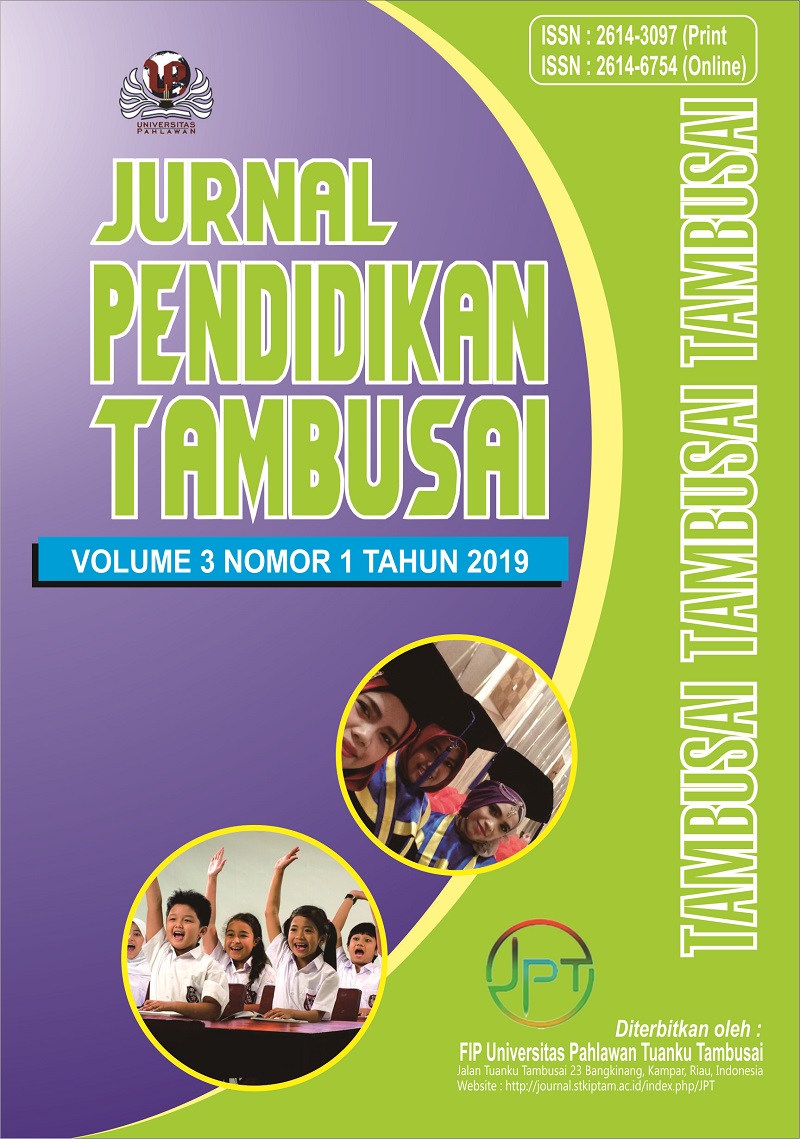 Published: Feb 19, 2019
Section:
Articles
Keywords:
make-a-match, aktif, motivasi, hasil belajar

Article Matrics :
Abstract views
7
times
Total Downloaded
7
times
This article can be traced in:
GOOGLE SCHOLAR
PORTAL GARUDA
BASE
INDONESIA ONESEARCH
MORAREF
Main Article Content
Romaida Romaida
Guru SD Negeri 33 Bengkalis Riau, Indonesia
Abstract
Penelitian ini dilatarbelakangi oleh adanya permasalahan yaitu rendahnya hasil belajar matematika tentang soal cerita. Dari hasil ulangan harian Siswa hanya terdapat 45% yang tuntas. Rendahnya hasil belajar disebabkan oleh beberapa faktor, diantaranya kurang cocoknya model/ metode pembelajaran yang digunakan dalam menyampaikan materi, metode yg digunakan guru masih Konvensional, penjelasan guru kurang jelas, guru kurang memberikan motivasi. Sehingga mengakibatkan kurangnya keaktifan siswa, kurangnya pemahaman siswa terhadap materi, kurang mampu menyelesaikan soal yang diberikan. Dampak dari gejala tersebut berakibat pada hasil belajar matematika siswa tentang soal cerita. Sehubungan dengan permasalahan di atas melalui penelitian penerapan model pembelajaran make-a match untuk perbaikan hasil pembelajaran matematika tentang soal cerita Siswa kelas I, merupakan cara yang tepat untuk menyelesaikan masalah tersebut. Penelitian ini merupakan Penelitian Tindakan Kelas (PTK). Hasil penelitian menunjukkan bahwa penerapan model pembelajaran Make-a match dapat meningkatkan motivasi, keaktifan serta hasil belajar matematika Siswa Kelas I SDN 35 Pematang Duku Kecamatan Bengkalis Tahun Pelajaran 2015/2016. Hal ini terbukti dari perolehan hasil belajar siswa yang meningkat. Pada awalnya (pra siklus) ketuntasan siswa hanya 45% (9 siswa) mejadi 100% (20 siswa) yang tuntas.
Downloads
Download data is not yet available.
Article Details
How to Cite
Romaida, R. (2019). MENIGKATKAN HASIL BELAJAR MATEMATIKA TENTANG SOAL CERITA MELALUI MODEL PEMBELAJARAN MAKE-A MATCH SISWA KELAS I. Jurnal Pendidikan Tambusai, 3(1), 561-571. Retrieved from https://jptam.org/index.php/jptam/article/view/245
This work is licensed under a Creative Commons Attribution-ShareAlike 4.0 International License.
Authors who publish with this journal agree to the following terms:
Authors retain copyright and grant the journal right of first publication with the work simultaneously licensed under a Creative Commons Attribution License that allows others to share the work with an acknowledgement of the work's authorship and initial publication in this journal.
Authors are able to enter into separate, additional contractual arrangements for the non-exclusive distribution of the journal's published version of the work (e.g., post it to an institutional repository or publish it in a book), with an acknowledgement of its initial publication in this journal.
Authors are permitted and encouraged to post their work online (e.g., in institutional repositories or on their website) prior to and during the submission process, as it can lead to productive exchanges, as well as earlier and greater citation of published work (See The Effect of Open Access).
References
Dermawan, Deni. (2013). Metode Penelitian Kuantitatif. Bandung: PT Remaja Rosdakarya Offset
Gimin, dkk. (2008). Modul Pendidikan dan Latihan Profesi Guru; Model-model Pembelajaran. Pekanbaru: Cendikia Insani.
Judith and Gary. (2009). Pedoman Praktis Tugas-tugas Matematika dengan Aplikasi kehidupan nyata sehari-hari untuk SD. Jakarta Barat: PT Indeks
Kusumah, Wijaya. (2012). Megenal Penelitian Tindakan Kelas Edisi Dua. Jakarta Barat: PT Indeks
Suciati. (2010). Belajar dan pembelajaran 2.Jakarta: Universitas Terbuka.
Sujitno dkk. (2007). Pembelajaran Terpadu Tematik untuk Sekolah Dasar/ MI Kelas I. Denpasar: Penerbit Bilas Utama.
Internet:
Abdan. Syakuro. (2014). Pemelajaran matematika di sekolah dasar. Diunduh Desember 2014, dari www.abdan-syakuro.com.
Cianda. (2013). Pengertian Model Pembelajaran Make- a match. Diunduh 10 Februari 2013, dari coretanpenacianda. wordpres.com
Educations,Wbungs. (2012). Model Pembelajaran Make-a match. Diambil 15 Juli 2012, dari Wbungs.blogspot.com
.Haryanto. (2011). Pengertian Model Pembelajaran. Diunduh17 Desember 2011, dari Belajar Psikologi.com
Jejec. (2013). Karakteristik Siswa SD. Diunduh 23 April 2013, dari jejecmsbhnajar. wordpress.com
Match. (2013). Karakteristik Matematika Sekolah Dasar (SD). Diunduh 6 Januari 2013 dari Match-edu. Blogspot.com
Siana. (2015). Pengertian Pendidikan. Diunduh Maret 2015, dari www.artikelsiana.com