PENINGKATKAN KOMPETENSI GURU DALAM MENYUSUN RENCANA PROGRAM PEMBELAJARAN HARIAN MELALUI BIMBINGAN BERKELANJUTAN DI KECAMATAN RENGAT BARAT
Article Sidebar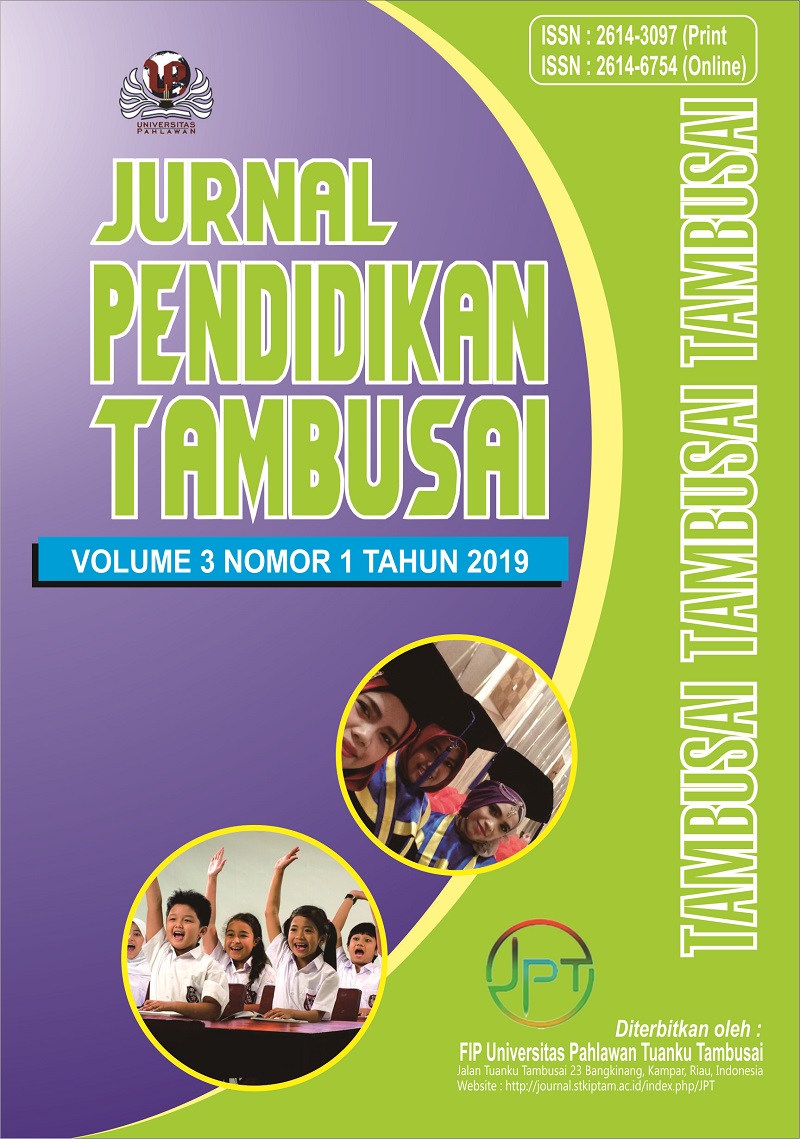 Published: Feb 19, 2019
Section:
Articles
Keywords:
Kompetensi guru, Rencama program pembalajaran harian

Article Matrics :
Abstract views
38
times
Total Downloaded
56
times
This article can be traced in:
GOOGLE SCHOLAR
PORTAL GARUDA
BASE
INDONESIA ONESEARCH
MORAREF
Main Article Content
Sunniyati Sunniyati
Unit Pelaksanaan Teknis Pendidikan, Rengat Barat Indragiri Hulu, Riau, Indonesia
Abstract
Guru dapat diartikan sebagai orang yang tugasnya terkait dengan upaya mencerdaskan kehidupan bangsa dalam semua aspeknya, baik spiritual emosional, intelektual, fisikal maupun aspek lainnya. Atas dasar identifikasi dan pembatsan masalah adalah apakah melalui bimbingan berkelanjutan mampu meningkatkan kompetensi guru dalam menyusun program pembelajaran harian di Kecamatan Rengat Barat. Berdasarkan hasil penelitian, dapat kita amati bahwa sudah adanya peningkatan yang signifikan pada kompetensi guru dalam menyusun RKH. Oleh sebab itu pembinaan dan bimbingan bekelanjutan tetap dilakukan oleh peneliti. Selain itu peneliti juga mendapat hasil dari wawancara bahwa para guru selama ini tidak termotivasi karena disebabkan tidak adanya pengawas di kecamatan Rengat Barat, juga tidak adanya saling kerjasama dalam menyelesaikan masalah yang menyangkut pembelajaran. 
Downloads
Download data is not yet available.
Article Details
How to Cite
Sunniyati, S. (2019). PENINGKATKAN KOMPETENSI GURU DALAM MENYUSUN RENCANA PROGRAM PEMBELAJARAN HARIAN MELALUI BIMBINGAN BERKELANJUTAN DI KECAMATAN RENGAT BARAT. Jurnal Pendidikan Tambusai, 3(1), 581-588. Retrieved from https://jptam.org/index.php/jptam/article/view/247
This work is licensed under a Creative Commons Attribution-ShareAlike 4.0 International License.
Authors who publish with this journal agree to the following terms:
Authors retain copyright and grant the journal right of first publication with the work simultaneously licensed under a Creative Commons Attribution License that allows others to share the work with an acknowledgement of the work's authorship and initial publication in this journal.
Authors are able to enter into separate, additional contractual arrangements for the non-exclusive distribution of the journal's published version of the work (e.g., post it to an institutional repository or publish it in a book), with an acknowledgement of its initial publication in this journal.
Authors are permitted and encouraged to post their work online (e.g., in institutional repositories or on their website) prior to and during the submission process, as it can lead to productive exchanges, as well as earlier and greater citation of published work (See The Effect of Open Access).
References
Arep, Ishak dan Tanjung, Hendri, 2003. Manajemen Motivasi. PT Gramedia Widiaswara Indonesia; Jakarta.
Benny A Pribadi, Model Desain Sistem Pembelajaran. Dian Rakyat
Danim, Sudarwan, 2004. Motivasi, Kepemimpinan dan Efektifitas Kelompok, PT Rineka Cipta; Jakarta
Hadari Nawawi, 1997. Manajemen Sumber Daya Manusia Untuk Bisnis yang Kompetitif. Gajah Mada University Press; Yogyakarta. Hal. 351